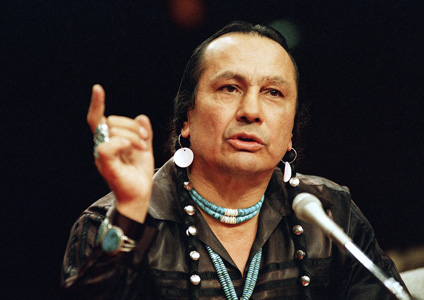 On October 22, 2012, Indian rights activist Russell Means passed on after a magnificent life of struggle to better the lives of American Indians. Means had a tremendous impact on Native American struggles of the latter part of the 20th century and he will be sorely missed, but his passing was a huge loss not just for Native America, not just for all of America, but for the world. He became the warrior conscience of the U.S. as a nation and exposed the oppression of American Indians to the globe.
Means reawakened Native people to the need for direct action in dealing with the "powers that be." Contrary to popular belief, there had been a long unbroken string of Native activism throughout the 20th century, but the government-leaning mainstream news media had for the most part managed to keep information of Indian resistance hidden behind the "Buckskin Curtain." What distinguished Means and the American Indian Movement (AIM) was that they were able to break through the "Curtain" with justifiably sensational tactics that the media could not ignore. The 1973 Wounded Knee occupation and other protests had to be covered, and that riveted the moral conscience of America and the entire world. All just-minded citizens, of all races, creeds and colors, morally supported the actions of AIM. Public opinion in the U.S. was on the side of Means and the warriors of AIM. One thing that was said about AIM in those days was that they would never lose a fight by default; when called upon AIM always showed up.
It has been said that American Indians are the "miners' canary" which indicates that justice in this society can be measured by how Native people are treated. Given that criterion this country is still sadly lacking in that category.
As for Means, he started out working in an office as a computer operator. He was trained as an accountant, was a straight A student and was awarded a scholarship to Arizona State University. Indian youth, in particular, should find this inspirational at a time when less than half of Native young people graduate from high school.
Means became a steadfast fighter for Indian rights. Among his many accomplishments: He founded the first radio station on his reservation and the first independent health clinic. He was also was a founder of the International Treaty Council which was responsible for the United Nations Declaration of Rights of Indigenous Peoples, which impacted peoples worldwide.
In the mid-1970s, I had the priceless opportunity to meet Means, Vernon and Clyde Bellecourt, Jimmie Durham and others prominent in the American Indian Movement, at an AIM rally. I actually remember him as rather quiet. In fact, I don't recall him even speaking on stage at the event.
Means was not only an activist, but also an avid painter, screenplay writer and actor. In these roles he always drew attention to Native issues both contemporarily and historically. He was also an author, writing a several-hundred-page autobiography entitled "Where White Men Fear to Tread." The book, written in language that ranges from the sublime to the earthy, is filled with profound philosophical and political insights. It is a huge indictment of racism and an expose of the appalling conditions in Indian Country that gave rise to AIM. Although I don't agree with all of Means' political views in the volume (specifically on Nicaragua and socialism) it is otherwise a stellar work indicting the U.S. for its horrific treatment of Native people.
Uncompromising to the end, when Means was first diagnosed with esophageal cancer in the summer of 2011 he announced he was eschewing mainstream medical treatment in favor of traditional Native medicine. Through it all, he remained the iconic symbol of American Indian resistance to the ongoing centuries of the race war conducted against Native Americans by the U.S. government.
Means reinforced the iconic image of the intrepid, dauntless Indian warrior willing to risk all consequences in his endless quest for indigenous justice. Exposed in his odyssey was the federal government's equally endless quest to silence him "by any means necessary." He was shot, stabbed (all assassination attempts), imprisoned, harassed incessantly, but he never slowed down. Means was a source of boundless inspiration to all who were committed to "The Cause." Means has walked on, but the movement lives on.
Photo: In a Jan. 31, 1989 file photo, Russell Means, who headed the American Indian Movement, (AIM) testifies before a special investigative committee of the Senate Select Committee on Capitol Hill, in Washington. Marcy Nighswander /AP