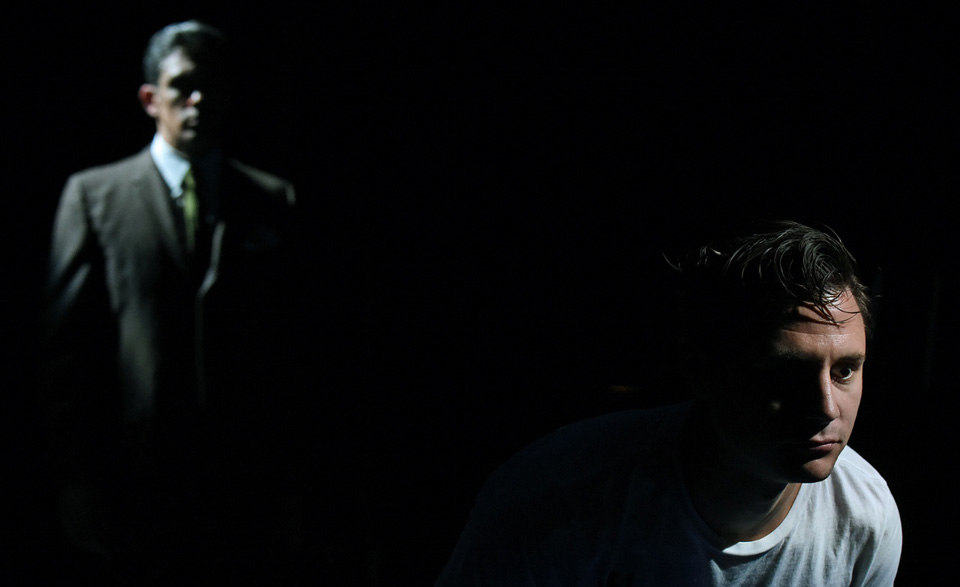 BEVERLY HILLS, Calif.—Alexi Kaye Campbell's play The Pride received the Laurence Olivier Award when it premiered at London's Royal Court in 2008, the Critics' Circle Award for Most Promising Playwright and the John Whiting Award for Best New Play. It's already almost a decade old. A couple of years later it had a New York production with Hugh Dancy and Ben Whishaw. Campbell has written other plays as well, though he is probably better known for his feature film Woman in Gold, starring Helen Mirren and Ryan Reynolds, about the recovery of a famous Gustav Klimt painting stolen by the Nazis and then acquired by the Austrian government, that became the highest earning independent film of 2015.
It is now playing in a crackling new production directed by Michael Arden, the current artist-in-residence at The Wallis Annenberg Center for the Performing Arts in Beverly Hills, and billed as the Los Angeles premiere. His revival of Stephen Sondheim's musical Merrily We Roll Along was among the most exciting regional theatre events of 2016. This fall he's slated to open a Broadway revival of the Caribbean-themed musical Once on This Island.
Campbell's writing in this four-actor play is an elegantly limned double portrait, as if through a two-way mirror, of two distinct time periods, 1958 and 2008, and the lives of three characters, Philip (Neal Bledsoe), Oliver (Augustus Prew) and Sylvia (Jessica Collins), whose interlocking stories are conditioned by their eras. A fourth actor, The Man (Matthew Wilkas) plays several highly differentiated characters in both eras; his admirable versatility nearly threatens to outshine the three main actors!
Philip, Oliver and Sylvia are not the same individuals 50 years on. Rather, they represent certain personality types who coped with their times as they could. In the 1950s England, and most of the world, was still an oppressive place for homosexual people. Homosexual acts were illegal and people were sentenced to jail, or forced into chemical castration or disgustingly barbaric forms of therapy, including shock and aversion/conversion procedures. Although largely discredited now as cruel and useless—but still favored in some right-wing and homophobic circles—that was the "science" of the day. The well known computer genius Alan Turing, played memorably by Benedict Cumberbatch in the film The Imitation Game, was subjected to chemical treatment and felt so depressed and humiliated by his treatment that he committed suicide in 1954.
Philip, married to Sylvia in 1958, is correct, proper, well-spoken and polite, and unhappy with his boring job as a real estate agent. He admits to a lack of fulfillment in his life, an emptiness that cannot be filled. Sylvia, a former actress, has had emotional issues and gets by now as an illustrator. A stiff tension hovers over the marriage. Oliver in 1958 is a children's book writer, now working with Sylvia on a project, given to fantasy and hearing voices. It's clear that he's homosexual in a world that provides little freedom to be himself. Over cocktails he recalls the mystical communication he received on a visit to the oracle site Delphi: A spirit told him, as if from the future, "Everything is going to be all right, maybe one day a better understanding of our nature."
The set-up is a little schematic, but dramatically useful. Not all homosexuals lived at such extremes of repression, nor at such depths of self-hatred as to almost invite public humiliation and legal punishment in bathrooms and parks. Many existed quietly somewhere in between, often unbothered by the tentacles of the law or the scorn of their families, and were able to enjoy productive lives.
The 2008 scenes, alternating back and forth with 1958, bring history up to date. Same-gender marriage was not made legal in the UK until 2014, but homosexuality was no longer illegal, LGBT culture flourished, and Gay Pride marches were annual fare. "The Pride" refers to that year's parade, and whether or not to attend. (I'm reminded of that New Yorker cartoon showing a comfortably middle-class gay couple in their well-appointed apartment. One of them is talking on the phone saying they're staying home from the parade today. "We're here, we're queer, we're used to it.") Gay life, at least in most Western countries, has become, for many—and for now—normalized and unthreatened.
But these old paradigmatic character types come into play again. Sylvia is best friend and confidante, newly divorced. Philip, a socially conscious photographer, is seeking domestic monogamy with a faithful partner. But as his lover of a year-and-a-half's duration, Oliver is still the addictive thrill-seeker who plays around in potentially dangerous situations with strangers. If indeed that predicted day of "better understanding of our nature" has come, it has not brought personal peace to him.
The play smolders with weighty observations about human character, tossed off in fluent and witty dialogue by actors whose magnificent training is on full display. Always, just out of reach, that better day seems to be within grasp. As each scene changes, arriving characters look piercingly at the ones leaving, as if to ask, Don't I know you from somewhere? or, Remember that face, you might see it again sometime.
In keeping with the innovative time conceit of the drama, the staging is also radical. The audience is seated on four steeply raked banks of seats surrounding the square box of the stage, creatively lit both from above and below. It's almost as though we are attending a boxing match between smart people who haven't figured out the rules, with timely emotional body blows. The spare scenic design with see-through acrylic furniture is by director Michael Arden, who employs Travis Hagenbuch's stark lighting scheme and Joshua D. Reid's sound design, which features songs of the periods. Costumes are by Danae Iris McQueen. The only problem with a play-in-the-round (though here the round is square) is that when characters face away from where you're sitting and speak in low, intimate voices, clarity and words are lost. A shame, because the writing is so pungent.
The Man in one scene, playing a cheeky new startup magazine editor, commissions a tell-all article from Oliver about gay life, sort of a "gay sex for the straight man" angle. He's very pro-gay: "They know what they want." The search for a personal sense of pride that all these characters pursue is inherently not different from that which we all pursue in our own fashion: to be accepted, to love, to do satisfying work. Or as Oliver says, "What is the point of living without honesty?"
The Pride gives us no script for achieving all this, but does point the way both for the individual and for society toward a few answers.
Now here's a challenge for a future playwright: Update the play to 2008 and 2058. How much will have changed?
The Pride plays through July 9, Tues.-Fri. at 8 pm; Sat. at 2 and 8 pm; Sun. at 2 and 7 pm, at the Wallis Annenberg Center for the Performing Arts, Lovelace Studio Theater, 9390 N. Santa Monica Blvd., Beverly Hills 90210. For tickets and other information go to the Wallis website, call (310) 746.4000, or visit the box office at the theatre.