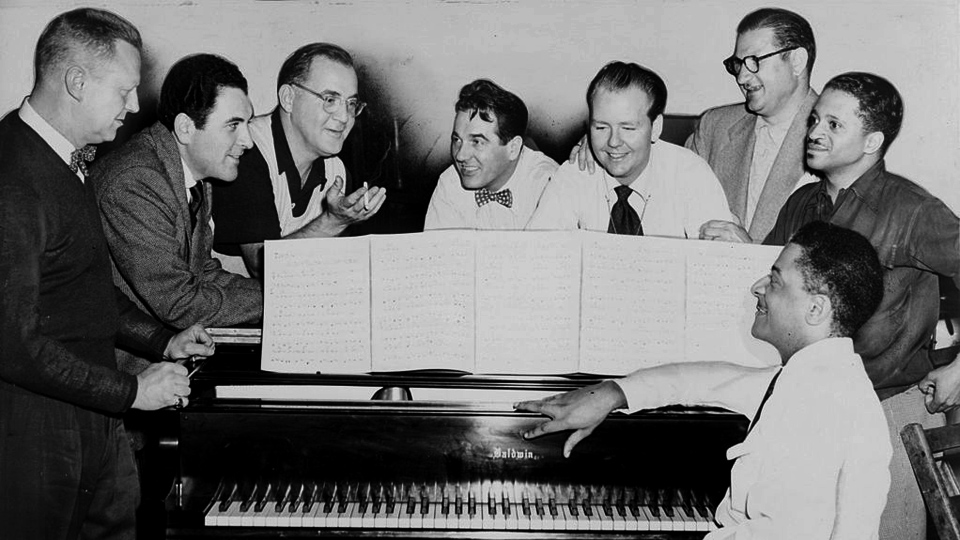 Eighty years ago, on the night of January 16, 1938, music history was made in more than one way. Benny Goodman became the first jazz bandleader to perform at Carnegie Hall, and he led a racially integrated group.
Benny Goodman (1909-1986) was a Chicago-born Jewish jazz clarinetist and bandleader known as the "King of Swing." In the mid-1930s, Goodman led one of the most popular bands in the United States.
Jazz had been heard in concert halls, but up to that point mostly the smoother interpretations of Paul Whiteman's band or the classically influenced music of George Gershwin.
Goodman's concert at Carnegie Hall in New York City is described by critic Bruce Eder as "the single most important jazz or popular music concert in history: jazz's 'coming out' party to the world of 'respectable' music." In an era of racial segregation, Goodman led one of the first well-known integrated jazz groups and he launched the careers of many major jazz artists.
Building on the success of his film Hollywood Hotel, which opened to rave reviews and drew giant lines, Goodman booked one of the most renowned classical concert venues in the world, Carnegie Hall. It sold out weeks in advance. The capacity 2760 seats sold for the top price of $2.75, a high price at the time.
The concert began with three contemporary numbers from the Goodman band—"Don't Be That Way," "Sometimes I'm Happy," and "One O'Clock Jump"—followed by a Dixieland quartet. So far the audience reaction was polite. Then came a jam session on "Honeysuckle Rose" featuring members of the Count Basie and Duke Ellington bands as guests. Basie's guitarist Freddie Green made a striking impression with his innovative chord improvisations. As the concert went on, both the performers and the audience livened up. The vocal by Martha Tilton on "Loch Lomond" provoked five curtain calls and cries for an encore.
By the time the band got to the climactic piece "Sing, Sing, Sing (With a Swing)", success was assured. This performance featured playing by tenor saxophonist Babe Russin, trumpeter Harry James, Goodman on his clarinet backed by drummer Gene Krupa, and Jess Stacy on piano.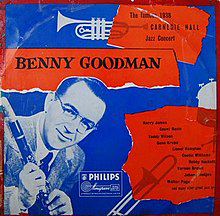 After years of work by musicians from all over the country, jazz had finally been accepted by mainstream audiences. Acetate recordings of the concert were made, though the equipment used was not of the finest quality, and aluminum studio masters were also cut. These recordings were stored away and forgotten until they were found in 1950. Columbia issued a selection on LP as The Famous 1938 Carnegie Hall Jazz Concert. These recordings have not been out of print since they were first issued. In early 1998, the aluminum masters were rediscovered, and a new CD set of the concert was released based on them. It became one of the best-selling live jazz albums of all time.
In the words of critic John Fordham, "The remarkable result was that Goodman's big band, plus guest soloists from the Duke Ellington and Count Basie orchestras, broke the mold on January 16, 1938, and played a full-on, extensively improvised, racially integrated jazz concert in the temple of white American culture's musical authority—New York's Carnegie Hall…. Though an audience mostly unfamiliar with jazz was uncomfortable with the music's ragged edges, informality and jam-session atmosphere at first, by the end it was ecstatic. Many commentators since have suggested that, as a wakeup call to the wider public about what was really happening in American music, it was the most significant concert of popular music in the 20th century."
For the record, the Benny Goodman Orchestra included bandleader Goodman on clarinet and vocals; Chris Griffin, Ziggy Elman and Harry James on trumpet; Red Ballard and Vernon Brown on trombone; George Koenig, Art Rollini, Babe Russin and Hymie Schertzer on reeds; Jess Stacy on piano; Teddy Wilson on piano in the Benny Goodman trio and quartet only; Lionel Hampton on vibraphone (quartet only); Allan Reuss on guitar; Harry Goodman on bass; Gene Krupa on drums; and Martha Tilton on vocals.
Additional personnel for the Carnegie Hall concert included Buck Clayton and Cootie Williams on trumpet; Bobby Hackett on cornet; Harry Carney, Johnny Hodges and Lester Young on saxophones; Count Basie on piano; Freddie Green on guitar; and Walter Page on bass.
A 10-minute video about this historic night can be viewed here.
Sources: Wikipedia, Jewish Currents, The Guardian and others.