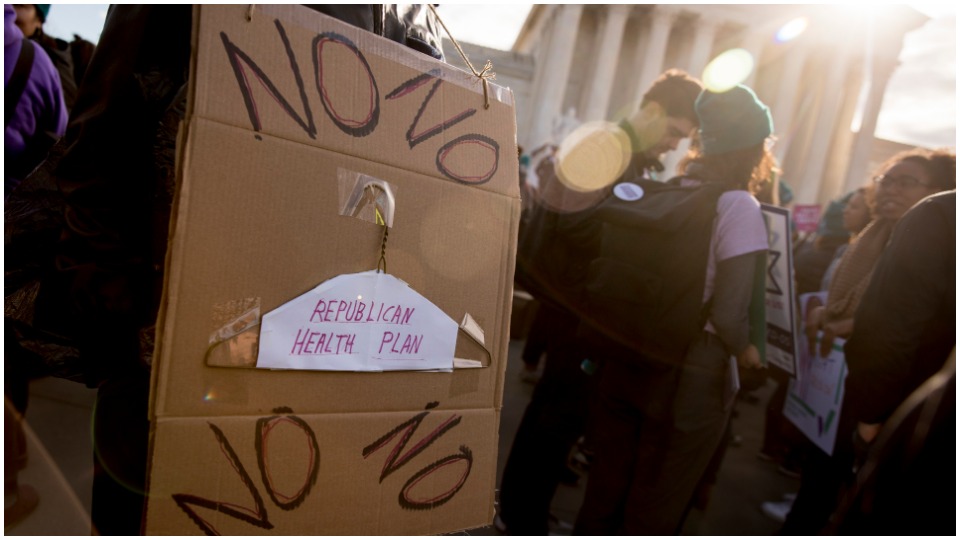 WASHINGTON—For Molly Duane, the right to reproductive choice, and access to it, is "a family passion."
The young woman from Denver, whose sign declared "Abortion is kosher," was one of thousands of people massed outside the U.S. Supreme Court on March 4 to urge the justices to preserve reproductive choice and, as importantly, the ability to exercise it.
Duane's sign was from the National Council of Jewish Women, one of many groups whose members showed up at the High Court the morning of March 4. Others ranged from the ACLU to Planned Parenthood to Catholics for Choice to NARAL. Unionists there included at least several Teamsters.
Inside, Duane's sister, attorney Isadora Bilsky, sat with the Center for Reproductive Rights team as lead counsel Julie Rikelman argued against a Louisiana law that would literally shut two of the state's three abortion clinics. Only one doctor in one Louisiana clinic would be left to provide abortions to the million women, 70% of them women of color, who need them there.
"My grandmother had a back-alley abortion" in 1943 when she lived in the Jewish community of Rogers Park on Chicago's North Side, Duane said, just after her husband went on his third deployment overseas during World War II. "She didn't want to be a single mother with a baby" if her spouse was killed.
That abortion was safe, but most back-alley abortions weren't. "So this"—safe reproductive rights for all—"has been my family's passion all these years," Duane said.
The Louisiana statute could take women back to the days of such back alleys, speakers said, by making access to safe and legal abortion virtually physically impossible. It's one of a raft of such laws, all aimed at eliminating a woman's right to choose what to do with her own body, the protesters outside the court and the lawyers inside it emphasized.
Right-wing politicians have passed such laws in red states nationwide—and those pols, plus GOP President Donald Trump, hope the five-man Republican-named court majority will use the Louisiana clinic case, June Medical Services vs. Russo, to ratify those dictates.
Inside the courtroom, during the long oral argument, the justices appeared split into ideological camps, with Chief Justice John Roberts in the middle, just as he was in other controversial 5-4 court rulings ever since Trump took office.
Four years ago, the justices, again 5-4, threw out an identical Texas law that banned any clinic from providing abortions unless its doctors were admitted—licensed—to do surgery at a hospital within 30 miles. The justices said Texas's law put "an undue burden" on a woman's right to choose.
Left unspoken, at least inside the courtroom: Two Trump-named justices, Brett Kavanaugh and Neil Gorsuch, now sit on the court. Both are expected to vote with Louisiana and against a woman's access to abortion.
In that Texas case, Rikelman said, the Supreme Court ruled "that admitting privileges" for clinic doctors at the hospitals "served no medical benefit." The U.S. District Court agreed "after a trial…that this law would serve no benefit and, in fact, would harm the health of women in Louisiana." She told Justice Samuel Alito the one remaining licensed abortion provider could serve only 10,000 women, out of the million who qualify for help yearly.
But the 5th U.S. Circuit Court of Appeals, with a GOP-named majority, reversed that ruling, though its judgment has been on hold ever since, awaiting the High Court's decision.
Ironically, the conservative justice who sharply questioned whether the clinics had the right to sue Louisiana, Samuel Alito, put his finger on the key issue in dialogue with Rikelman.
"The constitutional right at issue is not a constitutional right of abortion clinics, is it? It's the right of women," Alito said. "That's correct," Rikelman replied. "But in order for women to access their right to abortion, they need to be able to access those services."
And when the Louisiana law was briefly in effect in 2016, before the courts stopped it until the justices could rule, "abortion access was thrown into chaos when this law actually took effect."
That was also the point of the thousands outside the court, especially for hundreds who raised their hands when speakers asked if they had had abortions. At least one speaker, an African-American woman from Michigan, said that without an abortion which ended an ectopic pregnancy, she would have died.
"This is obviously an incredibly important case," said Tara Murtha, communications director for the Women's Law Project of Pennsylvania. Added Murtha—who, in a riff on a Trump slogan wore a cap proclaiming "Make America Think Again"—laws like Louisiana's not only restrict access to abortion "but manufacture an opportunity for anti-abortion state protesters" to block clinics and obstruct women seeking clinic services.
Doctors also hate the Louisiana law, and similar statutes, Rikelman told Justice Kavanaugh.
"The medical consensus against these laws is clear," she said. Kavanaugh asked if such laws "are unconstitutional in any state, regardless of the facts?" Rikelman replied: "They certainly serve no valid state interest."
The U.S. District Court which held the initial trial, and threw Louisiana's law out, "found this law was a solution for a problem that didn't exist and would actually jeopardize the health and safety of people in Louisiana."
Several speakers outside, including Rep. Ayanna Presley, D-Mass., said not just reproductive rights are at stake, but the whole status of women and others in society.  Led by Senate Minority Leader Chuck Schumer and Reps. Rashida Tlaib, D-Mich., and Presley, they declared voters, especially female voters, would remember in November.
"This is about who the Republican Party deems deserves freedom," said Pressley, who, like the clinic patients, is African-American. "This is about" the fact that "the Republican Party is racist, sexist, and misogynistic."
"We'll never be quiet again" in the face of such prejudice, she vowed.