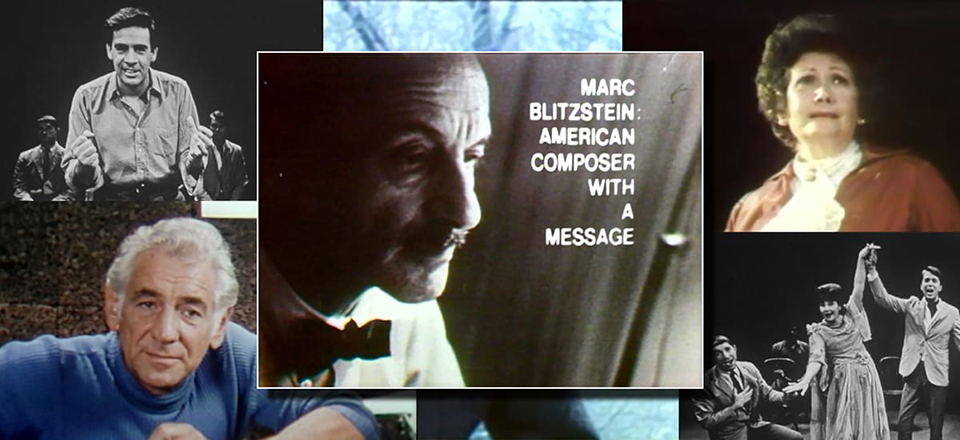 The Kurt Weill Foundation has purchased the rights to three television programs devoted to Marc Blitzstein from original producer Camera Three. One of the half-hour programs was broadcast originally in 1964, while the off-Broadway production of The Cradle Will Rock was running at Theater Four in New York. Host James Macandrew interviewed Howard da Silva, director of the production and creator of the role of Larry Foreman in 1937. Da Silva told the story of Cradle's fabled opening night and discussed the continuing relevance of the show, and stars from the 1964 production sang: Jerry Orbach ("The Cradle Will Rock"), Micki Grant ("Joe Worker"), and the trio of Nancy Andrews, Clifford David, and Hal Buckley ("Art for Art's Sake").
In 1976, Camera Three aired a two-part series on Blitzstein's achievement, headlined by Leonard Bernstein, Aaron Copland, John Houseman, Brenda Lewis, and Howard da Silva. Copland and Bernstein share their great affection and admiration for Blitzstein while discussing his oeuvre and influence; Houseman and da Silva reminisce about the opening night of Cradle, while Lewis and others perform selections from Regina, No for an Answer, Juno, and Cradle. Bernstein caps the second part with a complete performance of Blitzstein's song "Zipperfly," accompanying himself on the piano.
All three videos have been posted complete on YouTube, free and available to all, as a means to help music and theater lovers of today rediscover the power and persuasion of Blitzstein's music. More at marc-blitzstein.org.
Reprinted with minor editorial revision for formatting by permission of the Kurt Weill Foundation from their Fall 2019 Newsletter. The Foundation carries news and updates on the work of Marc Blitzstein because of Blitzstein's classic adaptation of the Weill-Brecht Threepenny Opera and Mahagonny.