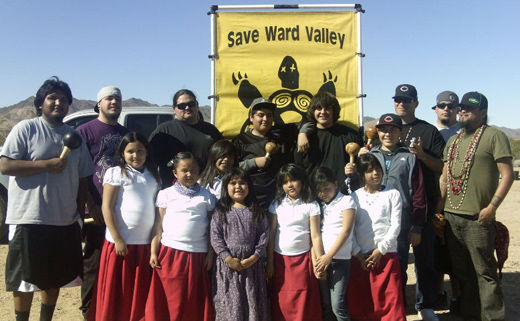 This date in 1999 recalls a colossal environmental victory.
Ward Valley, Calif., was decided upon in 1988 as the preferred location for a nuclear waste dump to be operated by U.S. Ecology. The state of California had to buy the Mojave Desert acreage from the Bureau of Land Management, and then grant the firm permission to build only 20 miles away from the Colorado River. For a decade legal, cultural and environmental issues, involving the rights of local Native Americans, an endangered species of desert tortoise, as well as the track record and competence of U.S. Ecology, roiled the state.
Such environmental activist groups as Greenpeace and the Bay Area Nuclear Waste Coalition, joined with the Colorado River Native Nations Alliance (CRNNA) to stop the project. In late 1995, they occupied the land, coming and going to conform to policies on camping in the desert. At a demonstration in front of the Federal Building of Los Angeles in December, CRNNA called upon the sacred importance of the environment to the Native communities. The Department of Interior refused to grant the CRNNA standing, however, thus denying the native peoples a voice in the required Environmental Impact Statement on the dump. Later the CRNNA filed a claim under the Civil Rights Act due to the sacred status of the Ward Valley. Rev. Jesse Jackson agreed with the analysis of "environmental racism," and became a strong ally.
For the next couple of years the encampments continued. Activists blockaded the dumpsite entrance, even after the Department of Interior ordered the occupation closed. Volunteers kept arriving from near and far to try and stop the dump. Afraid of provoking a confrontation, the Bureau of Land Management removed its law-enforcement officers from the area. The occupation ended in June 1998, but the activist coalition continued to pressure state officials, including Governor Gray Davis, to cancel the project.
On April 2, 1999, U.S. Ecology and the state of California lost a federal lawsuit. Secretary of the Interior Bruce Babbitt refused to sell the land to the state, and with a final U.S. Court of Appeals judgment the next year, the Ward Valley nuclear land dump plan came to an end.
There really is no 100% safe way to store radioactive waste for all time. Any waste dump anywhere is in effect a time bomb waiting to explode. Other energy and industrial waste is also problematic. Technological advances require responsible disposal or conversion for dangerous by-products. Although consciousness over these issues has grown exponentially, the people's will is far ahead of governmental policy in most countries, including our own.
For more information see here.
Photo: http://www.h-o-m-e.org