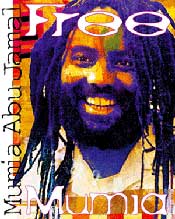 On this date 20 years ago, in 1995, thousands demonstrated in Philadelphia and other cities in support of journalist and former Black Panther Mumia Abu-Jamal, at that time on death row for murder since 1982, in the largest anti-death-penalty demonstrations in the U.S. to date.
On Dec. 9, 1981, Abu-Jamal was driving a taxi when he saw that police had stopped his brother. He got out of the car to make sure police were not violating his brother's civil rights.
In the altercation that followed, Philadelphia Police Officer Daniel Faulkner was shot and killed. Witnesses saw a man flee the scene who did not look like Abu-Jamal. But when police arrived, they arrested Abu-Jamal, who had also been shot.
Ballistics reports prove that the gun found on Abu-Jamal, a .38 caliber weapon, was not the gun that killed Officer Faulkner. He was shot with a .44 caliber weapon. Police did not even test Abu-Jamal's weapon to see whether or not it had been fired.
Eyewitnesses who were not called to testify in 1982 have come forward. They say Abu-Jamal was not the shooter. Eyewitness Veronica Jones says police threatened to jail her if she testified. Other witnesses, who testified against Abu-Jamal in the original trial, have changed their stories, saying police threatened and intimidated them.
Judge Albert Sabo presided over Abu-Jamal's trial in 1982. Judge Sabo has sent more people to death row than any other judge in the U.S., most of them Black and Latino. There is a higher proportion of Black people on death row from Philadelphia than from any other city. Only two Black jurors served on this case, in a city that is 40 percent Black.
At the time of his arrest, Abu-Jamal was president of the Association of Black Journalists in Philadelphia. Because of his advocacy for Philadelphia's Black community, he was known as the "Voice of the Voiceless."
Mumia Abu-Jamal has always maintained his innocence. His lawyers and supporters say Abu-Jamal was in the wrong place at the wrong time. Because he had earned the enmity of the Philadelphia police for his activist journalism, Abu-Jamal made a convenient target for a frame-up and was given a death sentence. The New York Times called him "perhaps the world's best known death-row inmate."
Abu-Jamal, now 61 and in poor health after more than three decades in prison, has continued his journalistic work exposing the racist character of the death penalty and inhuman conditions in the prison system. He is the author of several books, including "We Want Freedom: A Life in the Black Panther Party," "Live from Death Row," and "All Things Censored."
After a succession of all possible appeals by Abu-Jamal were exhausted, his conviction was upheld but his death sentence vacated. He was resentenced to life in prison without parole, a sentence that was reaffirmed by the Superior Court of Pennsylvania on July 9, 2013.
Earlier this year, Abu-Jamal suffered a health crisis from diabetic shock that nearly slipped into a coma, complicated by a debilitating, painful skin disease and hepatitis C. Supporters around the world feared that the Pennsylvania authorities were trying to murder him through medical neglect. At last report, he is still receiving no treatment for hepatitis C, even though recently developed treatment with direct-acting anti-viral medications has shown an over 95 percent success rate in curing the illness.
An individual case can often change history: The Pennsylvania Department of Corrections has an estimated 10,000 people in custody with hepatitis C who are receiving no treatment. This issue is the subject of a class action suit filed for injunctive relief in the Eastern District of Pennsylvania federal court in June.
Adapted from Peace History Index, the Abolitionist Law Center, National Writers Union, and Wikipedia.
Photo: peacebuttons.info