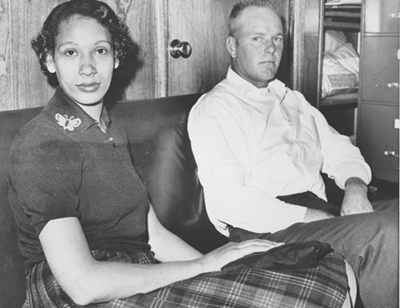 Loving Day, celebrated on June 12 each year, honors the 1967 Supreme Court decision in Loving v. Virginia, which ended interracial marriage bans in those 16 states that still had them. The decision struck down state miscegenation laws, and affirmed a person's right to equal protection under the law, as guaranteed under the 14th amendment.
In June of 1958, Richard Loving and Mildred Jeter, a white man and an African-American woman, had married in Washington, D.C. Upon return to their home state of Virginia, the couple was arrested, convicted of a felony, and sentenced to a year in prison. The appeal of their conviction led to the decision.
Loving Day's mission is to fight racial prejudice through education and to build multicultural community. New York City hosts the largest Loving Day celebrations, often with over 1000 participants. Various multiethnic community groups coordinate with Loving Day to spread the joy.
Loving Day creates a common connection between multicultural communities, groups and individuals; builds multicultural awareness, understanding, acceptance, and identity; and educates the public about the history of interracial relationships, alongside the annual celebrations – indeed, all through the year.
The coincidence of the name of this celebration is not lost on celebrants: How perfect that Loving Day refers to Richard and Mildred Loving, the couple in the Supreme Court case, and the original definition of loving.
Not surprisingly, the Loving case is often cited as a precursor to the current struggle to attain same gender marriage, whose proponents question whether the public – and the courts – understand how restrictive and unfair "traditional marriage" from the past could be. Needless to say, if you look farther back, say to Biblical times, "traditional" marriage often involved multiple wives, slaves and concubines. Moses, the storied leader of the Jewish people, was married to Tsipora, daughter of a Midianite priest; so interracial marriage has a long, if selectively remembered, history.
Loving Day began as a graduate thesis project at Parsons The New School for Design in New York City. It was created by Ken Tanabe, a graphic designer, who accidentally discovered the Loving case while researching something else. Being of interracial, intercultural, and international heritage himself, he was shocked that no one ever taught him about the case, and that no one else his age seemed to know about it either. That's how it all started.
The Loving Day website went live in June of 2004. Since then, Loving Day has expanded into a global network of celebrations. Loving Day has been featured in major national and international media, including the Washington Post, NPR, ABC, and BBC World. Loving Day also makes its way into many prominent social calendars and event listings, including Time Out, Good Magazine, About.com, and Urb Magazine.
Adapted from Peace History Index and www.lovingday.org
Photo: Mildred & Richard Loving. | AP