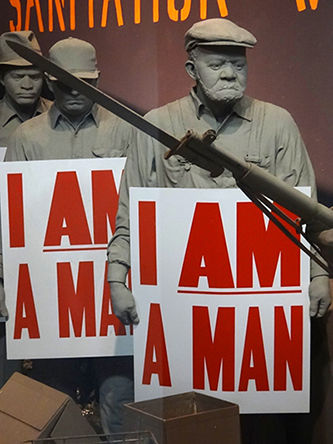 On this date in 1968, the Memphis Sanitation Strike came to an end.
Many people who remember the Rev. Martin Luther King, Jr. as the most prominent civil rights and peace advocate of his day forget that at the time of his death he was deeply involved in a strike of severely oppressed African-American sanitation workers.
It began on February 11, 1968, in Memphis, Tenn. Some 1300 black sanitation workers walked off the job in protest against years of poor treatment, race discrimination, dangerous working conditions, and the horrifying recent deaths of Echol Cole and Robert Walker, who had been crushed in a mechanical malfunction on February 1st. They also sought to join the American Federation of State, County, and Municipal Employees (AFSCME) Local 1733.
Mayor Henry Loeb declared the strike illegal and refused to meet with local black leaders. Heavily redacted files released in 2012 suggest that the FBI monitored the strike closely and increased its operations in Memphis during 1968. FBI director J. Edgar Hoover had long believed Rev. King to be the most dangerous man in America.
By February 15, the trash had begun noticeably piling up, and Loeb began to hire white strikebreakers with police escorts. Local news media generally favored Loeb, portraying union leaders (and Dr. King) as unruly, meddling outsiders.
Support for the strike divided heavily along racial lines. From their churches, the black community helped the strikers with food. Tension increased as the police responded to demonstrations with batons and tear gas, killing one 16-year-old boy with a shotgun. Under the leadership of Community on the Move for Equality (COME), the strike grew into a major civil rights struggle, attracting the attention of the NAACP, the national news media, and Martin Luther King, Jr. Boycotts and civil disobedience ensued. Besides Dr. King, other civil rights leaders such as Roy Wilkins, James Lawson, and Bayard Rustin participated over the course of the strike.
In a city whose many black residents lived disproportionately in poverty, "I Am A Man!" emerged as a unifying civil rights theme.
Martin Luther King, Jr. took an active role in mass meetings and street actions. He first visited the Memphis strike on Mar. 18, speaking to an audience of thousands. Ten days later, a demonstration with King in attendance turned violent when some protestors started breaking windows. On a subsequent visit to Memphis, on April 4, 1968, King was assassinated, under circumstances that have left many open questions as to the killer's sponsor.
Membership in Local 1733 increased substantially during the course of the strike, more than doubling, and King's assassination only intensified the strike. Federal officials, including Attorney General Ramsey Clark, urged Loeb to make concessions to the strikers in order to avoid further violence, but Loeb refused.
On Apr. 8, a completely silent march led by a mourning Coretta Scott King attracted 42,000 participants.
The strike ended on April 16, 1968, with a settlement that included union recognition and wage increases. The period was a turning point for black activism and union activity in Memphis.
Adapted from Wikipedia.