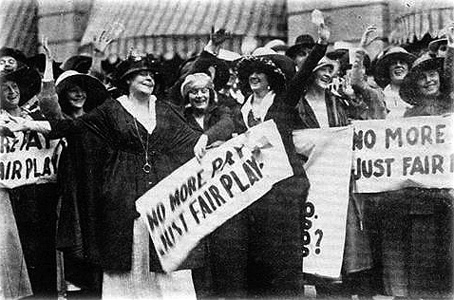 It happened on August 12, 1919. Learning that their boss, Florenz Ziegfeld, was joining the Producing Managers' Association, the chorus girls in his Ziegfeld Follies formed their own union, the Chorus Equity Association.
Marie Dressler, a former chorus girl, was elected its first president. The union's first action was to march down Broadway in solidarity with the Actors' Equity Association strike.
The Chorus Equity Association was helped by a $100,000 donation from superstar and former chorus girl Lillian Russell.
In 1955 the union merged with the Actor's Equity Association.
The Ziegfeld Follies were a series of elaborate theatrical productions on Broadway in New York City from 1907 through 1931. The Ziegfeld Follies were famous for many beautiful chorus girls commonly known as Ziegfeld girls, usually wearing elaborate costumes by designers such as Art Deco artist Erté.
Photo: Marie Dressler with Ethel Barrymore during the 1919 actors' strike. Wikipedia.