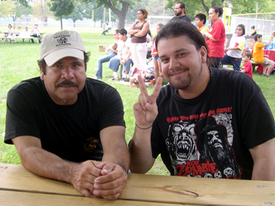 RANTOUL, Ill. — Over a hundred people enjoyed culture and community at the 2nd Annual Rantoul Harvest Festival in this central Illinois town, Aug. 6 — a celebration of the town's diverse population and its migrant farm worker community. The event, held at Wabash Park, was organized by the Illinois Migrant Council and the Illinois Department of Human Rights.
Among the crowd was Jorge Luis Molina Jr., a 21-year-old college student from Alamo, Texas, who works as a seasonal farm worker for a few months out of the year in Rantoul.
Molina is a third-generation migrant farm worker. He works alongside his father, who has been a seasonal worker for the last 25 years. Molina's grandfather worked in the same program for 50 years.
Molina and his father wake up every day at 6 a.m. and drive with their co-workers for an hour to a farm, where they work for nearly 12 hours picking pumpkins, with a 30-minute lunch and two breaks. He said he makes $8 an hour.
"Its important for us to be recognized," Molina told the World. Contrary to stereotypes, he pointed out, "most people here are well educated." People need to know, he added, "that pumpkins are not going to pick themselves."
Juliana Gonzalez-Crussi, director of housing for the Illinois Migrant Council, told the World that the festival started out last summer in order to "recognize the contribution of the agricultural workers and to embrace the diverse cosmopolitan nature of the environment." One of the themes, she said, is "removing barriers, providing information and access to social services so the people could benefit from them."
Gonzalez-Crussi said three seed companies, mostly dealing in corn, melons and pumpkins, employ many of the workers. Most of the workers are Latino and from Texas. A migrant farm worker family of four makes about $8,000 a year, she said.
Rantoul's mayor, Neal Williams, addressed the crowd, saying, "It's very important to have a multicultural event like this for all of the residents in Rantoul." Later he told the World, "We're a community. How do you make it grow if you're not a part of it?"
Mike Loschen, the town's community development director, who helped organize the event, said, "Any multicultural event is good, particularly with the Latino population. It's good to expose people to other things and it's good for the farm worker community to come out to a social event."
Wendy Hundley, a Nicaraguan mother of two, runs a local cleaning business, "Mr. & Mrs. Klean," with her husband. Summing up the festival, Hundley pointed out, "It's really for everybody, Latino workers especially. We're a minority and we have to stick together, and when you get to know the workers you feel right at home."