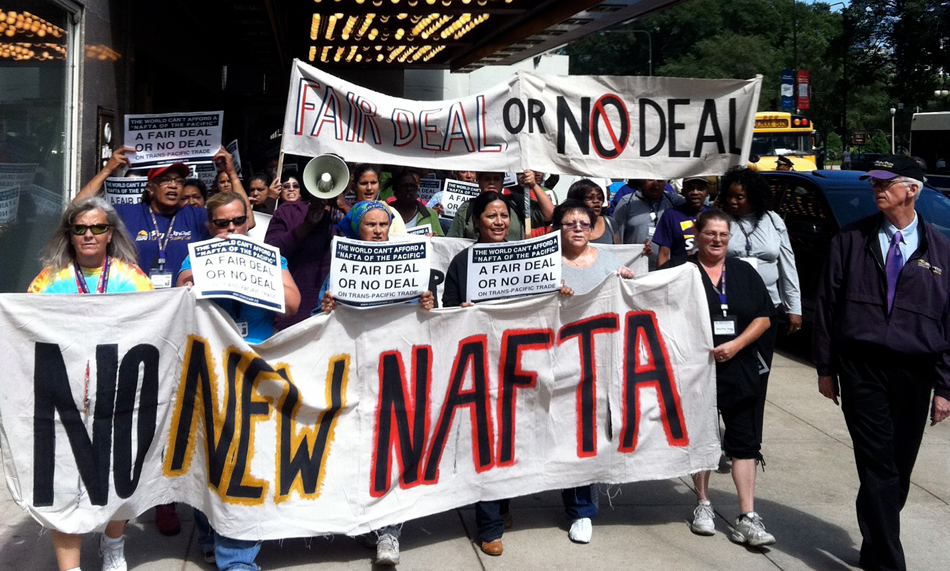 MONTREAL—In a trade merry-go-round, U.S. and Canadian workers and unions are opposing their governments' positions in U.S.-Canada-Mexico talks on a "new NAFTA" and leery of Canada's contrasting labor stands between the new Trans-Pacific Partnership pact – weak — and the new NAFTA. There, Canada's stand is – or has been – strong.
As a result, the AFL-CIO is monitoring the new NAFTA talks, now occurring in Montreal, for Trump administration backsliding. And the Canadian Labour Congress is steaming over Canada's advocacy for weak labor standards in the new 11-nation TPP, which includes Mexico, but not the U.S.
The outcome of 'new NAFTA' trade pact talks is important for workers in both nations. The 24-year-old NAFTA has cost between 600,000 and one million U.S. factory jobs and more than 60,000 Canadian factory jobs, all of them shifted by firms – especially the Detroit Three car companies – to low-wage, no labor and environmental standards Mexico.
Workers in both nations say more high-paying jobs, in factories and services, could be lost with a new NAFTA. The Communications Workers, for example, cite call center jobs going to Mexico.
And the same goes for Canada in a new TPP, Mark Rowlinson, executive assistant to the Canadian Steelworkers president, said in a telephone interview. Canadians believe they'll lose auto and auto parts jobs, especially to Korea, under the new TPP. He also is skeptical of what the so-called investor protection provisions in the new TPP would mean.
Canadian workers, however, are blunt in where they stand on any new NAFTA, the controversial U.S.-Canada-Mexico "free trade" pact that would replace the current 24-year-old NAFTA. They're against it.
Thousands of them took to the streets of downtown Montreal, brandishing anti-NAFTA signs on Jan. 23.
The contrast in labor positions in the two trade pacts doesn't perplex AFL-CIO trade specialist Celeste Drake, who's monitoring the new NAFTA talks while keeping an eye on the TPP fight, too. The fed is leery of the GOP Trump administration's positions in new NAFTA talks.
"Any real solutions for creating a 'new NAFTA' must include strong, clear and effective provisions that protect worker rights and freedoms in Mexico," Drake said in a detailed statement from Montreal, site of the new NAFTA talks.
"The enemy of American workers is not Mexican workers. It is a broken system of trade that rewards corporate greed at our expense by allowing manufacturers who operate in Mexico to exploit workers and pay poverty wages.
"To help raise wages and improve working conditions, NAFTA must ensure all workers can exercise fundamental labor rights…including the bedrock right to join unions and negotiate with employers. NAFTA must embed strong labor obligations in the text and establish innovative monitoring and enforcement tools and penalties to overcome entrenched indifference to worker rights," Drake added.
Mexico's record under the current NAFTA is so bad that the United Farm Workers and AFL-CIO, accompanied by Mexican unions, filed virtually simultaneous, but separate, complaints with the U.S. Labor Department on Jan. 25. Both said Mexico has broken its own already weak labor laws during the current NAFTA's 24 years, and both demand investigations and rulings for arbitration and negotiations.
"A new NAFTA that includes anything less than a strong, clear, and effective labor chapter — with swift and certain enforcement — will be new in name only, and it will fail to address the trade deficit, create good jobs, or raise U.S. wages as a result," Drake said.
Canadian Prime Minister Justin Trudeau laid a tough pro-worker position on the bargaining table in the last "new NAFTA" round of talks, in Mexico City. It included not just requiring higher labor standards and free – not company and government-controlled – unions in Mexico, but tougher enforcement in the U.S. and repeal of so-called "right to work" laws. Like the U.S., Trudeau also wrote worker rights into NAFTA's text, not as a side pact. Mexico opposed both the U.S. and Canada.
Canada's flip-flop on worker rights between the TPP and the "new NAFTA" doesn't surprise Drake. It also prompts the Steelworkers' Rowlinson to predict Trudeau will backtrack on Canada's strong pro-worker NAFTA stand.
"By the time Canada entered the TPP negotiations, they were shut out from proposing their own labor text and had to live with what the U.S. had put down" in the TPP, Drake explained in an e-mail. That text was written before labor and its allies successfully lobbied Congress to defeat the TPP if Democratic President Barack Obama submitted it, and before successor GOP President Donald Trump formally pulled the U.S. out.
Trudeau enthusiastically announced the new TPP in a speech to the World Economic Forum in Davos, Switzerland on Jan. 24.
"Our concern is our government is a pro 'free-trade' government," regardless of who's Prime Minister, Rowlinson said in a telephone interview. "Whatever we agreed to at the TPP, it would be difficult to go to NAFTA and demand something more." Both Canada and Mexico are in the TPP as well as NAFTA.
"We're still in the same place" as Canadian unions were when NAFTA was first negotiated, added Rowlinson. "Here in Canada, we think it" – the new NAFTA – "is a mistake" especially because of the labor standards conflict.  "One has to be concerned for Canada's stand for stronger labor standards" in both nations south of its border "while they (the Trudeau administration) are negotiating a TPP with nations like Vietnam that have very low labor standards."
There may be one bright spot, however, the AFL-CIO's Drake says. "Now, without Vietnam and Malaysia at the table opposing strict and enforceable standards" in a trade pact, as they were in the TPP, "and with a new U.S. lead negotiator, the dynamics are different.  We'll see if the new negotiating situation can create a better economic frame for working families," she said.