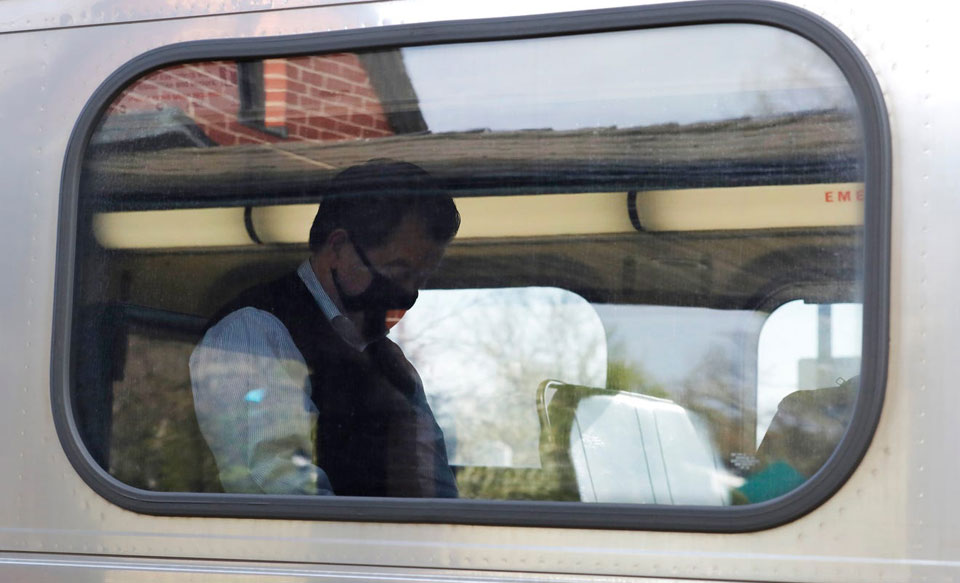 WASHINGTON—Fed up with Trump regime inaction to protect frontline transportation workers, their unions formally petitioned Trump Transportation Secretary Elaine Chao to order the nation's airlines and subway, bus, and commuter rail companies, to force passengers to wear anti-coronavirus protective masks all the time.
The penalty if the patrons don't: They get booted off the subway, bus, commuter rail car or plane, immediately.
The petition was triggered by the threat that unmasked infected people, knowingly or unknowingly, could infect frontline workers by boarding vehicles and coughing, or sneezing or, as one study in the New England Journal of Medicine shows, even speaking two words.
That's enough to spray droplets on the bus driver, commuter rail conductor or airline crew, and infect them with the virus, too.
The unions of the AFL-CIO's Transportation Trades Department explained to Chao that voluntary and unenforceable bans of maskless passengers don't work. And they want DOT to declare an emergency and impose the pro-mask rule immediately.
DOT has "the ability to ensure uniform safety standards across transportation workplaces" and to "provide enforcement capabilities that cannot be replicated by public or private transportation providers alone," their petition added.
That's needed, because, for example, an airline passenger on a carrier that requires masks could come in contact, in the airport, with maskless passengers heading towards airlines that don't, and contract the virus from those passengers. So TTD's petition covers not just the buses, subways, rail carriers, and airlines, but their terminals and stations, too.
And most transportation workers, including bus, commuter rail, and subway workers, and especially airline crews, work in closed environments where other anti-coronavirus measures are difficult to impossible and where there's little or no exchange with outside air, TTD pointed out to her. Lack of air exchange allows coronavirus droplets to linger.
That leaves requiring masks as the last line of anti-coronavirus defense, TTD President Larry Willis wrote to Chao. It's also the most effective, studies show, he reminded her.
"Thousands of workers in passenger transportation have continued to go to work on planes, buses, ferries, and trains in increasingly dangerous conditions," Willis wrote. "Regrettably, these employees have not been spared the effects of the disease, and each TTD union in passenger transportation has reported infections and deaths among frontline workers."
The most notorious case involved Amalgamated Transit Union member and activist Jason Hargrove, a Detroit bus driver. On March 21, he posted a video about a woman passenger, maskless, who boarded his bus, coughing and sneezing in his face.
"We're out here as public workers, doing our job, trying to make an honest living to take care of our families," he said. "But for you to get on the bus, and stand on the bus, and cough several times without covering up your mouth, and you know that we're in the middle of a pandemic, that lets me know that some folks don't care."
Hargrove's video went viral, with more than half a million views. Four days later, he got sick. Ten days later, Hargrove, a previously healthy driver, was dead of the coronavirus.
TTD member unions want to prevent more Jason Hargroves, in so many words.
"While these bus drivers, pilots, flight attendants, train crews, ferry operators, and others are faced with an impossible choice every day between risking their health and losing their livelihood, we acknowledge the irreplaceable services they provide must continue to keep the U.S. economy running," Willis's letter and petition to Chao says.
"Unfortunately, efforts to protect these employees from inherently hazardous workplaces and the threat of deadly communicable disease have been limited to a patchwork of state or local mandates, and a deeply inadequate federal response consisting of non-mandatory guidance."
The TTD unions point out Chao already has legal authority, in the various laws setting up agencies within DOT, or in those agencies' own health and safety rules, to mandate masks.
Individual union presidents, led by Sara Nelson of the Association of Flight Attendants and Capt. Jason DePrete of the Air Line Pilots, are also demanding Chao act, in an op-ed in The Hill.
But so far, she's following her leader, GOP President Donald Trump. Until July 22, Trump downplayed the virus. He still won't wear a mask, except when he visited a hospital. And Chao prefers voluntary measures by the bus, subway, and commuter rail lines. DOT's website does not even acknowledge TTD's demand.
Her agency also touts the fact that it distributed 800,000 masks, free, for truckers, in eight states—Arkansas, California, Georgia, Illinois, Indiana, Nebraska, New York, and Texas—and another 200,000 to trucking companies, in late April.
The TTD petition does not cover one big transportation carrier, Amtrak. That's because the nation's passenger rail system, which is independent of DOT, began, in May, to require all passengers to wear masks, unless there was enough social distancing between you and others.
In mid-July, Amtrak went even further: If you don't wear a mask on board all the time, period, we'll toss you off the train. Keep it up, their notice adds, and we'll ban you from riding. The only exceptions: First-class passengers inside their individual sleeping compartments.