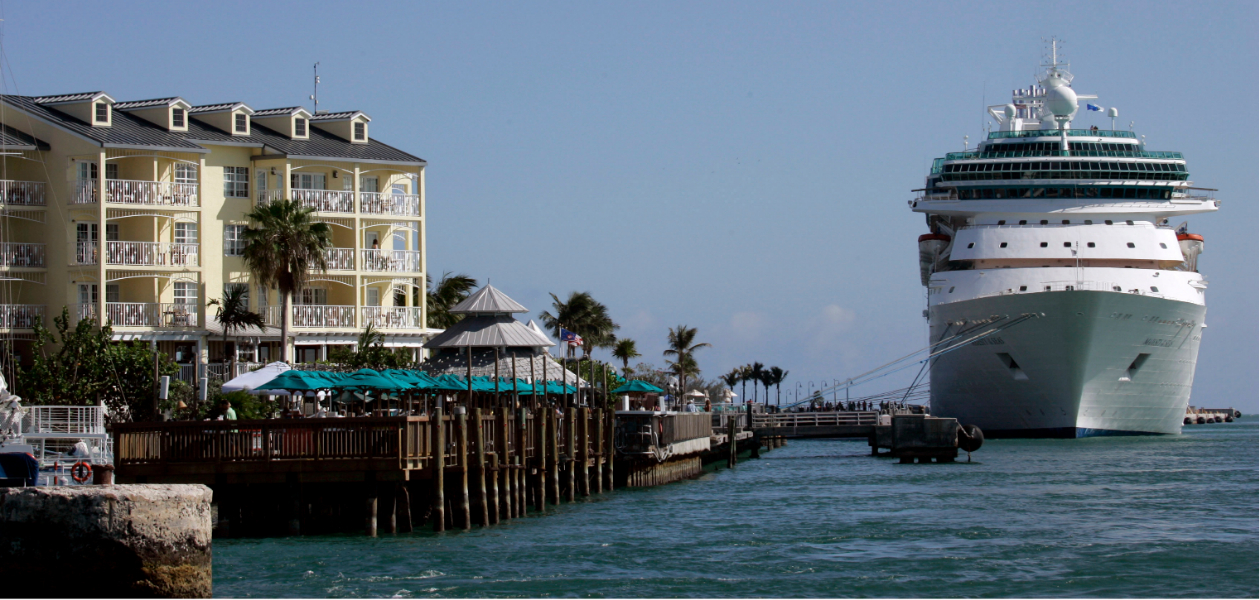 Key West, Florida, the southernmost point of the continental U.S., is a veritable paradise that has long attracted artists and authors and acts as a beacon for those discontented with mundane life in the big cities of the Midwest. It's all too common to hear a server or bartender say, "I came down for a vacation and never left," or "After Key West, I couldn't bear to go back."
The ocean is within reach in every direction; birds sing like they're auditioning for a Planet Earth special; the palm fronds mute any nearby noise pollution every time the wind picks up; and when it rains no one is that unhappy about it. It's easy to forget that one is at the very end of U.S. Highway 1 on nothing more than a speck of land surrounded by unapologetic straits and seas.
The trouble with any paradise, though, is that everyone wants a piece of it, and as the story usually goes, it's those with the power, money, and influence who end up with the largest of chunks. Right now, the ever-shrinking square footage of Key West isn't just being consumed by rising sea levels but also by the rising real estate market.
"Companies and investors are coming in—people from Airbnb and Zillow—and they're knocking on doors to offer cash," said Lila, who bartends at one of the many hotel chains battling over property right now. "Cash buyouts are scary because you don't know where the money is coming from. It's worse than 2008."
Lila has lived in Key West since 1992 and now is left wondering how much longer she will be able to stay. There already existed a familiar power dynamic between landlord and tenant, but now, like in other cities across the country, corporations are coming in to outbid locals.
"My friend has been here for 20-plus years, and her landlord was offered $50,000 over the asking price," Lila told People's World. "She's going to have to move."
Properties are being bought up in bulk for the sake of creating more rentals.
"When condo-izing started, landlords could divide individual homes into multiple units and sell off or rent out more," explained Bridget, who has worked in the Key West real estate market. "What we are seeing now is even worse."
"Back in the 1970s, landlords could purchase a limited number of transient licenses for their properties, which essentially means those properties could be rented daily or weekly. If a property did not have that license, it would be restricted to a 30-day minimum rental period. Lots of companies are using Airbnb and Vrbo to get around this."
The velocity of the market is such that only companies with highly liquid capital can keep up.
"It used to be that residents could afford a rent of $2,000 or $3,000 a month, but now these units are renting for $25,000 to 30,000 a month," Bridget told People's World. "Homes that were in the past used for long-term rentals, for condo-izing, to divide up for families to live in are all being gobbled up for the vacation rental market.
"I have a theory: as soon as the first storm happens, as soon as these people with all this wealth don't know how to react, we're going to see another mass exodus, which is going to hurt everyone here."
A cursory search of what's currently on the market is enough to dampen any hope of moving down to Key West with minimal possessions if one is looking to buy: It seems half-a-million dollars yields less than 300 square feet and a million can get you from 600 to 1100 square feet, depending on location.
The lowest average nightly cost of a vacation rental in Key West is $315, and although some properties do dip below the $300/night mark, this would mean rent of $7,800 to $9,450 per month, assuming steady business. This is a huge mark-up from what would be garnered from roommates or a family occupying the same space for only $3,000 a month. Even at only 81% occupancy rate, according to AirDNA—a firm that studies vacation rentals—with an average of $460 per day, the monthly cost is $11,178.
The numbers confirm what has already been known in real estate: It's more profitable to keep properties empty temporarily than to rent to long-term residents. The larger danger looming is what happens when these property owners figure out the "critical mass" of occupancy. Not only would it be concerning for landlords to determine the perfect amount of time a property can be left empty balanced with rent increases; but, what happens when deliberately keeping properties empty for longer drives up value?
Although Key West Mayor Teri Johnson is looking to "crackdown" on these companies renting through Vrbo and Airbnb, the bulk purchases of land and the soaring property values they drive are dispossessing and displacing those who already live and work here.
Working to live in Key West
When happy hour begins (at some places it's the usual 4 p.m., others begin as early as noon), the bars and restaurants are jam-packed. Cruise ship passengers have yet to flock back to the safety of the ship's belly already bursting with endless buffets, leaving servers and bartenders, and back-of-the-house staff overwhelmed.
Having made their way into work an hour or so before to help prep and get ready for the shift change, these service industry folk—ranging from lower middle class to working-poor—meander from their condo-ized houses in Old Town or fight through the droves of tourists coming to see the 3,000-square-foot Hemingway House that overshadows their affordable/public housing or make the 45-minute drive in from Big Pine Key.
One bartender confessed that they drive in from Fort Lauderdale every working day—a four-hour commute one-way, which wouldn't be worth it if they had not also had to stop in Islamorada for an earlier shift those same days.
"The last two weeks I have gone out to happy hour, our server has been in tears at some point," said Bridget. "The god-awful workload they have—there's not enough people here. They have all been driven too far out."
Being displaced further has had other effects besides just a dwindling labor force. Traffic has also skyrocketed because of both workers coming from greater distances and the increase in tourism. Both Bridget and Lila have all but stopped biking around the city because of increased danger from this traffic.
"Nobody's paying attention—they're not looking for you, they're only looking at their phones," Lila explains of the out-of-towners coming down to pay to be her neighbor for a few days. Lila has been struck by a car three times now.
Now workforce housing is being built on the Truman Annex waterfront and on Stock Island; however, these seem like bandages to keep enough people around to provide a labor force.
"I don't know how someone could live down here on $100,000 a year or less," exclaimed Danielle, who is originally from Michigan and now wonders how long she can stay in Key West. "I can barely afford what I'm doing and I'm very high up at my company."
"I was talking about this with a doctor who recently left Key West [because of the cost of living]. Anything you want to do here is expensive; if you want to enjoy any part of the island or life on the water, it's a lot. You can't enjoy living because you have to pay the rent bill."
When asked about affordable and public housing, Danielle—who has spent much of her free time researching different properties—said, "The rules and regulations [around affordable housing] are strict. It can be around $2,800 to $3,000 for a one-bedroom, and that's without utilities. You can't share that with anybody either."
When compared to the fact that the average tourist is going to spend $441 per day, these costs of living in Key West seem to be more than just costs: They seem to be prohibitive to living.
A change in the community
As tourists begin to stream toward Mallory Square to watch the sunset, the streets fill up with those staying on the island, re-energized after spending too much time in the sun and ready to live that so-called island life. Only a few short hours later, when it's not quite the end of the night, there are people passed out on porches and lawn furniture of houses they do not belong at, or urinating in public, or using their vacation rental as a frat house.
"There is such a lack of concern for everything. The behavioral changes in cruise ship passengers—it's just unbelievably intolerable and it makes going to work miserable," explained Bridget. "Now houses all around me are being used for vacation rentals; sometimes there will be good considerate people, but so many people have become so entitled and inconsiderate.
"I have had to ask these renters several times to take their parties inside or down a notch. A lot of times I get met with hostility. It makes my family cringe every time the season comes around."
The changes have had clear ideological shifts as well. Once a city known for its progressive identity in comparison to much of the rest of Florida, Key West has been left vulnerable to a more reactionary tourist population by investors and property holdings groups. Many storefronts are now adorned with t-shirts bearing homophobic slogans, Trump paraphernalia, and Confederate flags.
"I think people have lost so much…. The gay community is what put Key West on the map and made it what it is—a fun and fabulous place to be," lamented Bridget. "And all of that has been hatefully driven away."
The racial disparities of Key West are continuously exploding as well. Bahama Village, the historically Black and African-American part of the city, has been losing more and more ground to real estate developments and the U.S. Navy.
"The people there have nowhere to go; the guy who built the Truman Annex has been trying to develop the Village for some time," Lila explained.
"Much of the Haitian population is without jobs because of recent crackdowns on illegal labor practices, and the service industry is too cautious on 'who' to hire," said Danielle.
The threat of cheaper labor is a common form of employer blackmail. "My friend's fiancé was given an ultimatum at work [after asking for a raise] and told if she didn't like it, she didn't have to come in tomorrow and they would pay some Haitians $2 an hour less to do the same job," said Lila.
Will the city's old political character return? As more and more residents are pushed off the island, a political void has been created, and both the tourist and real estate industries seem to be ensuring that continues.
"I used to be very involved in activism here, but the last few years have made things devastatingly hopeless," said Bridget. "There's this defeated attitude among the younger generations down here—this 'what difference does it make?'—and it really scares me."