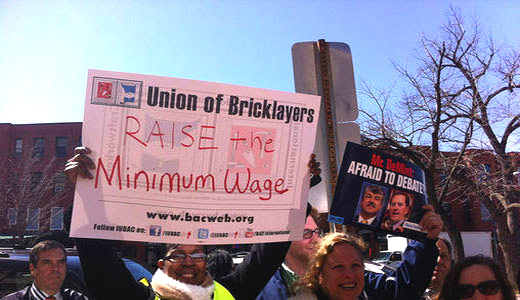 As working people are gearing up to get out and vote Nov. 4, AFL-CIO President Richard Trumka had this to say on one of the top issues on people's minds:
"Raising wages will be a driving force at the polls in the approaching midterm elections. Working people will turn out for candidates who support solutions that will make a difference in the real world-from raising the minimum wage to ensuring that all workers can bargain collectively and make a livable wage. The labor movement stands in strong support of the broad campaign to bring attention to raising wages leading up to and following Oct. 10 [a national day of awareness about raising the federal minimum wage to $10.10 an hour], and it's our responsibility to keep it going.
Labor is perfectly positioned to unite a massive movement, to raise wages and to lift up our communities. We have an opportunity to show every elected leader, from the White House on down, that those who stand proudly with working families will win in November. It's that simple."
Excited to vote in this election? Text VOTE to 235246 for important updates and alerts.
Jackie Tortora's post above appeared in the AFL-CIO Now Blog.
Photo: AFL-CIO Now