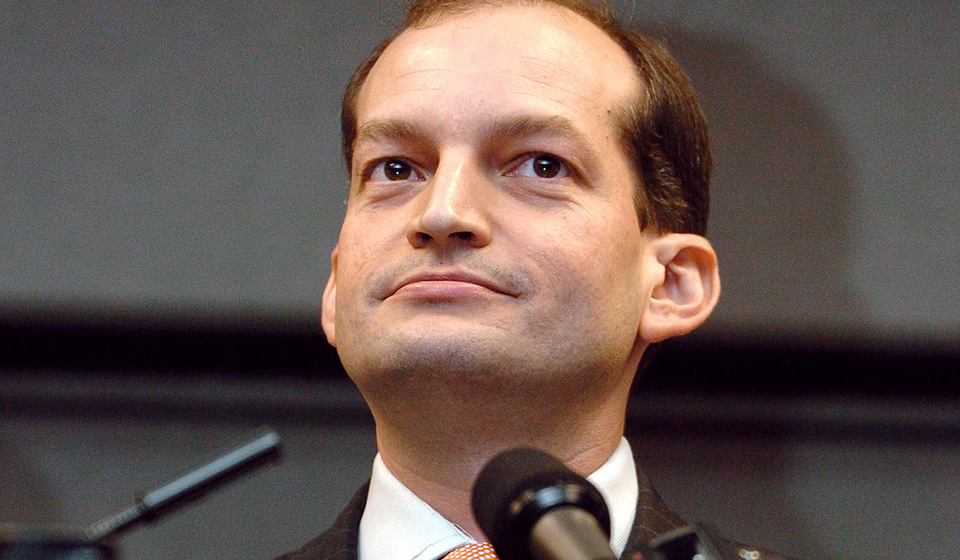 WASHINGTON – Less than 24 hours after his nominee for Secretary of Labor, fast food billionaire and labor law breaker Andrew Puzder, withdrew his name from consideration, Donald Trump announced his second choice for the position: conservative attorney and bank chairman Alexander Acosta, a former member of the National Labor Relations Board (NLRB).
Puzder withdrew in the face of nationwide protests by worker advocates and by his own employees. He has had a long history of paying workers rock bottom wages and has repeatedly denounced plans to raise the national minimum wage. The Associated Press quoted him as saying he would replace workers with robots if the minimum wage were increased.
"Working people changed the game on this nomination," AFL-CIO President Richard Trumka wrote in a widely distributed statement. "In one day, we've gone from a fast-food CEO who routinely violates labor law to a public servant with experience enforcing it."
Acosta currently serves as chairman of the board of U.S. Century Bank, the largest domestically owned Hispanic community bank in Florida. And he is the dean of the Florida International University (FIU) law school.
So far, he is the one and only Latino Trump has nominated.
Acosta is one of the few Trump nominees who has some experience with the agency he's been nominated to run. He served on the NLRB from December 2002 to August 2003 as an appointee of President George W. Bush.
He had a hand in some 125 decisions, which labor advocates are now analyzing.
He also served Bush as U.S. Attorney for the Southern District of Florida and as head of the Civil Rights Division of the Department of Justice from 2003 to 2005.
Acosta's record in those appointments is mixed. On one hand, as U.S. Attorney he oversaw the prosecution of UBS, a Swiss bank that was popular with tax evaders. The bank paid a settlement of $780 million and revealed the identities of some of its guilty clients. On the other hand, as head of the Civil Rights Division, Acosta sent a federal judge in Ohio a letter defending the controversial practice of "vote-caging" where mail is sent to addresses on the voter rolls and if the mail is marked undeliverable, the addressee is purged.
ThinkProgress, a newsletter published by the Center for American Progress, reports that Acosta led the Civil Rights Division when a senior division official, Bradley Schlozman, hired attorneys from lists submitted by right wing groups.
Schlozman "hired conservative lawyers hostile to the [Civil Rights Division's] mission, purging the agency of people who believed in the work it exists to do," ThinkProgress said.
Acosta denied he knew what Schlozman was doing, but Justice Department staffers complained directly to Acosta about Schlozman's activities, according to the Justice Department's Inspector General. "Acosta took no action to alert those in his chain of command," the report found.
Furthermore, ABC News reports that while serving as U.S. Attorney, Acosta's office cut a deal with Jeffrey Epstein, a wealthy financier who was being investigated by the FBI for allegations that he had engaged in sexual misconduct with dozens of underage girls.
The 2008 agreement — called a secretive "sweetheart deal" by the lawyers for two of the alleged underage victims — effectively immunized Epstein from federal prosecution in exchange for his guilty plea in state court and a light jail sentence.
The Epstein deal, which Acosta oversaw and approved, remains the subject of an ongoing victims-rights lawsuit in federal court filed in 2008 against the federal government.
The judge overseeing the case ruled that Acosta's office had the legal obligation to inform the victims of the agreement with Epstein, but there has been no resolution on the question of whether the deal should be invalidated, as the victims seek.
Despite these controversies, in his statement AFL-CIO President Trumka said that "Unlike Andy Puzder, Alexander Acosta's nomination deserves serious consideration."
He continued, "We will of course review Mr. Acosta's record as thoroughly as we did the previous nominee's. Mr. Acosta will have to answer tough questions and explain how he will enforce and uphold labor laws to benefit working people and not further tilt the balance of power toward corporate CEOs.
"The Labor Secretary is not just another Cabinet member. His or her actions directly impact our wages, safety and rights on the job every single day. We will judge this nominee by the commitment he shows to making life better for working people," Trumka added.
Service Employees President Mary Kay Henry also issued a statement. She said, "Working people are still in this fight for an economy and political system that works for all of our families and where hard work means our families can get ahead. This is the lens through which we will examine" Acosta's record.
"Workers will stay in the streets to demand a Labor Secretary who is a champion for working people and who fights for their interests in our economy," Henry promised.