WASHINGTON—GOP President Donald Trump's "New NAFTA" is drawing more flak, from unions, their allies, and lawmakers—and especially one lawmaker who's led successful fights against past anti-worker so-called "free trade" treaties.
And that bodes ill for the pact, which Trump is supposed to send to the 116th Congress early next year.
Trump negotiated the "New NAFTA" with Canada and Mexico and signed it with their leaders at a meeting in Buenos Aires on Nov. 30. It would replace the 25-year-old NAFTA which Republican President George H.W. Bush negotiated and Democratic President Bill Clinton pushed—and which Congress passed over labor's strenuous opposition.
At the time, unions said the current NAFTA (North American Free Trade Agreement) would cost thousands of U.S. factory jobs, and they were right. Manufacturers of everything from GM cars to Oreo cookies decamped to Mexico, exploiting its low wages, weak labor laws, and company unions—and taking 750,000-plus U.S. jobs with them.
One key comment against the "New NAFTA" came from Rep. Rosa DeLauro, D-Conn., renowned as a skilled vote-counter and lobbyist among her House colleagues. The veteran pro-worker Democrat from New Haven, Conn., led the successful fight inside Congress that forced President Barack Obama to shelve the jobs-losing anti-worker Trans-Pacific Partnership pact before Trump officially killed it.
"Despite Trump's rhetoric describing the continued loss of manufacturing jobs as 'American carnage' since the beginning of his presidency, it does not seem he has learned anything," said DeLauro, who will have a Democratic majority behind her in the next Congress.
"NAFTA 2.0 would not help end the outsourcing incentives that have hollowed out communities across the country. In its current form, this deal is far from being one that helps working people across North America."
"As I and my fellow Democrats have said all along, the final package must remove the current outsourcing incentives, raise wages for American workers, include strong labor and environmental standards with swift and certain enforcement, and ensure our food safety. Those are some of the key standards by which we must judge this deal in order to ensure it protects jobs across the country. Falling short for American workers is not a viable option."
Union leaders examining the "New NAFTA," formally called the U.S.-Mexico-Canada Agreement (USMCA) came to many of the same conclusions:
Machinists President Robert Martinez predicted the jobs drain—the outsourcing—will continue under the "New NAFTA."
"Mexico now employs between 30,000 and 40,000 aerospace workers and has become a major exporter to the U.S. Other industries also outsourced work to Mexico to take advantage of its low labor costs derived from suppressing basic workers' rights," he said.
The latest case, he added, came when United Technologies announced it would close its Chula Vista, Calif., aerospace production line and shift the 300 jobs to Mexico. It's following General Electric, Honeywell, Cessna, and other aerospace firms.
IAM hoped Trump would bargain a pact that would "address outsourcing" and guarantee fundamental human rights and better living standards for workers. Trump didn't, Martinez said.
"After careful review, we conclude that as currently written, and without further changes…NAFTA 2.0 will do little if anything to stop the outsourcing from the U.S. and Canada and the related wage suppression of workers in Mexico." And while the New NAFTA has workers' rights language written into its text—a key labor demand—and not in an unenforceable side letter, that language won't stop the outsourcing, Martinez said.
Check out other People's World coverage and analysis of Trump's trade wars:

> Welcome the new NAFTA—Same as the old NAFTA?

> AFL-CIO to Feds: 'New NAFTA' enforcement unknown
Steelworkers Legislative Director Holly Hart agreed. "NAFTA and implementing legislation must reverse the corporate incentives to outsource production and, instead, promote investments in plants, equipment, and people domestically," she said. She cited GM's layoffs, closures, and outsourcing—just before Christmas—as evidence a tougher 'New NAFTA' is needed to stop "corporations only interested in profits."
"In certain areas, the text of the new agreement is an improvement. But Mexico must pass legislation to enforce the labor and environmental standards to which it committed. And, mechanisms must be established to ensure provisions are aggressively implemented, monitored, and enforced.
"Mexico inaugurates a new president, and new political leaders control their Congress. Mexico has made commitments to its people. We have every reason to believe the new political leadership will faithfully adopt strong provisions to implement its constitutional commitments."
Auto Workers President Gary Jones also cited GM's closures as a reason the "New NAFTA" falls short, though he said UAW "is committed to working" with Trump and Congress to fix its failings. At the UAW convention in Detroit earlier this year, dissident delegates argued for scrapping the current NAFTA with no replacement at all, citing the present pact's cost to auto industry jobs.
"When we look at the 'New NAFTA' through the eyes of workers in Lordstown, Detroit-Hamtramck, Warren, Brownstown, and Maryland"—the plants GM is closing—"Do you see a better future? It is hard to see how, as the reality of the new measure failed to stop the flow of work from the U.S. to Mexico in search of cheap labor."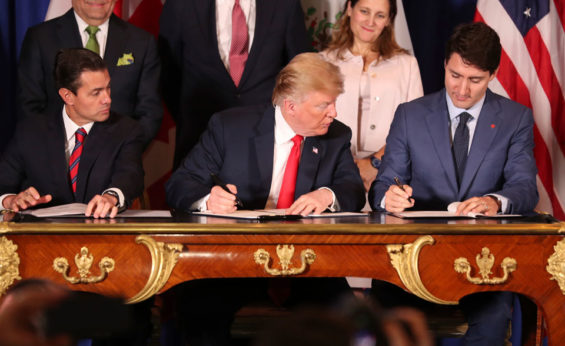 "Workers in Mexico are paid so little because they lack basic rights. Some 6,000 workers at PKC—a wire harness maker—were brutally attacked for just trying to exercise their rights to join an independent union. This points out, once again, that Mexico's labor laws are broken and demonstrates why it is so important to have an agreement that gives Mexican workers a voice on the job and better living standards to stop a wage race to the bottom."
Public Citizen's Trade Watch and Labor's Council for Latin American Advancement issued a joint analysis of the current NAFTA's impact on Latino and Latina workers in both the U.S. and Mexico. It was devastating, and those workers were disproportionately hurt, the report said.
In two examples, U.S. textile firms exported 123,000 jobs to Mexico and electronics firms sent 138,000. Mexican real wages declined, the value of its minimum wage crashed, and Mexican auto workers now earn only one-ninth of the basic pay of their U.S. counterparts, the report said. Before NAFTA, the pro-U.S. ratio was 3-to-1.
"The NAFTA 2.0 text…will not stop NAFTA's ongoing job outsourcing or downward pressure on wages in Mexico and the United States," said Trade Watch and LCLAA. They called the 'New NAFTA' "no surprise" as a successor to "the corporate-rigged trade-pact model that NAFTA hatched in the early 1990s."
"However, if the pact's labor standards can be made subject to swift and certain enforcement—and other key improvements are made—then the final package expected to head to Congress in 2019 could stop some of NAFTA's continuing, serious damage to people across North America," the two concluded.