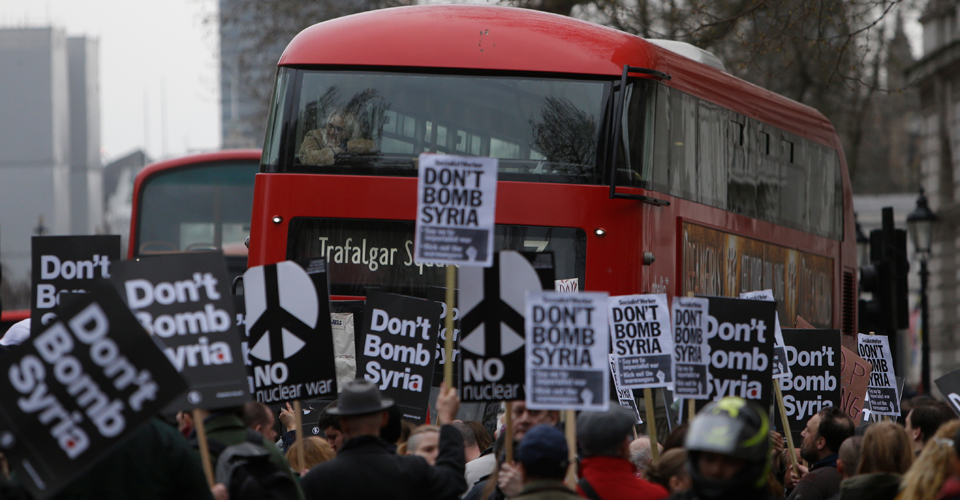 LONDON—The opposition Labour Party is demanding the introduction of a "War Powers Act" today to force a parliamentary vote before military actions are launched, as the dispute over Prime Minister Theresa May's illegal bombing of Syria continued to escalate.
The call by Labour leader Jeremy Corbyn comes as thousands mobilized for nationwide protests against the attack, including an emergency demonstration in London, where MPs are returning to Parliament after their Easter break.
A poll showed only 30 percent of people in Britain supported the attack, which was directly authorized by Prime Minister Theresa May without consulting MPs.
Corbyn, who had opposed the air strikes before they were launched, said: "Theresa May should have sought parliamentary approval, not trailed after Donald Trump."
He said a War Powers Act would enshrine into law the convention that Parliament should be consulted.
There was widespread condemnation of Britain's involvement in the attack.
At a late-notice rally in Glasgow on Saturday afternoon, Labour MP Paul Sweeney said: "Yet again, Theresa May has shown utter contempt for democracy.
"There is no international consensus beyond an informal agreement between the governments of the U.S., U.K., and France."
He said it was "quite ironic" that the government had used rhetoric about the British Parliament "taking back control" from Europe, only to then deny MPs a vote.
Communication Workers Union official and Glasgow councillor Matt Kerr told Morning Star, "This is a complicated civil war, where clearly atrocities have been committed on all sides.
"Dropping bombs on civilians isn't going to save any lives."
A British aid worker in Syria described the "deafening explosions" that caused buildings to rattle during the Western air strikes.
Madiha Raza, who works for British-based charity Muslim Aid, painted a picture of the terror as more than 100 missiles were fired in overnight raids by the powers.
She said, "I was asleep, and I woke up because of deafening explosions, which seemed as if they were right outside.
"I was just so perplexed because I did not know what was going on. I just could not believe how loud it was and the whole building rattled and the windows rattled.
"It continued for a good five minutes. As soon as I heard the first or second explosion, I jumped out of bed and looked out of the window to see if I could see where it was or how far.
"It was actually a very scary situation because of just how loud and close it seemed."
Downing Street revealed that May spent part of Saturday evening touting for support for her actions from tyrants such as Saudi Crown Prince Mohammad bin Salman, King Abdullah of Jordan, and President Recep Tayyip Erdogan of Turkey.
Earlier, on Saturday, Corbyn told a rally of 250 Labour Party activists in West Yorkshire, "I have written to the Prime Minister questioning the legality on which British forces have been deployed—it is not an act of self-defense; it is not authorized by the United Nations."
A Survation poll for the Daily Mail yesterday found that 54 percent of respondents opposed the attack, compared with 30 percent who backed May's decision.
A Stop the War Coalition statement said, "All the opinion polls published so far show big opposition to these strikes despite almost blanket support for them in the mainstream media.
"The crucial thing is that we continue to build on and to mobilize this opinion."
The Communist Party of Britain "unreservedly" condemned the attack and said in a statement, "International law cannot be upheld by breaching the most important articles of the United Nations Charter, which ban unprovoked military attacks by one member state upon another.
"The U.S., French, and British air and missile strikes are gravely destabilizing. They risk plunging the Middle East into a further escalation of war, with dangerous wider consequences for world peace."
A major demonstration is planned in London tomorrow evening at Parliament Square.
This article originally appeared in Morning Star.