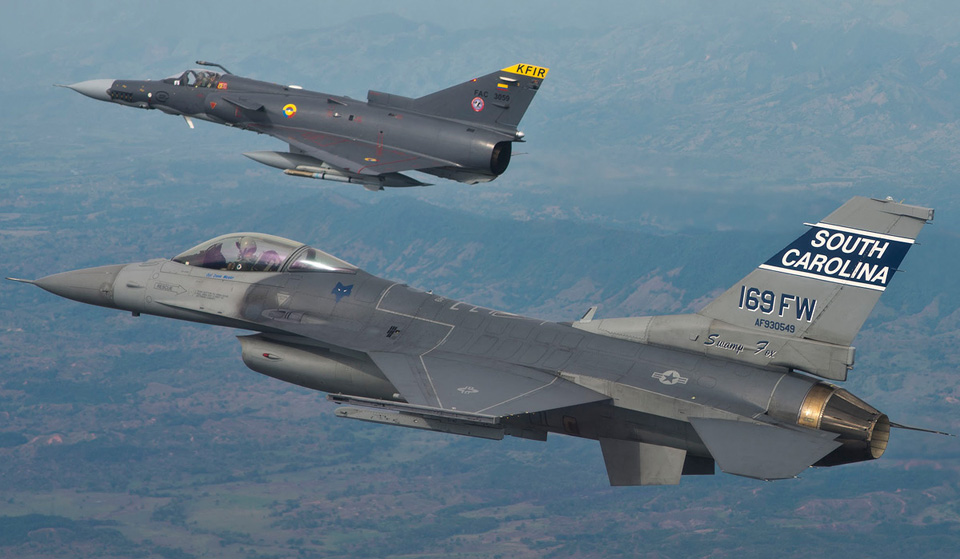 The media circus surrounding Donald Trump's words and actions may be distracting enough to let a revived insertion of U.S. military influence in Latin America pass unnoticed. For example, a squadron of South Carolina's Air National Guard will be undertaking joint training exercises with pilots of Colombia's Air Force at the Palanquero air base from July 15-17. The Colombians, flying aerial-refueling planes and Kfir C-10 fighter-bombers obtained from Israel, will be "fine-tuning their piloting skills."
Anticipating possible encounters with Venezuela's Air Force, Colombian Air Force generals realized that their pilots lacked the equipment and skills required for air-to-air encounters. The Venezuelans are capable and fly well, with a force consisting of used U.S. F-16 combat planes and Sukhoi Su-30 fighter-bombers, purchased from Russia in 2015.
Colombia's government has been negotiating to purchase 12 old F-16 A/B Netz combat planes from Israel, and preparation of pilots is a step along the way toward doing so. The pilots from the South Carolina Air National Guard are assisting them.
U.S. military cooperation with Colombia has been ongoing for decades. By contrast, U.S. military involvement in Brazil breaks barriers.
U.S. and Brazilian military officials recently announced that troops of the two countries would be joining those of Peru and Colombia in training exercises in "the heart of the Amazon." "Operation America United" will take place over two weeks beginning on November 6.  Its advertised purpose is to prepare both responses to humanitarian disasters and measures against illegal migration, drug trafficking, and "environmental crimes."
Brazil will be setting up a temporary international military base in the city of Tabatinga located on the "triple frontier" that separates Peru, Colombia, and Brazil. One report likens the upcoming training exercise to one in Hungary in 2015 where "the gringos arrived and are still there."
The governments of Argentina, Chile, Uruguay, Panama, Canada, Bolivia, and Ecuador received invitations to send troops, presumably as observers. Even the Council of South American Defense may take part on behalf of the Union of South American Nations, formed in 2008 to foster regional integration and independence.
Brazil's military has long been "quite jealous in its custody of Amazonia," claims analyst Raul Zibechi. The nation's military leaders also had opted out of Cold War initiatives for which the United States was recruiting Latin American and Caribbean nations. Zibechi attributes Brazil's shift to accepting a U.S. military presence in the Amazon region to the influence of two new presidents, Donald Trump and Michel Temer.
Brazil's Defense Ministry signed an arrangement with the Pentagon in March for coordination in "research and development." A month later, the giant Brazilian airplane manufacturer Embraer and U.S. aviation electronics manufacturer Rockwell Collins agreed "to work on integrating their [products] for joint defense sales." And the U.S. Army Armament Research and Development Center recently opened an office in Sao Paulo allowing for cooperation in pursuing "research and innovations in defense technologies."
Perhaps the most dramatic instance of the new militarization of U.S. influence in the region was the "Conference on Prosperity and Security in Central America" that took place in Miami from June 14-16; Mexico and the United States were co-conveners. Attending were the presidents of Honduras, Guatemala, and El Salvador, countries whose violence and corruption have pushed migrants toward the United States.
The U.S. Chamber of Commerce and the Inter-American Development Bank held a welcoming event for Central American businessmen in attendance. Later, they joined a session at Florida International University where speakers included Secretary of State Rex Tillerson, Vice President Mike Pence, Treasury Secretary Steven Mnuchin, and Homeland Security chief John F. Kelly.
General Kelly formerly headed the U.S. Army's Southern Command, which is responsible for U.S. military operations in Latin America and the Caribbean. The conference eventually moved to the Southern Command headquarters where officials presumably touched upon military plans for Central America.
Official U.S. press releases on the conference avoided military specifics, concentrating instead on the "business climate," "citizen security," narco-trafficking, and irregular migration. Writing in advance, observer Jake Johnson of the Center for Economic and Policy Research predicted that, "the military will be leading U.S. policy in Central America." He cited Tillerson, who earlier had insisted, "We must protect our people… And we can only do that with economic prosperity. So it's foreign policy projected with a strong ability to enforce the protection of our freedoms with a strong military."
Central American and Mexican organizations defending the rights of migrants, small farmers, and women had already reacted to the prospect of such a conference. Hundreds of them endorsed a fact-filled petition sponsored by "Meso-American Voices." Their plea condemned "a new military pact [involving] the United States, Mexico, and Central America to increase the presence of the U.S. Southern Command on the border of Guatemala and Mexico." That "there would be official operations of the United States Army in Mexican territory," the petition said, was unprecedented.
Taken together, these moves provide material proof of the observation made by political economist Samir Samin in the most recent edition of Monthly Review, where he wrote, "The hegemonic ambitions of the United States are ultimately based more on the outsized importance of its military power than on the 'advantages' of its economic system."