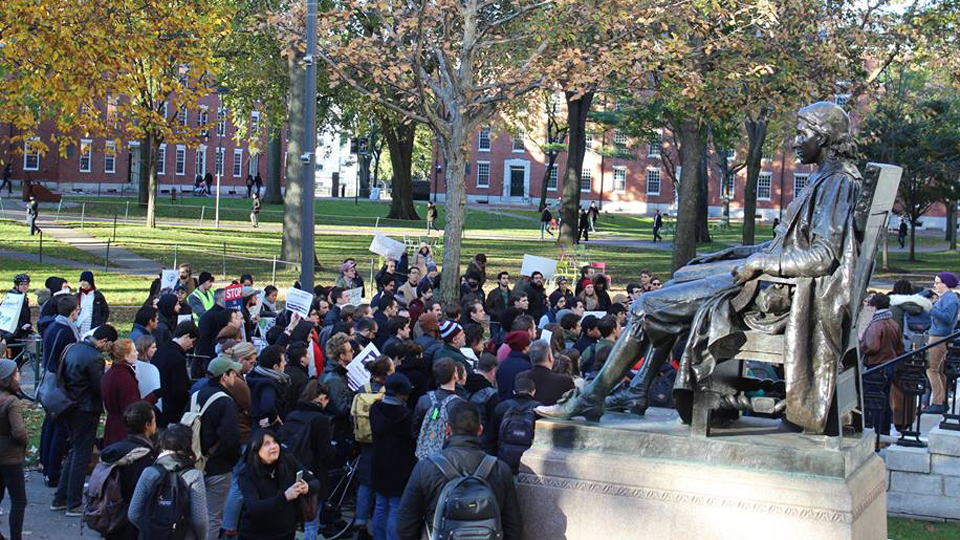 The week beginning April 19 was big for the nation's teaching assistants and research assistants at major universities and it was big for the union, the United Auto Workers, which is campaigning hard to organize them: They registered a big win at Harvard, pulled off a big strike at Columbia and began a big vote at the University of Washington in Seattle.
The Harvard vote April 19 was 1,931 to 1,523 in favor of the union. It was a bigger margin with a much larger turnout, in a rerun election the National Labor Relations Board had ordered after Harvard's labor law-breaking – including misinforming the voters – skewed the first tally last year. The UAW had won that earlier vote too. The Harvard Graduate Student Union-UAW will now represent 5,000 TAs and RAs.
At Harvard's Ivy League sister school, Columbia University in New York City, the TAs and RAs got so fed up with the university's defiance of the NLRB and labor law – by its absolute refusal to bargain—that they were forced to walk out on strike on April 24. The TAs and RAs voted the union in more than a year ago, but the university has refused to negotiate.
And at the University of Washington in Seattle, some 4,500 postdoc TAs and RAs started voting on April 23 on joining UAW Local 4121. Balloting will run through May 11.
The three developments highlight efforts by unions, notably the Auto Workers, but also including the Teachers (AFT) and the Steelworkers, to organize the overworked, underpaid, exploited TAs and RAs who shoulder most of the teaching load on the nation's college campuses.
In 2016, the NLRB opened the way for the unions to organize the TAs and RAs at private universities such as Harvard, Columbia, New York University and the University of Chicago, where TAs and RAs unionized last year. There, undergrad student workers in the libraries also unionized, with the Teamsters, a first.
And even with the possibility that the new Trump-named GOP majority could reverse the pro-organizing ruling, by declaring the TAs and RAs are "students," not organizable "employees," the unions are plowing ahead.
"Today's victory is a crucial moment in the growing student worker movement," said Auto Workers District 9A Director Julie Kushner, whose area covers both Harvard and Columbia. "It signals the appointment of an anti-union NLRB will not stop the thousands who are fighting for their unions."
The Columbia TAs and RAs voted earlier in the month, by a 93 – 7 percent margin, to authorize a strike unless the university management came to its senses. It didn't.
"Instead of teaching, grading papers and performing research during the last week of classes, teaching and research assistants across campus are walking picket lines," they said.
The first picket line on April 24 was at the same place – Low Library – where almost exactly 50 years before, students sat in protesting both the Vietnam War and the university's takeover of nearby African-American areas in Morningside Heights for a new gymnasium.
"We work hard and are dedicated to the core principles of this university, but we have had enough," said civil engineering TA Olga Brudastova, a leader among the Columbia group.  "We work long hours for Columbia, and most of us take home less than $30,000 a year while securing millions in grants and research funding.
"We want a union because we want real recourse when faced with sexual harassment or assault, and progress on issues like late pay, dilapidated lab facilities, and benefits. We won a union election with 72 percent of the vote 16 months ago – and the law is clear. Columbia must bargain with us. As long as they refuse to respect our legal rights, we will take action to take our power back."
"This week's strike is a showdown between the academic 1 percent of deans and administrators and the 99 percent of younger academic workers, many of whom put up with late pay, unstable health benefits, unpredictable workloads and inadequate protections against sexual harassment and assault," the Columbia TAs and RAs added.
Columbia chieftains "boast sterling liberal credentials, but when it comes to supporting low-income workers looking to unionize" to better themselves, "they have tried every trick in the book" to stop it. By contrast, Sen. Bernie Sanders, Ind-Vt., and Minority Leader Charles Schumer, D-N.Y., along with two U.S. representatives and almost 200 other local officials support the TAs and RAs.
In Seattle, University of Washington administrators tried to delay the vote "by challenging the composition of the bargaining unit," until after the school year ended. They failed, The Stand, the news website of the state AFL-CIO reported. Challenging the unit is a common employer delay tactic. The state Public Employment Relations Commission is running the vote.
"We are excited to vote for our union, and ready to have a seat at the table with the university administration," UW postdoc Leilani Battle told the website. "Over 700 postdocs have responded to our survey about the issues they want to improve through collective bargaining, including more affordable childcare, increased non-discrimination and sexual harassment protections, better visa support for international Postdocs, and so much more."
"We had to fight hard to win this right to vote over multiple roadblocks created by the UW administration. So right now we are working hard to make sure that everyone has the facts about unionization so that every single postdoc can make an informed choice and participate. Our union is of and for postdocs and we've only been successful so far because so many of us have made our voices heard," added postdoc Lindsey Madison.
Harvard TAs and RAs cheered the outcome. "This has been an incredibly long haul, and we are so energized," Abraham Waldman, an RA in chemistry and chemical biology told UAW. "As hard as we worked to win, we know this is just the beginning. Now we can turn to making Harvard a better place to work and study. We are confident our union will be good for us and good for the university," if Harvard bargains in good faith.