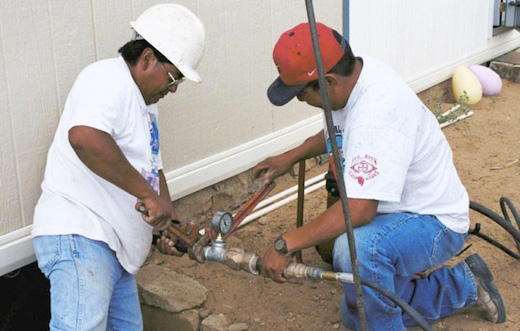 There are many issues that the Native American community faces each day. The one issue that affects not just the Native American community, but burdens all of America is unemployment. When people hear the words "extreme poverty" one doesn't fully grasp what that means, nor what it does to a community or surrounding communities. Extreme poverty is defined by the percentage of families earning under half of the poverty threshold. On reservations the per-capita income of Native Americans is half that of other people in the United States. To give a better picture of the immense poverty that Native Americans face, the U.S. Census Bureau did a survey from 2007-2011 that measured poverty by race. What they found was the top three areas with the highest poverty rates have the largest population of Native people.
First is Pine Ridge reservation in South Dakota at 50.9 percent, followed by Minneapolis, Minn., at 40.3 percent, and then Shiprock, N.M., at 39.6 percent. The average income at Pine Ridge is the lowest in the country at $1,539 per year. The survey also showed that the unemployment rate on most reservations is around 75 percent. Why is this happening to the Native community?
One of the reasons is the reasons is that many of tribes are geographically isolated so it is harder to find jobs near their homes; the majority of jobs are in the surrounding cities. Native people work in the jobs they can find which are fast food, construction work and other labor-intensive jobs such as mining and fishing. Most of the jobs are non-union.
The uranium and oil industries have done more to hurt the Native community than help. During the Cold War, the United States government found uranium deposits in Native land. They found the largest deposits in the Black Hills of South Dakota and in Shiprock, N.M., where the United States government opened thousands of open pit uranium mines on Native land. Promising tribal governments high-paying jobs for Native workers mine operators did not give employees safety gear to protect them from radiation poisoning.
Once the Cold War ended and the demand for uranium waned, oil companies like Shell and Exxon Mobile came in to tribal lands also with the promise of high paying jobs. However the oil companies are not promising lasting jobs, but tempoary contracts with Native people. Native people are seeing this as a ploy. The oil companies are not about providing Native Americans with work, or making sure Native workers and families have a safe environment, it's about using the land we live on, ruining the land and tossing aside the people just like the uranium companies did. What is being done to fix this?
On Nov. 13, 2013, during the annual tribal summit in Washington D.C., President Obama spoke to tribal nations about a job growth plan for Native American communities. He revisited a plan he formulated back in 2011 called "Pathways Back to Work." In his speech, Obama laid out this outline:
"We've got to keep out covenant strong by expanding opportunity for Native Americans. We've created jobs building new roads and high speed internet to connect more of your communities to the broader economy. We've made major investment in jobs training and tribal colleges and universities, but the fact remains Native Americans face poverty rates that are higher by far than the nation average. And that's more then a statistic, that's a moral call to action."
He goes on further to say, "That is why I'm fighting for a responsible budget that invest in the things that we need in order to grow-things like education, and job training, community building. And we're going to make sure Native American owned business have greater access to capital and to selling their goods overseas. So we've got to build the economy, create more opportunity."
Native Americans have taken some of President Obama's suggestions and are now working on job training plans in their own communities, as well as growing the supports for Native-owned businesses.
Native people we are also reaching out in other ways creating jobs around the fight to protect the environment creating green jobs, like ecotourism and lecturing and writing about the environment. The Native American community is fighting the unemployment issue head on, not just for our communities but the rest of the country as well. The fight to end unemployment must be at the top of our to-do list.
Photo: Native American workers provide needed utilities to Indian homes such as safe water and sewage systems. As of 2009, safe drinking water and sanitary sewage disposal were unavailable to 13 percent of American Indian/Alaska Native homes on reservations, compared with 1 percent for the overall U.S. population. The Indian Sanitation Facilities Act directs the Indian Health Service (IHS) to provide these necessary utilities, which would also create badly needed jobs. An IHS study recently finds that every dollar it spends on sanitation facilities yields a 20-fold return in health benefits. The cost of providing sanitation facilities is estimated at $2.6 billion, with a backlog of more than 3,000 planned sanitation facilities. (via nlm.nih.gov)