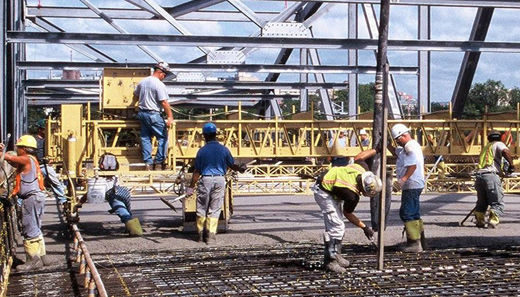 WASHINGTON (PAI) – With yet another deadline looming for the highway-mass transit bill and the Highway Trust Fund whose revenues pay for such projects, construction and transit unions and their allies picked up support from former Obama Administration Transportation Secretary Ray LaHood in their campaign for a long-term bill and a gas tax hike to fund it.
But while LaHood, a respected former moderate Republican U.S. House member from downstate Illinois, favors raising the gas tax by a dime a gallon to pay for repairing the nation's crumbling infrastructure, he apparently didn't convince his own party to take that step.
That's because when LaHood, representing former mayors and governors, proposed a gas tax hike at a Senate Finance Committee hearing on June 18, Committee Chairman Orrin Hatch, R-Utah, virtually dismissed it. The Finance panel is one of two that write tax bills, and the ruling Republicans on both committees, plus other GOPers, oppose raising taxes.
Unions, led by the Laborers and the Amalgamated Transit Union, favor increasing the gas tax, which hasn't risen since 1993. The federal gas tax is 18.4 cents a gallon.
The highway-mass transit legislation is important both for jobs creation and to repair and replace the nation's crumbling infrastructure. Calculations show that every $1 billion spent on such projects creates 40,000 or so construction jobs.
The money also goes to repair, replace and upgrade bus and subway systems. They're limping along – due to past funding cuts and uncertain federal aid – despite record ridership and workers' need to use them to get to their jobs, says ATU President Larry Hanley.
LaHood used all those arguments and more in campaigning for the gas tax hike to help fund the roads, bridges, subways and buses. The federal gas tax now does not supply enough money for the repairs and construction, he said. And without a new highway-mass transit law, the feds can't collect it after July 31.
"Whether it's on our roads, in the air, in our ports or on our rails – our nation's infrastructure is falling apart. That is causing us to lose our economic competitiveness and to negatively impact our quality of life," LaHood testified.
"The nation's roads are essentially one big pothole, and the tens of thousands of bridges that millions of Americans drive across every day are in dire need of repair," he said. They also cost commuters money and time, he added: $818 per driver yearly, due to 42 percent congestion on major roads.
"The most-straightforward way to generate needed revenue for a long-term transportation bill is to increase the gas tax," LaHood stated.
Speaking for the Building America's Future coalition of former mayors and governors, LaHood wants Congress to immediately raise the gas tax by 10 cents a gallon and then index it to inflation. A dime hike would generate $15 billion. "While this would not be enough to fund a robust long-term bill, it would be enough to keep the Highway Trust Fund solvent while Congress considers other sustainable and longer term solutions," he said.
Laborers President Terry O'Sullivan, whose union has taken the lead in campaigning for the gas tax hike to fix the roads, bridges, subways and buses, hailed the hearings, and LaHood's testimony. Hatch's reaction was different.
"Action must not end with just hearings and another damaging short-term patch of the Highway Trust Fund," O'Sullivan said. "Congress must do its full job – craft a bill, responsibly pay for it and pass it.
"The safety of our roads and bridges, the competitiveness of our nation and the good jobs transportation infrastructure creates are essential. They are worth paying for…If it must be done – and it must be – all responsible means must stay on the table," he declared. That includes raising the gas tax.
"Since inception of our Interstate Highway System, the gas tax provided the backbone of resources for transportation investment, and if adjusted, it still can," O'Sullivan said.
"Our national priorities…are incoherent," Hanley added in a statement last month. "What other government would squander its wealth in endless wars while allowing our people to be put at risk by failing, outdated transportation systems?
"Our bridges are crumbling, our transit is failing and rail is becoming more dangerous every day. This is not a question of us not having the money to save our country. We are lavishing the military-industrial complex with the resources that could be spent ensuring our people can travel safely…"That's why ATU is urging Congress to act now to pass a complete, six-year transportation authorization bill and dedicated tax to bring our rails, roads and bridges up-to-date, and repair, maintain, and expand mass transit in America."
LaHood sympathized with congressional refusal to raise taxes, a litmus test for GOP officeholders. But he informed them that state and local lawmakers and voters of both parties, alarmed by their crumbling roads, collapsing bridges, creaky buses and overage subways, all voted to raise local gas taxes to pay for repairs. Politicians haven't been voted out, he said.
Hatch disagreed about raising the gas tax. So does President Barack Obama (D).
"While I know the idea has some support, I don't think a massive increase in the gas tax could be enacted into law. Of course, anyone who believes otherwise is free to publicly correct me and to try to make their case," Hatch said.
In his budget and in his State of the Union address, Obama urged Congress to approve a long-term – at least four years – highway-mass transit funding bill. But he wants to pay for it through closing corporate tax loopholes and taxing overseas profits of U.S. firms, not by raising the gas tax.
Photo: LiUNA Facebook.