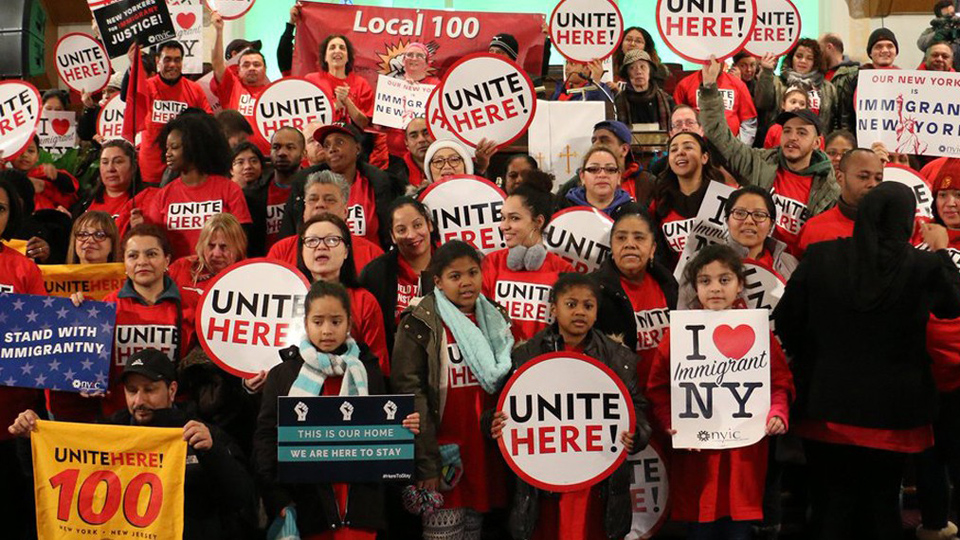 WASHINGTON— One union, UNITE HERE, was itself responsible for turning out some 30,000 members at May Day marches across the country yesterday. They marched for humane immigration polices and workers rights in 27 cities including New York, Washington, Las Vegas and Los Angeles. Everywhere they marched they demanded an end to the unjust immigrant detention policies of the Trump administration.
In the Bay Area, UNITE HERE organized massive mobilizations in San Jose with Silicon Valley Rising, prompting action from Facebook and Google.
Workers in Miami and at Disney in Orlando stood with Haitian immigrant workers against the threat to their Temporary Protected Status.
In Denver, workers marched to an ICE detention center to protest unjust immigration enforcement.
In Philadelphia, workers rallied at the International Arrivals Hall at PHL to stand with immigrant workers fighting for fairness at the airport.
In Oakland​, immigrant hotel workers went out on strike for "sanctuary workplaces" where worker and immigrant rights are protected.
In Los Angeles, workers took to the streets in one of the largest marches in the city's history.
"I grew up here in Silicon Valley, and I've seen firsthand how the tech industry has made it hard for people like me and my family to afford to keep living here," said Maria Guerrero, a barista at Intel and member of UNITE HERE Local 19. "Immigrants and workers like me are the backbone of the tech industry, we will no longer be invisible, and I took today off to march here with my community to say that we're not backing down, whether it's to huge tech companies or the racist policies of the Trump Administration."
May Day is International Workers' Day, when working people around the world demonstrate to commemorate hard-fought victories for basic worker protections—like overtime pay and an end to child labor—led and won by immigrants during the 19th and 20th Centuries in the U.S. and stand for the advancement of all working people. This year's May Day actions held particular significance given the anti-immigrant, anti-Muslim climate and policies that have emerged under Trump.
"Now, more than ever, our communities are under attack, but this May Day, it's everyday people who demonstrate that we have the power and courage to push back and win," said Maria Elena Durazo, UNITE HERE Vice President for Civil Rights, Diversity and Immigration.
"For decades, cooks, dishwashers and cleaners in our union have proven that working people can take on billionaires like Trump and win. We are immigrants, women, and people of all races and religions. We have overcome enormous obstacles because we refuse to be divided or succumb to fear. We are proud to stand with the millions of people who marched on May Day. Together, we are forging a new movement."