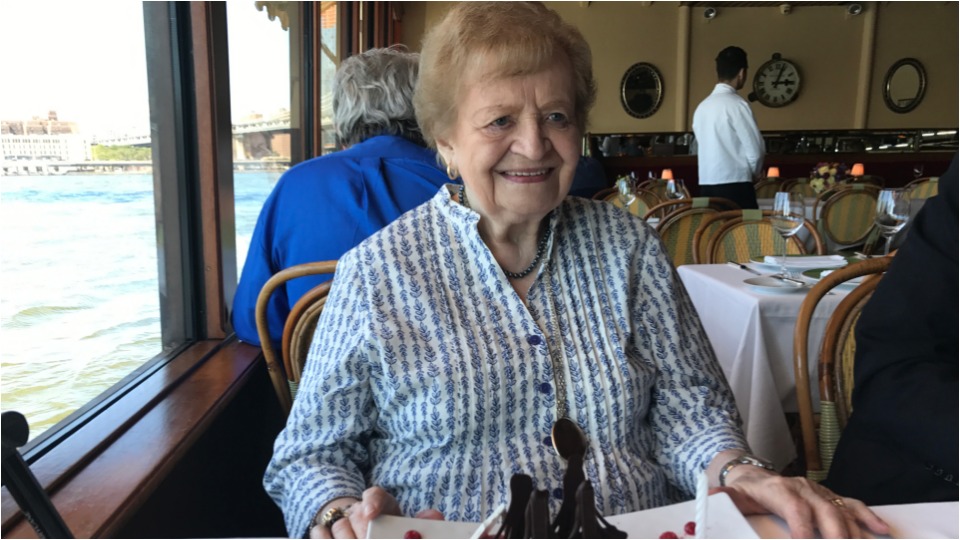 "May there always be sunshine, may there always be blue skies, may there always be mama, may there always be me!" — Russian folk song expressing the yearning of people for peace
I sang that song, along with my mother and a hundred peace activists gathered at a rally in East Berlin in 1985. She sang along when Pete Seeger sang it at a resort, Arrow Park, two years earlier in New York State. Prior to that, she remembered it being sung in her hometown of Berlin when she was a little girl. The Ernst Thälmann Pioneers there sang it often—before they were rounded up by the Nazis. The message that no-one wins with war was never lost on her. The dark clouds of war, including the waves of bombers delivering death daily to civilians in Berlin, had too often blocked out the sun during her youth. She could only hope, during each air raid, that she and her mother would be alive when it was over. She and my grandmother survived for many years after those air raids.
On Nov. 22, 2021, Ursula Wojcik died at her home in Brooklyn, New York. She was 97 years old. She is survived by me, her son John, 71, her daughter Karen, 69, and her son Steven, 66.
Ursula was born in 1924 in Berlin, Germany at a time of great political, social, and economic upheaval in that country. Ursula was the youngest of six children born to Johann and Hedwig Spode, a family much larger than what was typical in Germany. Her father was one of millions of World War I veterans who had returned to a Germany ruined by the imperialist war launched by that country's ruling class. Her family, like those of millions of German workers, were reeling under the austerity resulting from reparations and war damages that their own ruling class forced them, the working people, to pay.
During the 1980s in Brooklyn, she was the leader of the Metropolitan Council on Housing's Tenant's Council branch in her apartment building in Park Slope. At the group's founding meeting in her apartment, she told the story of how her family and other tenants in a Berlin apartment building in the 1920s hung red banners from the balconies of their apartments, declaring support for the Communist-led city-wide tenant strikes of the time. "Once a tenant organizer, always a tenant organizer," she joked with her neighbors in her apartment. "What I did as a girl in Berlin, here I am doing again as an older woman in Brooklyn."
That applied to many aspects of her life, well beyond just the issue of tenant organizing. Her hatred of fascism had its roots in her early childhood. She told us kids the story of how she had first come to hate the Nazis in her native country. When only four years old, she fell off her bike outside her apartment building and a brown-shirted drunken Nazi who had stumbled out of the bar on the first floor of her building picked her up and put her back on her bike. "Thank you," she said. He slapped her face, knocking her off the bike and back onto the ground. "Heil Hitler is what you should say!" he yelled as he walked away. She cried out loud as she picked herself up and walked her bike back home.
When only a child in elementary school, one day her good friend, Heidi Herenchek, went missing, along with a few other girls. With Heidi, her good pal, she would often manage to sneak out the back door of the classroom for an unauthorized bathroom break, easy to do because it was difficult for the teacher, Herr Schmidt, to keep track of 72 girls. "Heidi has been sent to live with other people with her religion," was all Schmidt would tell her. When she pressed for more information, he walked down the aisle and hit her across the shoulder with a thick wooden ruler. It was the same ruler he used to whack little girls who did not raise their arms high enough in their Hitler salutes.
When she was 14, she was an avid knitter and went to get another spool of wool from Herr Shoenemann, the Jewish proprietor of the wool store she regularly patronized, but found him gone and the windows of his store smashed. She had walked over broken glass to get there, all along the Kant Strasse along which his store was located. Only weeks earlier, the Roma camp she and her friends went to for music and dancing in the Tiergarten park had disappeared. And the day after Kristallnacht—the "Night of the Broken Glass" when Nazi stormtroopers destroyed thousands of Jewish stores, synagogues, and other buildings— her mother returned from a doctor's appointment to tell her the doctor, too, had disappeared.
The war, of course, hardened her resolve against the Nazis. For years, a group of neighbors, along with Ursula and her mother, and older sisters Johanna and Grete (her dad died when Ursula was just five years of age and her brothers were all drafted and sent off to war), gave shelter and a hiding place to Heinz Hertzmann, a Jewish retailer and his family in the Rudow section of Berlin. Because of the bravery of a few families in the neighborhood, he was one of the only several thousand Jews who survived the Holocaust with never having to leave Berlin. After the liberation of the city by Soviet troops in 1945, the Hertzmanns would celebrate the first post-war Jewish New Year with Ursula and her family and friends.
Before that, though, during the worst days of the war, the women, girls, and seniors left in Berlin began to starve, with many freezing to death in the winter if they could not steal wood for fuel from the public parks. They lived on inadequate bread rations as they ran for shelter each night during the bombing raids that eventually levelled the entire city.
The starvation was probably why Ursula could never tolerate any of us kids wasting food. When it came to food, she saw as her main job as our mother the responsibility to make sure we were, at all costs, well-fed. When my father lost his job in the late 1950s and we were little kids, they repossessed our living room furniture. But we always had plenty of wholesome good food, mom made sure of that.
Ursula met my father, U.S. Army Sgt. John Wojcik, when he was with the occupying U.S. Army in Berlin. She hadn't had what could pass as a meal for several years. She joked that she decided to marry him because he took her to the army base and bought her a vanilla malted. (An incredible treat for someone who had starved for so many years.) Their romance experienced a break when he was abruptly sent back to the States, and she did not really believe him when he said he would come back to Berlin and find her later. He did manage to re-enlist, two years later, in 1947, and he drove his Jeep every day for months through the rubble of the destroyed city until he found her at work on a brick-clearing detail. They got married and with her good anti-fascist credentials (still required at that time), they were able to leave for the U.S. together and settled in Brooklyn.
In the U.S., she raised her family, and as a mother, gave her entire self to her children. My father died young, at the age of only 55.
When I got involved in the peace movement as a college student and as a young adult, she gave her full support and went even a step further. She wanted to see to it that there developed on her native German soil a country where fascism would never again be possible, so she joined the U.S. Committee for Friendship with the German Democratic Republic (East Germany). Eventually she became the organization's executive secretary, running its day-to-day operations.
In that role, she ran a busy office on New York's Union Square. She worked tirelessly to put German language teachers in the U.S. in touch with counterparts in the GDR. She worked with John Randolph and other American actors to bring delegations of Hollywood artists to the GDR and actors and musicians from there to the U.S. She set up tours for Katarina Witt, the GDR Olympic champion in the U.S. The Friendship Committee, of which she was a leading figure for so many years, was perhaps the most successful organization dedicated to peaceful coexistence between countries with different social systems ever to operate in the U.S.
For me, she always was and always will be "Mother," however. She gave what seemed every bit of herself to me and my brother and sister for our entire lives. But, even after all of that, I saw her give another part of herself to a world in need of what she had to offer. She travelled frequently to Washington, D.C., to march for impeachment of Nixon and for an end to war. She took many trips to the GDR and across the U.S. to do the work of the Friendship Committee. She campaigned against and defeated the last right-wing anti-tenant Republican assemblyman in Brooklyn, and she ran the operation to elect a Communist to City Council in a Brooklyn election district. She could do no less because it was her son running for that position. And she did all these things bravely and unashamedly, even when they were, at times, unpopular things to do.
With her death, I suffer a loss that cannot be measured. But more important, with her life I received and enjoy gifts until today that are also too big to be measured. May there always be mama, may there always be me!