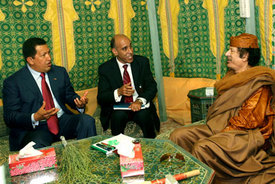 Venezuela and Libya will offer free medical aid and discounted oil to developing countries in Africa, Libyan Foreign Minister Abdel Rahman Shalqam said May 18.
"The leaders of Libya and Venezuela discussed the formation of a team from both countries, in addition to Cuba, to support the developing poor countries of Africa," Shalqam said as Venezuelan President Hugo Chavez ended a two-day visit to Libya where he met with Libyan leader Moammar Gadhafi.
"Cuba will provide the medical crews, while Libya and Venezuela will support these crews and hospitals financially," Shalqam said.
The initiative would expand Venezuela's Mission Miracle program outside Latin America, where it has set up free eye surgeries in Cuba and Venezuela.
During his European tour earlier this week, the Venezuelan president told rallies in Austria and Britain that he was willing to provide cheap heating oil for poor Europeans.
Venezuela has already delivered discounted heating oil to some poor communities in the United States. Citgo, the U.S. subsidiary of Venezuela's state owned oil company, has provided cheap heating oil for seven economically hard-hit areas of the United States.
–Morning Star
www.morningstaronline.co.uk