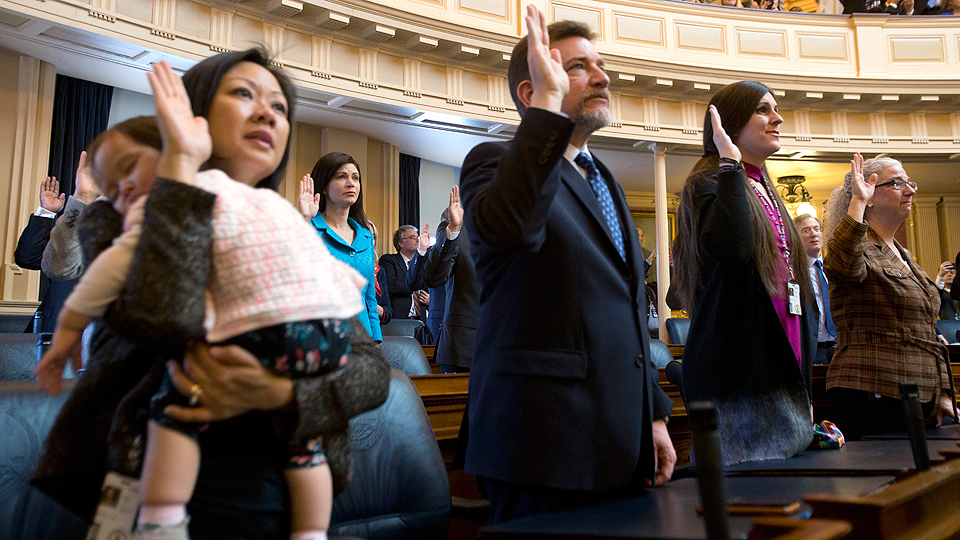 RICHMOND, Va. — On Wednesday, January 10, the House of Delegates, the lower house of the Virginia General Assembly started off its new sixty-day session with a sharply altered balance of power. Despite recounts and disputes, the legislature has ended up with a razor-thin Republican majority. Democrats in the body are not letting that stop them from pursuing a broad agenda of progressive reforms, however.
In the November elections, Democratic Party candidates, most of them solidly progressive, flipped fifteen formerly Republican seats. The Democrats came within two seats of achieving a majority in the House of Delegates, for the first time in 18 years. Going into the election, the House was split 66 Republicans to 34 Democrats, but an increase in voter turnout in the Democratic Party's social base produced a major transformation.
In Northern Virginia and other areas, progressive grassroots action brought into office a whole new contingent of young delegates, many of them minorities and/or women, plus the first transgender woman ever to be elected (Danica Roem). The Democrats just missed getting an actual one vote majority. In the 94th legislative district in Southeastern Virginia, a tied election was decided by the drawing of a name from a bowl, which produced the re-election of Republican incumbent David Yancey (the defeated Democrat, Shelly Simonds, could have asked for another recount, but decided not to).
In the 28th legislative district, centered on the Northern Virginia city of Fredericksburg, the Republican candidate, Robert Thomas, defeated Democrat Joshua Cole by few votes in an election marred by an error by the local election authorities, who assigned numerous voters from Democrat-strong areas to a neighboring district by mistake. Democratic voters took this result to federal court, but the judge declined to intervene, and an appeal did not prosper either. So, for now, the House of Delegates stays at 51 Republicans and 49 Democrats.
The Virginia Senate, not up for election last year or this, also has a very narrow Republican majority of 21 Republicans to 19 Democrats. In last year's election, Democrats won all three of the state's elective executive offices. The new Democratic governor, Ralph Northam, was sworn in on January 13.
The Democrats and the progressive grassroots organizations whose efforts made their advances possible are not discouraged by falling just short of a legislative majority. After all, in the election to the House of Delegates last year, the Democrats won a total of 53.17 percent of the vote, and the Republicans only 43.76 percent. The Democrats and the grassroots activists argue that, were it not for racially-influenced gerrymandering of districts by Republican-controlled legislatures in recent years, there would be a Democratic majority in both houses by now.
And then there is the matter of vote suppression, including measures such as the difficulty of restoring voting rights to felons, and onerous voter ID regulations, to name just the two most prominent complaints.
True, the slim Republican majority has allowed that party to choose the leadership of both houses and their committees, which is no small matter. But the fact that such a large change was brought about by a mobilized activist base and a resulting increase in voter turnout is demoralizing for the Republicans and very encouraging for the Democrats and the people who voted for them. Both Democrats and Republicans have noticed that the Democratic surge in 2017 could be a harbinger of a similar change in 2018.
So the Democrats are motivated and energized, and the grassroots even more so. In equal measure, the Republicans appear demoralized. Perhaps it is not surprising, then, that the amazing number of bills already introduced in the new session of the General Assembly so far don't include the same quantum of extreme reactionary, misogynistic, homophobic, and other backward nonsense that have been Virginia Republicans' stock in trade in recent years.
On the other hand, a large number of progressive bills have been introduced by Democratic senators and delegates, including especially the newly elected ones. These measures will, in most cases, not only receive the support of all or almost all the Democratic senators and delegates, they are also likely to be supported by Gov. Northam. Moreover, they will have very active support from the same grassroots forces that made the change in the composition of the legislature possible. So the mere fact there is a razor-thin Republican majority is not going to discourage either the Democrats or the activists.
At the top of everybody's list is Medicaid expansion, which could provide access to health care financing for 400,000 Virginians who presently lack it. This is supported by the governor, organized labor, and grassroots organizations and will be something that will be fought for this year not only in the state capital, but on the streets in every region of the state, even as, at a national level, Republican attacks on "Obamacare" continue.
Reform of the electoral system is also of the highest priority. Bills have been introduced to expand the number of documents that can be used for voter ID purposes (HB 191), to make absentee voting easier, and to keep polls open longer, among other things. Newly naturalized citizens whose citizenship is acquired later than the regular date for closing of registration would be given a break by HB 171.
Virginia is a right to work state, and it is likely that at some point, someone will file a bill abolishing that anti-labor policy. But there are many bills already introduced that will be strongly supported by organized labor and its allies. For example, there is HB 626, introduced by delegates Hala Ayala, Alfonso López, Lee Carter. and Chris Hurst. This bill would forbid employers from preventing their employees from comparing their compensation packages as a condition of employment.
If passed, it would be a blow against wage discrimination by gender, race, or age. Interesting to note is the fact that Ayala and Carter are freshman delegates from Northern Virginia, and Hurst is a freshman delegate from Appalachia. Carter is a self-declared socialist; he and Ayala were both elected with support from the Our Revolution group, as were several of their colleagues.
HB 518 would raise Virginia's minimum wage, currently $7.25, to $15, albeit over a period of years.
On the women's rights front, HJ 2 would sign Virginia onto the Equal Rights Amendment, correcting an old disgrace for this state.
Transportation is addressed in an environmentally friendly way by HJ 66 (Danica Roem), which calls for more emphasis on commuter rail systems. The often denounced political power of utility companies like Dominion Energy is addressed by HB 562 (Roem again). Longstanding complaints about coal ash pollution created by power companies would be addressed by HB 182, introduced by another new delegate elected with the support of Our Revolution, Jennifer Carroll Foy.
The issue of the restoration of ex-prisoners' right to vote, which played such a huge role in last year's election cycle, is addressed by HJ 72, which calls for a constitutional amendment authorizing the General Assembly to pass legislation making the restoration of voting rights possible.
This is just a small sampling of the ambitious agenda that will be fought for in the next sixty days, and beyond.