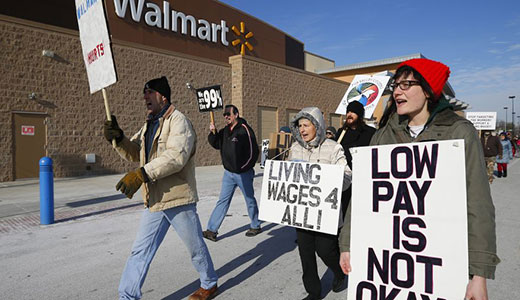 Walmart workers-members of OUR Walmart-started striking today in cities across the country, saying they couldn't wait until Black Friday to protest the company's disregard for their rights to speak out for jobs that will let them feed their families. The strikes, which will continue through Black Friday, come days before what are expected to be the largest strikes and protests ever at 1,600 Walmart stores.
The news comes as Americans nationwide are standing up against the vast injustices created by powerful people and institutions. Last night in Washington, DC, hundreds of protestors marched through the city-including peacefully entering Walmart's new store on H Street.
"From Ferguson to Bentonville and across the country, black youth, Walmart workers, and allies are self-organizing to fight back against anti-black police violence and demand respect and dignity at work," said Rashad Robinson, executive director of Color of Change. "While it's unacceptable that we live in a world where co-workers must band together to start charity food drives to feed themselves and where black children can be left dead in the streets at the hands of the police; it's inspiring to hear so many people speak truth to power. On Black Friday, thousands will take to the streets and to Walmart to demand better lives. In this new age of participation, the movements for economic justice and police accountability are indivisible because they both exist in the lived experiences of black people who are confronting the systems of power which have brutalized our communities."
Workers in Virginia and Washington, DC are on strike for the first time today and are joined today by workers walking off the job in cities and towns in Illinois, Wisconsin, Texas, Maryland, Oregon, Minnesota, California, Florida, Louisiana, Massachusetts and Pennsylvania.
"I know I'm risking a lot by going on strike," said Glova Scott, who is paid $10.90 working at the company's new Washington, DC store. "But we cannot continue to let the Waltons and Walmart retaliate against us and ignore our rights when we are calling for wages and hours that will let us feed our kids. Walmart needs to treat us with respect and dignity."
Even as Walmart brings in $16 billion in annual profits and Walmart's owners build on their $150 billion in wealth, the majority of Walmart workers are paid less than $25,000 a year. The workers and their supporters have been calling on the company to pay workers a minimum of $15 an hour and provide consistent, full-time work. Workers at more than 2,200 Walmart stores nationwide have signed a petition calling on Walmart and the Waltons to publicly commit to paying $15 an hour and providing consistent, full-time hours.
Community supporters are reconfirming and increasing their commitments to join workers at protests on Friday. Speaking to Ferguson protestors outside the Washington, DC Walmart last night, Nikki Lewis, executive director of DC Jobs with Justice, said:
"Black Friday is a day when we will all come together to show the power that we have to create real change in this country. On Friday, tens of thousands of Americans like me will join workers to say the days of going to work hungry or struggling to pay bills at a company owned by the richest family in the country must end. Our communities cannot thrive when they are held back from earning a decent living by the biggest corporation in our country."
Supporters of the workers who are striking against Walmart's illegal retaliation – representing millions of Americans – announced a letter last week from 226 organizations sent to company chairman and owner Rob Walton this morning. The letter calls for Walmart to raise pay to $15 an hour and provide consistent, full-time work for its workers; provide working women with good jobs that pay decent wages; and create a workplace that fosters inclusivity, appreciation and understanding.
Walmart workers began speaking out last week about the severe hunger issues that too many of them are facing because they can't afford groceries. A group of workers started sharing their stories on Walmart Hunger Games Tumblr after reading about their co-workers' struggles in a new analysis about Walmart's role in reinforcing the hunger crisis in America.
The Walton family, which controls the Walmart empire, is the richest family in the U.S.-with the wealth of 43 percent of American families combined. While many Walmart workers are unable to feed and clothe their families, the Walton family takes in $8.6 million a day in Walmart dividends alone to build on its $150 billion in wealth. Walmart brings in $16 billion in annual profits.
Growing pressure on the company to raise pay and provide full-time work comes as an increasing number of Americans and Walmart workers point to OUR Walmart as making significant changes at the country's largest retailer. Most recently, after public calls from OUR Walmart, the company committed to raise wages for its lowest paid workers and rolled out a new scheduling system that allows workers to sign up for open shifts.
Photo: AP