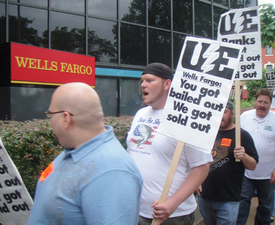 CHICAGO — Dozens of labor, community and religious leaders rallied here in front of the Wells Fargo home lending offices June 23 demanding the bank save 100 jobs and extend credit to the Quad City Die Casting company in Moline, Ill., slated to close July 12.
The United Electrical, Radio and Machine Workers of America (UE), the union that represents the Quad City workers, organized the protest, which was part of a national day of action in more than 20 cities. Housing rights advocates also joined the midday rally in support of the UE workers and are calling on Wells Fargo to stop home foreclosures, create jobs and rebuild communities.
Quad City Die Casting is a 60-year-old family-owned business that manufactures precision metal parts. Wells Fargo received $25 billion in federal bank bailout money and refuses to extend credit to the company.
"Banks like Wells Fargo are contributing to the economic crisis," said Leah Fried, UE organizer. "It's a crime. Today we are saying they are guilty of 'job-icide and home-icide.'"
"When people lose their jobs or their homes it's completely devastating for working families and these losses destroy our communities," she said. Wells Fargo, she added, should not be a roadblock to economic recovery; it should invest in good American jobs.
At the rally protestors chanted, "Wells Fargo this sucks! Where's our $25 billion bucks?" and "Wells Fargo you can't hide, we charge you with 'job-icide' and 'home-icide.'"
Wells Fargo is also under fire for targeting African American borrowers for high-rate sub-prime mortgages in Baltimore, where city officials are in the process of suing the company. Some 4,000 Hartmarx Corp. workers nationwide are also in jeopardy of losing their jobs because the bank refuses to extend credit to the men's suitmaker and is aiming to liquidate the company.
"These demonstrations are a massive outcry against institutions like Wells Fargo. We're demanding that they do the right thing and protect these workers by saving their jobs," said Elcee Redmond from Chicago Jobs with Justice. "The foreclosure crisis has gotten to the point where families and communities are being torn apart and Wells Fargo is contributing to that," he said.
"Abandoned foreclosed houses are part of the destruction of our neighborhoods." Redmond added, "We're here to ensure that the bank extends the credit for the Quad City workers because they have the power to do that and it won't hurt their bottom line."
Moises Zavala, from the United Food and Commercial Workers union, said Wells Fargo should be held accountable for the UE workers. "Workers are the main engine to stabilizing and regenerating the U.S. economy," he said. "Big banks need to recognize and respect working people. And Wells Fargo must be a part of the solution and not the problem."
UE drew national attention last year when hundreds of workers occupied the Republic Windows and Doors factory here after Bank of America cut credit to the business. The workers eventually won a settlement with the bank, and the factory was sold to a buyer that has reopened the plant and plans to rehire all former Republic workers.
"We are setting an example just like the Republic workers," said Shelly Ruzicka of Arise Chicago. "We're not going to stand down. We plan to keep on fighting till victory is won."
plozano @ pww.org