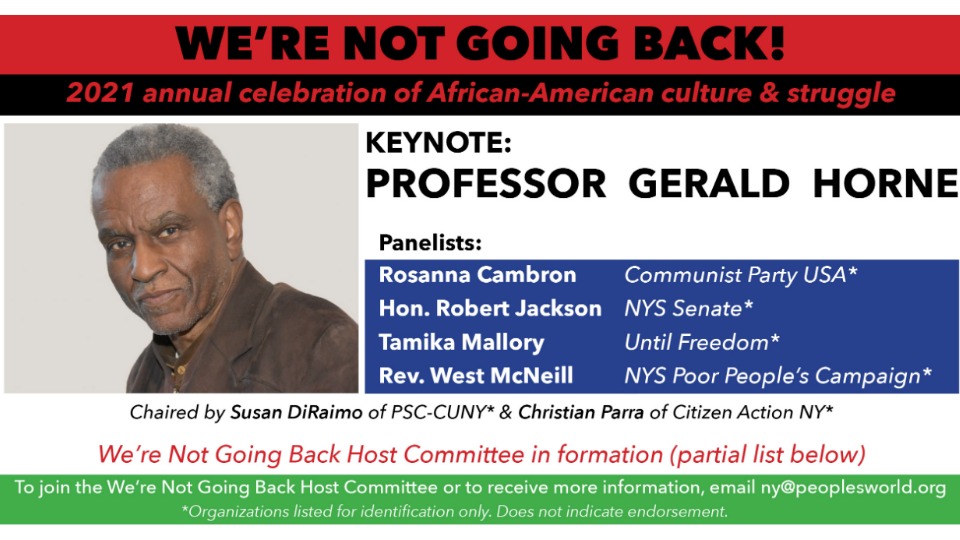 NEW YORK—In celebration of African-American culture and struggle, People's World will be supporting an online event broadcast from New York by the We're Not Going Back Host Committee this Sunday, Feb. 28th at 6:30pm.
This years' installment of the annual event will feature historian Gerald Horne as its keynote speaker. Dr. Horne, a prolific author who holds the Moores Professorship of History and African American Studies at the University of Houston, will expand on themes explored in his article "A Poisonous Legacy," that appeared this week in The Nation. "The story of how a slave ship wound up in New York waters also sheds light on how a would-be Manhattan Mussolini received 74 million votes in the presidential election of 2020," Horne wrote.
"The financing of the slave trade's illegitimate commerce was sited heavily in Manhattan," and "the wealth produced by slave labor built not only a region but a nation.… Lehman Brothers, the Wall Street firm whose 2008 bankruptcy was said to have triggered a financial crisis…began by capitalizing lucratively on the production of cotton picked by enslaved labor in Alabama." Horne argues that "a divided working class, fractured along the lines of those involved in class struggle and those in class collaboration, can hardly prosper."
Horne will be joined by a panel including Rossana Cambron, the Hon. Robert Jackson, Tamika Mallory, and Rev. West McNeill.
Cambron is the first Mexican-American co-chair of the Communist Party USA and has been active in the peace and immigrant rights movements for many decades. 
"Our country is at a turning point moment, but it has to be fought for and won," Cambron told People's World in advance of Sunday's event. "We are at this moment because of the large-scale resistance, organizing, strikes, and uprisings over the last four years. We need to keep up the fight and bring relief to millions who are suffering."
Tamika Mallory is a longtime activist in the movements for racial and gender equality. Co-founder of Until Freedom, she was also the youngest ever executive director of the National Action Network and co-chair of the 2017 Women's March on Washington, the largest single day demonstration in U.S. history.
Speaking to the world from Minneapolis in the wake of the murder of George Floyd this past summer, Mallory exposed white supremacist propaganda undermining the movement for Black lives.
"Young people…are enraged, and there's an easy way to stop it," she demanded. "Arrest the cops, charge the cops.… Charge them in every city across America where our people are being murdered.… Do what you say this country is supposed to be about: the land of the free for all. It has not been free for Black people, and we are tired.… America has looted Black people. America looted the Native Americans when they first came here."
Rev. West McNeill studied at Union Theological Seminary and is a leader of the New York State Poor People's Campaign, part of the national movement led by Rev. William Barber, which has championed the Fight for $15 and a Union movement, connecting the scourge of poverty wages to structural racism and the war economy. McNeill is also co-chair of the New York State Labor-Religion Coalition.
Bronx-born and -raised freedom fighter and author of the books Joy in the Struggle: My Life and Love and Always Bring a Crowd!: The Story of Frank Lumpkin, Steelworker, Beatrice Lumpkin is among the members of the We're Not Going Back Host Committee. The 102-years-young labor and community activist will be giving the fund appeal at the event, calling on everyone to help build an anti-racist financial war chest to sustain the people's movements and advance class consciousness in the U.S.
"Some of my most precious political memories are from the East Bronx, East 165th Street, Southern Boulevard and Hunts Point," she wrote to People's World. She remembers "a multiracial march in Harlem protesting Mussolini's invasion of Ethiopia" in 1935.
"The Communist Party organized Unemployment Councils that saved the unemployed from dying of hunger. I was too young to be in the March 6, 1930, Hunger March that won 'Home Relief.' But I was old enough by 1933 to join Unemployment Council protests outside the Relief Office, and we refused to leave until the hungry family we were supporting got food."
Her husband Frank Lumpkin's family were originally sharecroppers in Georgia who moved in the Great Migration North to Buffalo, N.Y., and this year's event will be co-emceed by Christian Parra, a community organizer in Buffalo with Citizen Action.
Susan DiRaimo, outgoing vice president of the Professional Staff Congress, and a member of its executive board, will also serve as a co-emcee.
Cultural contributions will be provided by Emi Augustine, of GAME Rebellion, who will be performing "Lift Every Voice and Sing." Independent artist Len Xiang will also appear, performing "A New Day."
People's World invites all anti-racist fighters for the 99% to participate in this year's event and to make a contribution to the struggle for equality. Please go to www.peoplesworld.org/aahm to register for the event, make a donation, and get more information.