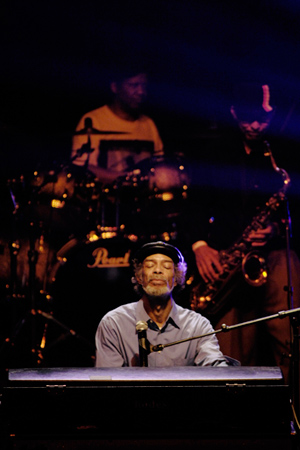 A new film is being screened in select cities this summer that focuses on the life of the late poet-musician, Gil Scott-Heron. The title of the film is Who Is Gil Scott-Heron? This legendary African-American recording artist and author made quite an impact on many lives, and this is the main theme of the film. This feature is not a strict documentary, but rather a heartfelt tribute to the man by many of the folks who were affected by his generosity and inspiration.
The film is directed by BAFTA nominated filmmakers Iain Forsyth and Jane Pollard. The filmmakers make it clear their goal was not to make a movie specifically about the artist's recording career. Instead, it's a portrait seen through the eyes of those who loved Scott-Heron, his friends, his family, and the musicians he played with. Recorded interviews in the United States and United Kingdom are interspersed with images of the musician performing and also spending time on the streets of New York City.
The musical clips are incredibly poignant and powerful. A shining example is the song "I'm New Here" from his 2010 album of the same name. The lyrics in this song, "No matter how far wrong you've gone, you can always turn around" show the humanity in his art. The artist is also seen performing and discussing his 1974 album Winter in America. This musical study on social, political, and economic issues is considered one of his greatest works. Musically, however, the footage takes a back seat to the interviews. His inspirational performances within will only whet the viewer's appetite. Scott-Heron faced many challenges in his life, including legal and health issues. Still, he always strived to make a positive difference either socially or personally in other people's lives.
The voices in the interview segments are numerous, but Scott-Heron's son, Rumal Rackley, shines with some loving reflections on his father. Mr. Rackley states that many admirers painted his father as a talented musician, poet and early rap artist. In his son's eyes, Scott-Heron was foremost a world class wordsmith. He explains that his father gave the gift of words to people like no other.
We also learn in this film that the poet's grandmother was a huge inspiration, and passed along the philosophy that "If you could help someone in life, why wouldn't you?" Scott-Heron carried this philosophy all through his years as witnessed by the commentary of his fellow musicians and friends in this film.
Viewers who have little or no knowledge of his career will come away from this film with the desire for more. Who Is Gil Scott-Heron? does not attempt to provide a definite biography of the artist. Many aspects and details of this social poet's life are left unanswered as the intent is to focus on his impact on others. There is very little archival footage or early timeline in this film. The directors instead focused on immediate close-ups of his friends and peers as they sincerely, and emotionally, recall their time shared with him.
Scott-Heron was born April 1, 1949 in Chicago. He attended Lincoln University in Pennsylvania, a school which was also the choice of Langston Hughes, the writer who most influenced the young Scott-Heron. He arrived on the scene in the turbulent late 1960s as a visionary musician and poet. His classic 1970 album, Small Talk at 125th and Lenox produced the striking spoken word track, "The Revolution Will Not Be Televised." This track reflected his views of the inner city struggle and the indifference of the corporate controlled media. A subject that is still as relevant as ever in the 21st century. A re-recorded version of "The Revolution Will Not Be Televised" with a full band, was included on his classic 1971 album, Pieces of a Man.
Scott-Heron left us much too soon. He passed away on May 27, 2011 at the age of 62. His legacy of social concern and musical genius will carry on. As viewers continue to attend screenings of Who is Gil Scott-Heron? throughout the year, they should keep in mind this film is basically a loving testimony from the folks who were close to him. It does not provide all the answers that a straight documentary would attempt. What this film does do, however, is showcase how one human being, through art and compassion, can make a difference in so many lives.
Who is Gil Scott-Heron? has a running time of only 60 minutes and stays focused on its goal of presenting the artist's impact. Everyone attending the theatrical screenings will receive a free download card to go on the XL Recordings website and download Scott-Heron's last record, Nothing New, for free.
"Who is Gil Scott-Heron?"
Directed by Iain Forsyth & Jane Pollard
Documentary, 2015, 60 min.

Photo: Wikipedia (CC)