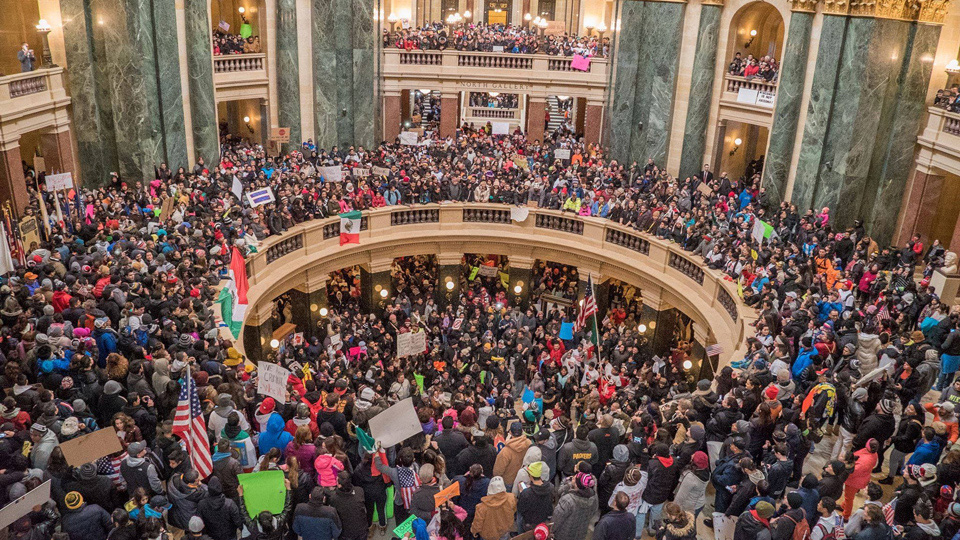 MILWAUKEE — On Friday morning, May 26, Wisconsin Republican State Senators introduced a companion bill to the anti-immigrant bill AB190 that seeks to turn public employees including law enforcement into an arm of Trump's deportation machine.
The bill is the same so-called "anti-sanctuary" bill that was defeated by the Day without Latinos and Immigrants general strike of February 2016. Anti-immigrant politicians are pushing similar legislation across the country. Texas recently passed the same bill, leading to mass protest and the threatened boycott of the state.
Voces de la Frontera issued the following response:
"This is an Arizona-type racial profiling bill," said Christine Neumann-Ortiz, Executive Director of Voces de la Frontera. "This bill will increase racial profiling and discrimination, waste taxpayer dollars and disrupt the economy, and make everyone less safe by making community members afraid to report crimes. If Governor Walker and Senate Majority Leader Fitzgerald do not kill this bill, we will take escalated action above and beyond last year's Day without Latinos and Immigrants.
"In the meantime, we will hold a statewide day of action and lobby day at the Capitol in Madison on June 28th, with buses coming from across the state. Our community defeated this discriminatory, hateful bill last year. We will do whatever it takes to stop Republicans from taking Sheriff Clarke and Donald Trump's campaign of terror against immigrant families statewide."