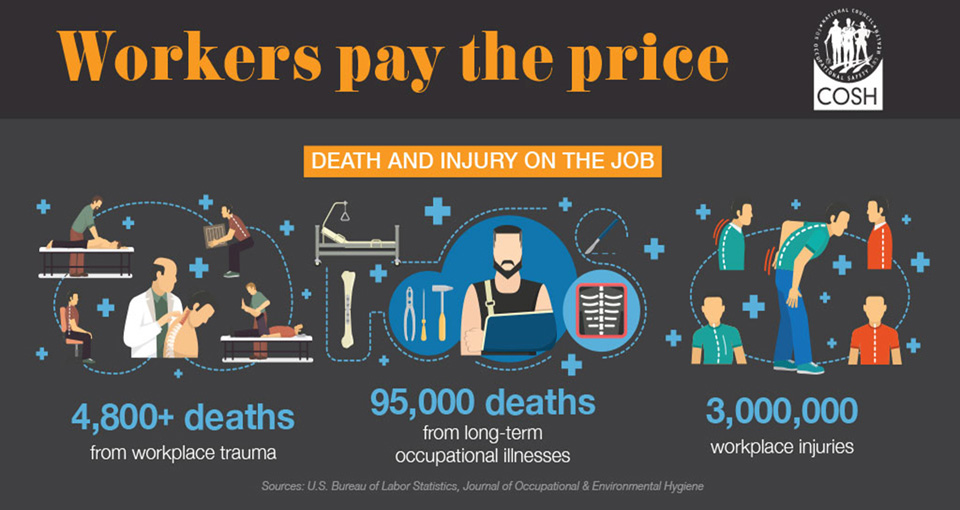 Among the companies the Council for Occupational Safety and Health (COSH) identifies as this year's Dirty Dozen are a Boston contractor whose indifference to safety led to the deaths of two workers in a trench collapse and a Lansing, Illinois, tanker cleaning service that did nothing to prevent fumes from filling a tank car and killing an employee.
COSH, is a coalition of labor unions, health and technical professionals, and others that advocates for worker health and safety. National COSH released its report in advance of Workers Memorial Day, this past April 28, unveiling it at a press conference April 26.
At the press conference, Jordan Barab, a deputy assistant OSHA director during the Obama administration, said "The Dirty Dozen shows the need for more enforcement" by the Occupational Safety and Health Administration (OSHA) and by federally approved state OSHAs.
Dedicated TCS, an Illinois-based tank cleaning firm made the list because it did not check the air quality in a rail tank car located in New Orleans before the work began. As a result, Armond Stack died and his two co-workers almost did.
The three lacked harnesses, and the confined space lacked oxygen, the New Orleans coroner said. OSHA proposed fining Dedicated TCS $226,310. The firm had prior repeated confined space violations in other locations, including in Lansing and Channahon, Illinois.
The Boston trench collapse occurred when a nearby water main broke, throwing dirt, mud, gravel and water on top of trench diggers Robert Higgins and Kelvin Mattocks.
Mattocks and Higgins were killed because their employer, Atlantic Drain, did not follow basic safety rules. The Boston district attorney indicted both the firm and its owner on two counts of manslaughter and other charges.
Furthermore, the Boston City Council passed an ordinance barring construction firms with a history of serious and repeated OSHA violations – like Atlantic Drain – from getting city permits. Now the state senate is considering similar legislation. And the city council is considering amending a 200-year-old law that now limits fines in such cases to $1,000. The bill under consideration would raise fines to $250,000.
Along with Atlantic Drain and Dedicated TCS, the Dirty Dozen include:
California Cartage of Long Beach, California: Because the company did not provide machine safeguards, and because there were faulty brakes on its trucks, driver William Vasquez was killed.
Speakers at the COSH press conference said that the firm treats its drivers as "independent contractors" unprotected by workplace laws, including labor laws.
Dollar General in Goodlettsville, Tennessee. The Dirty Dozen report calls all the chain's stores "a fire disaster waiting to happen" because exits were blocked. OSHA cited the chain more than 100 times and fined it more than $1 million combined for that violation alone in its stores nationwide.
Environmental Enterprises, Inc., of Spring Grove, Ohio, where a chemical explosion killed employee Zachary Henzerling. An OSHA report describes the company as having a "complete disregard for employees' safety." The firm was indicted for involuntary manslaughter and reckless homicide.
Fuyao Glass America of Dayton, Ohio. The firm operates the world's largest auto glass plant but doesn't provide its workers with gloves. Workers were exposed to broken glass and risked amputation. OSHA cited it for 23 serious violations.
The Nissan USA auto plant in Franklin, Tennessee: Four workers died over a four-year period. Safety violations are rampant, one speaker at the press conference said, because workers fear losing their jobs if they complain, despite the fact that federal law bans retaliation against whistleblowers. OSHA has fined Nissan $99,000.
The Pilgrim's Pride poultry processing plant in Greeley, Colorado: One worker died and another lost fingers in a machine "because management did nothing" to address amputation risk, the Dirty Dozen report says. Workers are also exposed to toxic ammonia.
PrimeFlight of Nashville, Tennessee exposes its workers to blood-borne pathogens. OSHA said PrimeFlight had 22 violations in the last three years. Conditions there are "likely to cause death or serious harm."
TransAm Trucking of Olathe, Kansas: In minus 37 degree weather, after reporting that his cab had frozen brakes and receiving no help, driver Alphonse Maddin left the vehicle on the side of a road to seek assistance. OSHA and its appeals board ruled for him after TransAm fired him for protecting his own life. The case went to the U.S. Court of Appeals for the Tenth Circuit. Every member of that court upheld OSHA's ruling except Judge Neil Gorsuch, the newest U.S. Supreme Court justice.
Valley Garlic and X-Treme AG of California: Four migrant workers died in the crash of an illegal transport van. Following a lawsuit by the U.S. Department of Labor, the contractor was enjoined from transporting agricultural workers.
The Dirty Dozen report also cites one foreign firm: the South Korean computer/phone chip maker Samsung.
The report says that more than 200 Samsung workers became seriously ill, and 76 died, from fumes released while making the chips. The firm also retaliates by a secret plan to "dominate employees" and "punish leaders," the report says. Samsung's CEO is now awaiting trial in South Korea's wide-ranging presidential bribery scandal.