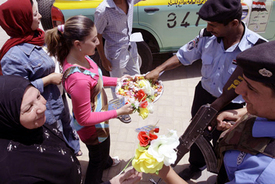 Canada: Trade pact approved
The Canadian Senate approved a Canada-Peru Free Trade Agreement June 17 as Canada's first bilateral trade agreement ratified since 2002. Critics contrasted that action with the government's reluctance to approve a Canada-Colombia trade deal because of human rights concerns.
Last month's police massacre in the Peruvian Amazon "slipped under the radar," according to straight.com. The slaughter of over 100 indigenous activists came after peaceful demonstrators had been protesting for two months against their neo-liberal government's implementation of the Peru-U.S. free trade agreement.
Canadian companies account for half the natural resources extracted from Peru, according to Stewart Trew, trade spokesperson for the progressive Council of Canadians group. "The silence in Canada has been incredible," he added.
Russia: Workers protest plant closings
Worker demonstrations against factory closings and wage arrears have proliferated recently, according to mosnews.com.
Protesting workers at a closed-down porcelain factory in the Sverdlovsk region faced police repression when they blocked a highway June 23. Earlier last month, it took a visit from Prime Minister Putin to induce owners to reopen three factories near St. Petersburg, an action enabling highway demonstrators to return to work.
Tungsten workers in the Vladivostok area received long-unpaid wages after threatening to stop road traffic. Protests at a Zlatoust metal plant and a tractor plant in Rubtsovsk yielded similar results. Laid-off workers at the Petrovsky Alcohol Factory are planning a protest march to Moscow on June 30.
Iraq: Kurdish region to vote on new constitution
With their own government and parliament in place since 1991, Kurds in Iraq have maintained control over three provinces. That parliament last week overwhelmingly approved a new constitution to be voted upon as part of parliamentary elections set for July 25. It puts forth claims to additional provinces, including oil-rich Kirkuk, much to the displeasure of the Iraqi government and Arabs who settled in the region under the Saddam Hussein regime, according to Agence France-Presse.
If it persists with plans to buy a British company investing in Kurdish oil fields, the national Iraqi government may force the Chinese state oil company Sinopec to abandon Iraqi fields elsewhere, Reuters said.
Presently Kurdistan has its own flag, anthem and national day.
Japan: Differences over North Korea
Dissent greeted a government-proposed measure aimed at implementing the recent U.N. Security Council Resolution against North Korean nuclear testing. Despite the resolution's prioritization of non-military and diplomatic efforts, the ruling Liberal Democratic Party advanced plans last month for the Japanese military to provide logistical support for U.S. forces inspecting North Korean cargo ships.
Communist Party parliamentarian Kasai Akira demanded the government pursue "a peaceful and comprehensive solution and avoid measures likely to intensify military tension between Japan and North Korea." Japan Press service cited ruling party statements that "Japan needs to make preemptive strikes against enemy bases."
Proposals have been introduced to bolster Coast Guard capabilities for cargo inspections in Japanese ports.
Latin America: ALBA is growing
Meeting in Carabobo, Venezuela June 24, ALBA welcomed Ecuador, Saint Vincent and the Grenadines, and Antigua and Barbuda into the now nine-member alliance. The group adopted the name "Bolivarian Alliance for the Americas," replacing "alternative" with "alliance."
Venezuela and Cuba formed ALBA in 2004 to overcome submission to the international market economy, orchestrated by U.S.-controlled financial institutions.
Ecuadoran President Rafael Correa urged moving beyond economics toward becoming a "political project" based on "solidarity, integration, and being the owners of our own destiny," a redirection evident in the final summit declaration, according to venezuelanalysis.com.
President Hugo Chavez of Venezuela sought delegates' support for restructuring the United Nations and Organization of American States. The summit established ministerial commissions.
Cuba: Economic crisis affects agriculture
Granma newspaper last week reported that the proposed return of oxen to planting and harvest operations would save money and improve capabilities for working small land parcels. Some 265,000 oxen are presently available.
Austerity planning necessitated by waning credit and falling export and tourism revenues has affected agriculture, already charged with building up domestic production. Authorities have cut supplies of extra grains to consumers, despite pending recommendations for increased daily caloric intake. The Trade Ministry, rather than the Agricultural Ministry, now buys food from producers.
Inter Press Service reported that almost 40 percent of Cuba's excessive amount of idle land has recently been leased to farmers. Potato and tomato harvests are up this year, while production of pork and eggs is down.
World Notes are compiled by W.T.Whitney Jr. (atwhit@roadrunner.com)