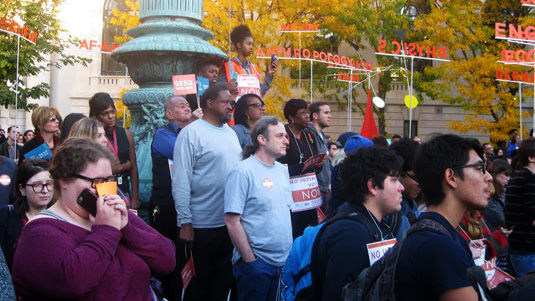 Yale graduate student teachers and research assistants got a big boost in their decades-long quest for union rights Oct. 15 at a huge rally in Beineke Plaza attended by hundreds of supporters and allies. The slogan of the day was for a "no intimidation vote."
The Graduate Employees Student Organization (GESO) marched into the plaza to cheers, having first gathered at the home of Yale University president Peter Salovey on Hillhouse Avenue.
They held high in the air the names of the departments where they work and proceeded to the administration offices at Woodbridge Hall to deliver a 15 foot by 4 foot board filled with photos of over two-thirds of the graduate students who are seeking a fair election without intimidation.
The success of the campaign is evident in the misleading posters plastered around the University by the administration boasting of the wages and benefits afforded to the graduate assistants. Yet, powerful speeches by the graduate student workers underscored the inability to support a household, the need to expand medical coverage to include mental health, the need for secure teaching assignments, and ending race and gender inequities.
With the addition of hundreds of graduate student workers to the union rolls at Yale, the ability to negotiate strong contracts next year would be improved for all University workers including Unite Here Local 34 clerical and technical workers and Local 35 service and maintenance workers. They turned out in numbers to support the GESO demands.
The Yale administration has claimed in the past that the graduate students are not workers, but that argument has been shown false as graduate students at the University of Connecticut and New York University have won union representation in recent years.
Attending the rally in solidarity were the Young Workers organization of the Connecticut AFL-CIO, elected officials including Mayor Toni Harp, U.S. Senators Chris Murphy and Richard Blumenthal, many individual unions, and a large contingent from the community organized by New Haven Rising.
Volunteers with New Haven Rising spent the summer door knocking in largely Black and Latino neighborhoods where there is high unemployment, getting hundreds of pledge cards signed in support of GESO, and demanding that the University hire from their communities and abandon plans to transfer 986 union jobs in the medical campus to the non-union Yale New Haven Hospital.
The fact that jobs is at the top of voters' minds was shown in the Democratic primary election results, where the labor-community coalition on the New Haven Board of Alders increased its majority, and incumbents who are part of that coalition that has made jobs, youth and safety its top concerns were all re-elected.
Photo: Joelle Fishman/PW