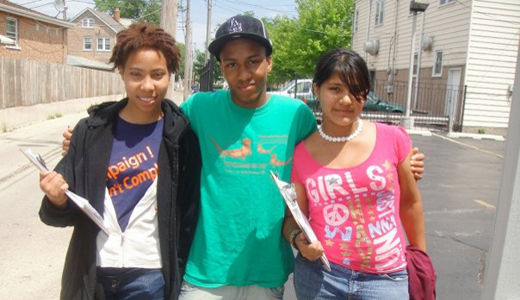 Despite what critics and polls are saying about young voters this election cycle, youth leaders say they are paying very close attention to what candidates are saying about issues like jobs and education and expect to play an important role at the polls Nov. 2.
"Nov. 2nd is a very important opportunity for young people to continue the momentum of the last 4 election cycles and to show that the youth vote has been a long time coming," said Maegan Carberry with Rock the Vote.
Since 2008 we are witnessing the largest generation of voters ever, she notes, and young voters are saying, "they are here to stay because they know they're a permanent force in politics."
Young people want candidates and the nation's next state and national lawmakers to address major issues like jobs and unemployment, the cost and quality of education, the economy, sexual health initiatives, marriage rights and energy independence, said Carberry.
In its 20-year history Rock the Vote is leading its most aggressive midterm election campaign ever this year and aims to register 200,000 young people. They expect to quadruple their 2006 numbers. In 2008 the group registered 2.5 million young people and since 1990 have registered more than 5 million. In 2006 Rock the Vote and others broke a trend in the number of young voters at the polls, which was on a steady decline since 1982.
In 2008 the number of 18-29-year-olds were 18 percent of the electorate compared to 12 percent in 2006. Obama won 66 percent of the under-30 bracket and young voters supported him by a 2-1 margin.
Lindsay McCluskey, president of the United States Student Association (USSA) said the number one issue on young people's minds today is jobs.
"Everybody is really feeling the pain of joblessness right now and Congress has not done enough to address this pressing issue," she said.
Over the years we have also seen the biggest cuts on higher education, she added. "We don't want colleges to become more expensive than they already are. On the contrary we need them to be more accessible."
Progress on financial aid for students since Obama's election has been good and there still is that sense of hope for broad change, said McCluskey. She said in 2008 young voters were excited to elect the country's first African American president, but now most of us are concerned about the issues.
USSA and a broad coalition of student, labor, religious, civil and immigrant rights activists are gearing up for a national march, expected in the hundreds of thousands, on Washington D.C. Oct. 2nd, a month to the day before the midterm elections. Organizers hope the rally sends a loud clear message for change that aims to propel voters nationwide to support candidates that will help move Obama's pro-people agenda forward.
"Oct. 2 aims to urge Congress to better invest in jobs, education, immigration reform and justice for all," said McCluskey.
"What happens in the next couple of months is going to be really telling and a lot of issues are at stake," she said. "I'm looking forward to the results, which will eventually impact the country's future."
According to a recent Rock the Vote poll 58 percent of young voters are paying attention to the upcoming election and 77 percent of them plan to turn out Nov. 2nd. Favorability ratings indicate that Obama (56 percent) and the Democratic Party (46 percent) still receive the highest marks, with the Republican Party (36 percent) trailing. Sarah Palin (28 percent) and the Tea Party (26 percent) received the lowest ratings. The most important issue is unemployment at 96 percent, followed by the economy at 93 percent and America's dependence on foreign oil at 86 percent.
Meanwhile thousands of students attended huge rallies this week where President Obama at the University of Wisconsin-Madison and Vice-President Joe Biden at Penn State urged young people to vote on Nov. 2.
"I want to send a message to young people across the country about how important this election is," said Obama speaking to a group of college-age journalists Monday. He warned if Republicans win control of Congress, they would look to undo much of what he has done, including improvements to the student loan system and other forms of college assistance. "Change is always hard in this country" and "doesn't happen overnight," said Obama, whether it involves changing the health care system or developing new sources of energy. Students and other young voters need to understand that "democracy is never a one-and-done proposition, he said. "It requires a sustained commitment."
Photo: Chicago youth volunteer during a door to door campaign to register new voters. (PW/Pepe Lozano)