civil rights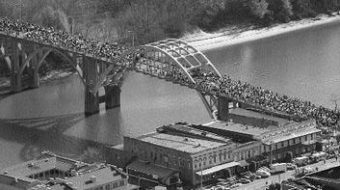 March 18, 2005
SELMA, Ala. — The Rev. C.T. Vivian of Atlanta stood in the midst of the surging crowd at the conclusion of the Bridge Crossing Jubilee here March 6. Well-wishers congratulated him on the big turnout for...
Read more
March 11, 2005
40 years after Bloody Sunday, 10,000 march in Selma SELMA, Ala. — Singing "Ain't going to let nobody turn me round," 10,000 marchers crossed the Edmund Pettus Bridge here March 6 to protest Bush-Cheney voter suppression...
Read more
January 18, 2002
The impact of the 1966 Chicago Freedom Movement on the decade's civil rights struggles was as significant as any other campaign of that era. To visit The Martin Luther King, Jr. Center for Nonviolent Social Change,...
Read more