democracy
July 1, 2005
WASHINGTON — Suddenly, the Watergate conspiracy is back in the headlines with the revelation that former FBI officer W. Mark Felt is the mysterious "Deep Throat" who fed Washington Post reporter Bob Woodward tips on the...
Read more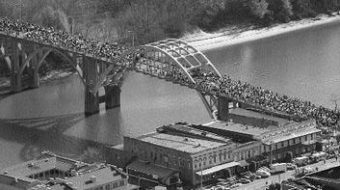 March 18, 2005
SELMA, Ala. — The Rev. C.T. Vivian of Atlanta stood in the midst of the surging crowd at the conclusion of the Bridge Crossing Jubilee here March 6. Well-wishers congratulated him on the big turnout for...
Read more
December 17, 2004
'Seeger understood early the power of song as a force for social change.' Pete Seeger turned 85 last May 3 and could be forgiven if he hung up his five-string banjo and relaxed with his wife...
Read more