Missouri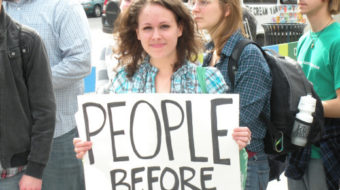 March 25, 2010
ST. LOUIS - "We're tired of corporate America and the CEOs taking all our money," Ashli Bolden said as over 100 people protested inside the Bank of America tower on March 24.
Read more
March 5, 2010
"Government has a responsibility to assist people in these hard economic times," former autoworker Clem Smith told a crowd on the state Capitol steps.
Read more
September 3, 2009
JEFFERSON CITY, MO – "I was too expensive, so they got rid of me," Robert Green told hundreds of rural Missourians who rallied for health care reform here on the Capital steps September 2.
Read more