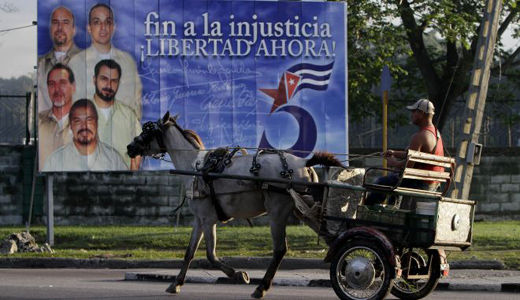 Ramón Labañino is in prison in the United States, in Kentucky. Ailí Labañino, his oldest daughter, was in Australia in August. Sponsored by labor unions and Cuba solidarity groups there, she toured six cities. She talked about her father and the impact of his imprisonment on her family.
She was talking too about the Cuban Five political prisoners. Ramón is one of them; others are Antonio Guerrera, Gerardo Hernández., Rene Gonzalez, and Fernando Gonzalez. She told Australians about the injustice done to them and asked for solidarity. To see and hear one of her presentations, in Perth on August 12 before 200 construction workers, click here.
Earlier in Adelaide, Communist Party Secretary General Bob Briton interviewed Ailí.
The Cuban Five, arrested by the FBI in Miami on September 12, 1998, were political prisoners; three still are. Convicted on lesser charges, Rene and Fernando have left prison and are in Cuba.
After their trial and sentencing Cuban President Fidel Castro told the Cuban people the Five would only go free "When the enormous injustice committed against them is known throughout the whole world." For years, Ailí and other family members of the Five have traveled the world, teaching and informing.
In Australia, Ailí reported on outlandish sentences. She indicated the Five had been in Florida at the behest of the Cuban government to monitor private paramilitary thugs responsible for terror, murder and mayhem in Cuba. The U.S. government deepened community bias through pay-offs to Miami-area journalists who produced prejudicial stories before and during the trial of the Five.
Bob Briton asked Ailí, "What has it been like to have your father imprisoned in such unjust circumstances?" Ailí replied, "More than half of my life, as well as that of my sisters, has been spent in this battle for the return of my father. We are very proud to know what they did was not only for their families but for all Cubans. Anyway, it's very painful not to have them, for instance at birthday parties, on Valentine's Day, on Fathers' Day and also the fact that we had to wait for a U.S. visa in order to be able to visit him in prison. The experience we had during our adolescence was that of prison.
Briton asked about "solidarity of the Cuban people with the Cuban Five." "From the very beginning," Ailí responded, "our leaders as well as the Cuban people have been the main protagonists in this campaign … You can see throughout the whole of Cuba posters of the Cuban Five and different activities carried out in support of them. … This battle is very sensitive in Cuba because the Five are considered as family by all Cubans.
Asked about international solidarity, she indicated that, "Cuba's efforts are reaching the world through the efforts of our friends in the world. If the mass media in the U.S. has been able to raise a wall of silence about the injustice, international solidarity has been able to open doors in alternative media to let the case be known.
Ailí answered a question about Cuban youth: "The fact that the youth are proud of what the Five are doing and that they want to be part of this battle is a big support to us. In every university in Cuba there are committees in support of the Five. In our universities … there are a large number of foreign students studying alongside their Cuban counterparts. This has the advantage that, once the international students return home, they take the message about the Cuban Five to their respective countries."
She concluded by pointing out that, "The main problem is that the mass media have silenced the case. That is why we have to knock on every door we can to take the message to every person. I can tell you the friends we have found here are sincere. The things they have undertaken to do, for example to write letters and postcards to the Obama Administration for the freedom of the Five, will be done….Gerardo [once] said "As long as there is just one person fighting for my cause and the cause of my brothers, we will remain strong inside these prisons."
Ramón Labañino shares Gerardo's optimism. He told a reporter recently that when he is discouraged he "goes back to another time, one of laughter and joys, of return and happiness, to the precious time of our future, free in Cuba … I see Cuba, a beach blue, clean, and dazzling. I see Eli, my daughters, all my family, my people. I see laughter, joy, eternity. That way I make my freedom tangible and real. And I know it's certain."
Photo: A driver in Havana, Cuba guides his carriage past a billboard demanding the freedom of the Cuban Five. AP