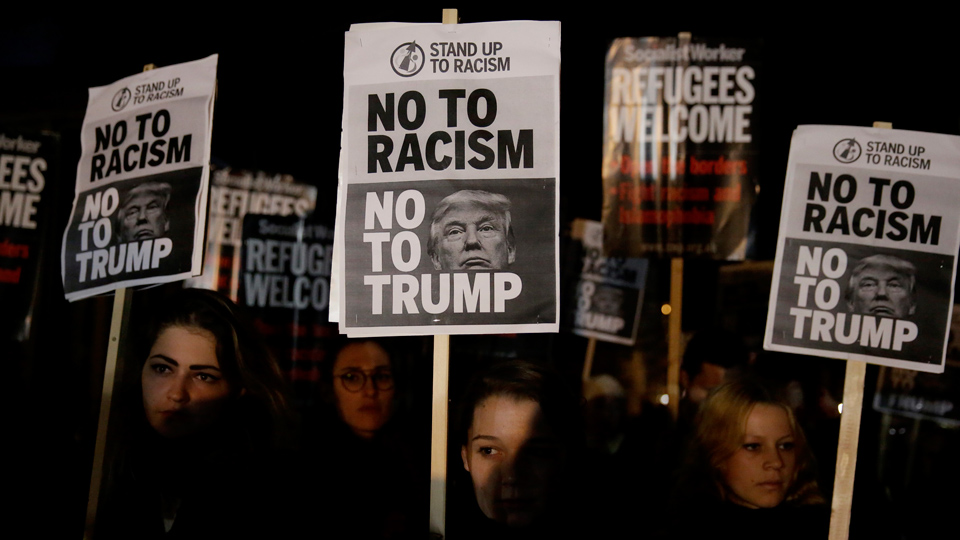 LONDON – Protests are being held worldwide today as Donald Trump is inaugurated as the 45th president of the United States. Anti-racist and anti-war protesters will be joined by women's groups and other activists at events in at least 30 towns and cities across Britain, including Manchester, Leeds, Birmingham, Cardiff and Edinburgh.
Thousands are expected to attend a major protest at the U.S. embassy in London from 5pm today, with the organizing group Stand Up to Racism warning that "the effects of the Trump presidency will be felt all over the world."
The anti-racist group fears that racism and sexism will be normalized by one of the world's most powerful and visible figures.
During a bitter and divisive election campaign, Mr. Trump made a series of inflammatory and racist statements, including a call to ban all Muslims from entering the U.S. and a pledge to force Mexicans to build a wall to stop them crossing the border.
Human rights organization Amnesty International urged Mr. Trump to "condemn hate and protect human rights," calling on him to "publicly repudiate the use of torture and to close the US detention center at Guantanamo Bay." Mr. Trump has pledged to increase the use of torture and fill Guantanamo with "bad dudes."
Campaigners also condemned Mr. Trump for his rhetoric and attacks on minorities throughout the election contest. He mocked a disabled journalist, referred to Mexicans as "rapists," and condoned the beating of opponents protesting at his rallies. He was caught on tape claiming that his celebrity status meant that he could do what he wanted to women including "grab them by the pussy."
It was revealed on Tuesday that women who have accused Mr. Trump of sexual assault are filing lawsuits against him.
Mr. Trump announced yesterday that he was "getting ready to leave for Washington, D.C." He said, "The journey begins and I will be working and fighting very hard to make it a great journey for the American people. I have no doubt that we will, together, make America great again."
However, John Rees from the People's Assembly warned: "Donald Trump's presidency is bad for black Americans, bad for Muslim Americans, bad for Mexican Americans, bad for any woman in America, bad for anyone who needs healthcare in America and bad for any working person in America."
"His foreign policy will undoubtedly be bad for the rest of the world. We all have an interest in making this the shortest ever U.S. presidency."
The Labour Party's shadow home secretary Diane Abbott urged solidarity against Mr. Trump: "There is a link between inflammatory statements by politicians and racist attacks and hate crimes on the street.
"Now is the time for people of goodwill to unite and stand up to racism."
Mr. Trump has made a series of belligerent statements on international issues – including a promise to move the U.S. embassy in Israel to Jerusalem.
Stop the War Coalition vice-chairman Chris Nineham said Trump's election represented a serious danger for global politics: "Trump has threatened Iran, provoked China, promised to escalate in the Middle East, and move the U.S. embassy in Israel to Jerusalem. These are dangerous days for the world. The anti-war movement needs to be on full alert."
Communist Party of Britain general secretary Rob Griffiths warned that "the reality of Trump's big business politics" would hit the working class and minorities as he called for "maximum international solidarity."
This article originally appeared in the British daily newspaper Morning Star.