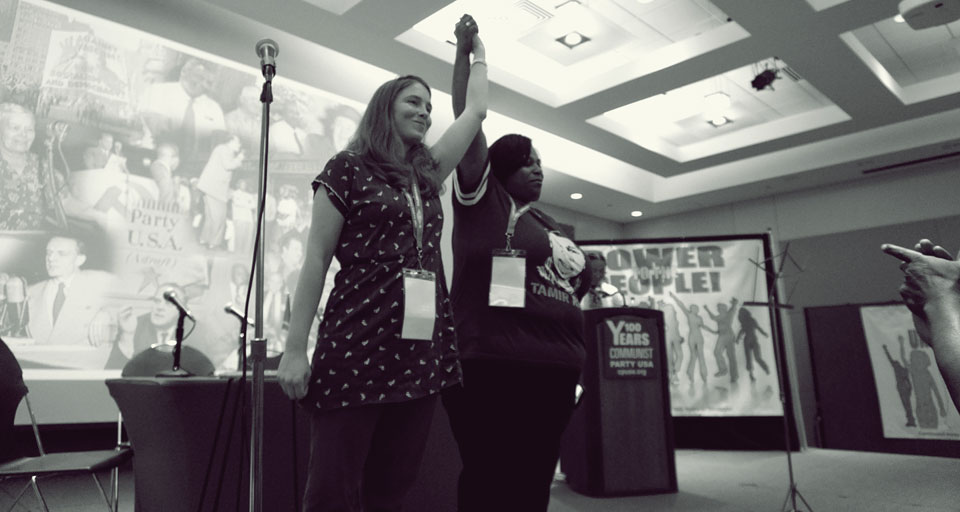 Our scene is set during a rainy Sunday afternoon inside a Greek café in Chicago, Illinois. The characters are eight, including this reporter, and roughly 300 other individuals a few hours earlier.
All of them representing different parts of the country. And all of whom identify as American Communists.
The Midwest city of Chicago is the birthplace of the Communist Party USA, an organization that for 100 years has served as a vehicle for change. It has shaped the historical political narrative of the past century. It was instrumental in the labor struggles of the 1930s and '40s. It championed the fight for civil rights and was a leader of the peace movement in the '60s. And now, it's a part of the fightback against the tide of extreme racism, sexism, war-mongering, and discrimination that defines the era of Trump.
Those past hundred years, and the hope for one hundred more, was the focal point of the 31st national convention at the end of June. Many victories were celebrated, many challenges confronted, and all throughout, unity and solidarity were front and center.
"Here's to a great convention, and a great future," said outgoing CPUSA chair John Bachtell, as he raised a glass and cheerfully toasted. Seven other glasses were raised in unison around the table and clinked together.
"Joe, I wish your mother was here to see this," said Roberta Wood, turning slightly to face the newly elected CPUSA co-chair, Joe Sims. "She would be so proud."
A rueful smile crossed Joe's lips as he nodded in agreement; his eyes distant, fondly thinking of his mother recently laid to rest. His brother, Freddie, looking over at his older brother with pride, nodding in agreement.
"Joe, was your grandmother in the party?" asked Roberta.
"No, she never was officially, but she was always close to it."
"Did your parents get involved during the steel strikes then?"
"They got involved back during the Alabama miners' strike, that's where we all started out before moving to Ohio—actually," said Joe, pointing to his younger brother, "Freddie knows that story better than I do."
All side conversations went silent as the seven of us turned our ears to the story about to be told.
Freddie went on to describe how their grandfather was the owner of a specific mining machine which he rented out to the mining companies. Once the labor trouble arose, in solidarity with strikers, he stopped renting the machine out. Mine company bosses asked him to break the strike by crossing the line. Their reasoning: "The workers respected him and would follow him back to work."
When he refused, the company resorted to legal tactics (vagrancy and trespassing laws) to force their grandfather to leave and resettle up north.
As I listened to the story, I thought back on the picture taken as the new CPUSA co-chairs were announced—an African American man side by side with the first Mexican-American (and only second female) national leader of the party, Rossana Cambron.
Both have their own family and personal histories of radical activism, both deeply involved in their local movements and labor struggles from a young age.
And for this reporter, they, and the diverse crowd of around 300 delegates and guests surrounding them represented an accurate depiction of the defining characteristics of an American Communist: dedication, commitment, humility, and solidarity.
I would be remiss in not mentioning two qualities new CPUSA co-chair Rossana also brings to our budding definition of an "American Communist": compassion and empathy.
The clock struck 9:00 p.m. Friday night—two nights before the dinner in Greektown. The few remaining convention delegates in the main hall were slowly filtering out—some off to bed and others in search of a nightcap. Inside the press room, keyboards clicked as I whispered to myself, critiquing each photo I took.
And then there was a tap on my shoulder.
"Hey, how's your dad doing?" asked Rosanna. "I can't even begin to imagine how tough things must be for you."
I nodded my agreement, and went through a quick update on my father's recent health struggles that had taken me away from work and home.
"Well, Al, we've all been thinking about you and your family," she said, after a moment of silence passed by. "I would say I'd be sending your family my 'hopes and prayers' but I'm not too big on either of those…So, I'll just say I'll be sending you whatever positive things I can and am here if you ever need to talk."
We laughed at the "hopes and prayers" bit, took a few jabs at Trump, and laughed some more. I nodded my thanks and expressed my deep appreciation for her reaching out and checking up on me.
We said goodnight. Rosanna walked out of the press room door, I went back to editing photos. Of course, before I focused in on the task at hand, I thought to myself, "now that's the quality of a good leader…always looking out for each and every member."
At the convention
Over those three days, the images captured showed moments of joy, anger, hope, and sadness.
Delegates witnessed Tamir Rice's mother, Samaria Rice, thank the CPUSA for its support in fighting back against police brutality and racism. They saw Bea Lumpkin, a 100-year old activist and 80-year party member, take the stage to promote the struggle, while vowing to continue her activism with each breath. There were Puerto Rican educators and union members calling on delegates to keep Puerto Rico's plight in the forefront, and much more.
Outside the main hall, delegates swapped organizing strategies, talked shop, discussed movies they'd seen, and critiqued bad calls in baseball. Young and old danced to the sounds of Woody Guthrie, African drumbeats, and synth-violin composed songs, they read poetry; and of course they gave it their all when it came time to sing the old socialist anthem, The Internationale.
And all the while, the threats made by Donald J. Trump and the Republican Party were muted—drowned out by the singular cry of "organize or die." Or, as bluntly put by John Bachtell: "Donald Trump can go to hell!"
With the centennial convention now over, what comes next for the fighting CPUSA?
"In the Communist Party, it is not our role to tell people how they should fight for economic justice and social justice," said Cambron. "But we have 100 years of experience in this country fighting for the rights of working people to organize—for social security, unemployment insurance, and civil rights and against war. I think it positions us to offer advice and support to all those who want it, and that is what I'd like us to do."
2019 marks a century since the founding of the Communist Party USA. To commemorate the anniversary of the oldest surviving socialist organization in the United States, People's World has launched the article series: 100 Years of the Communist Party USA. Read the other articles published in the series and check out the guidelines about how to submit your own contribution.