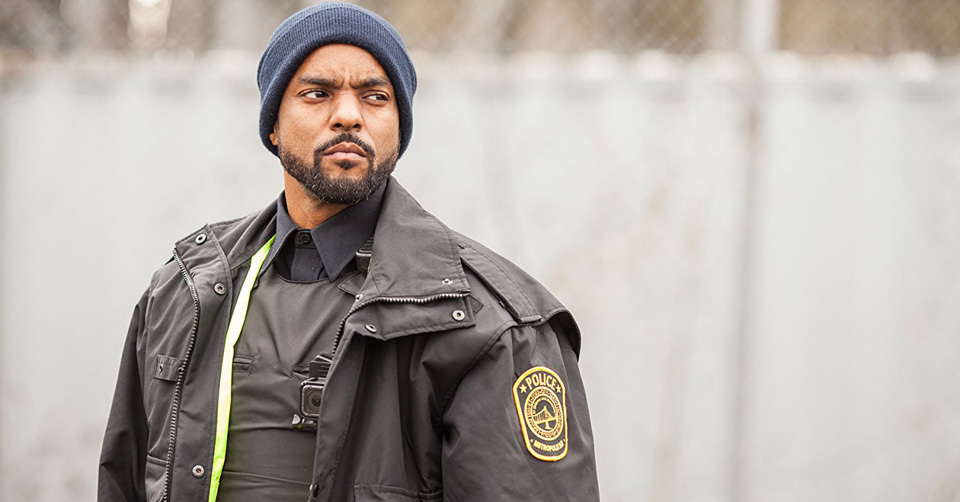 TORONTO—One of the most provocative Canadian films at this year's Toronto International Film Festival (TIFF) was surely Black Cop, a stylishly dark satire directed by Nova Scotian Cory Bowles. The primary character has no specific name, but is called every anti-cop, anti-Black insult in the book. The director is totally aware of how the system sets up socially oppressed types to oppress their own people. It's been done since the days Native Americans were hired and trained to annihilate their own people. Here the Black cop is hired to protect the privileged while oppressing his own people. He knows his role and rebels against it.
Early scenes show him being attacked by Black protesters, and later that evening being pulled over as he is jogging through his neighborhood with sweats and a bottle of water in his hand. Not having proper ID on him, the white cops put him through the typical dehumanizing, racist treatment until they embarrassingly discover he's actually "one of them." We are placed in an uncomfortable situation when the director places the "Black cop" in reverse situations, where he stops a white doctor jogging through his neighborhood without ID and treats him as a Black man would be treated under the same situation. Another time he stops a young white student for no reason, roughs him down, threatens him with a gun and scares him into fleeing. Later he stops a couple of white cops from beating up two black teenagers, and dumps one of the officers in a dumpster. A renegade doing it his own way. Racism through the eyes of a Black officer. The audience catches themselves laughing in shock and disbelief. A new Black woman cop trained to play the role he detests can't figure him out at all. This highly creative and controversial film will surely raise discussions about racism and police violence not only among activists in the struggle but through the halls of power as well. An interview with the director is here. The trailer can be seen here.
The celebrated Dee Rees, one of several female directors featured at TIFF this year, is movin' on up with her third major feature in a short amount of time. Pariah, followed by Bessie, and now Mudbound, a traditional and almost operatic recreation of the Jim Crow South of the 1940s, has elevated her talents to new heights. A blockbuster ensemble cast tells the story of hardworking Black tenant farmers trapped in subservient roles alongside white landowners. The powerful story shows how all become victims stuck deep in the mud of racism. In one of the storylines the much loved Black son goes off to war overseas, as does one of the white brothers, where they each gain a better worldview of race. On their return they quickly bond as soldiers and become close friends, causing deeper racial tension in the community that forbids interracial friendship. The beautifully crafted script by Rees is based on Hillary Jordan's novel that focuses on the bonding of poor women farmers who overcome oppressive racism, offering strong female leads from Carey Mulligan and Mary K. Blige in her first major dramatic film role. The film was released Nov 17th on Netflix.
The winner of the Platform Category and Special Jury Prize at Venice, Sweet Country, tells the story about Blacks in another country—the Aboriginals of Australia. This neo-Western set in the outback of the Northern Territory, centers around the dramatic plight of an Aboriginal family accused of murder being chased by settlers through the rugged back country. Slavery as we know it in the United States came to Australia after it was outlawed here. The capitalist system of exploitation was ripe for racism and slavery as many Black Aboriginals were driven from their lands and murdered, as had Natives been in the US.
In the same manner as land is currently discovered to be rich in minerals and profitable, a second wave of dispossession occurred among the Aboriginals but deceptively cloaked in terms like "for the national interest." Director Warwick Thornton (Samson & Delilah) shows a deep understanding of colonialism and racism in the telling of an oppressed race of people faced with the injustices of an inhumane social system. The Platform Jury that awarded the film stated: "This is a spiritual epic taking place in 1929 in Australia's Northern Territory. It is a great saga of human fate, and its themes of race and struggle for survival are handled in such a simple, rich, unpretentious and touching way, that it became for us a deeply emotional metaphor for our common fight for dignity."