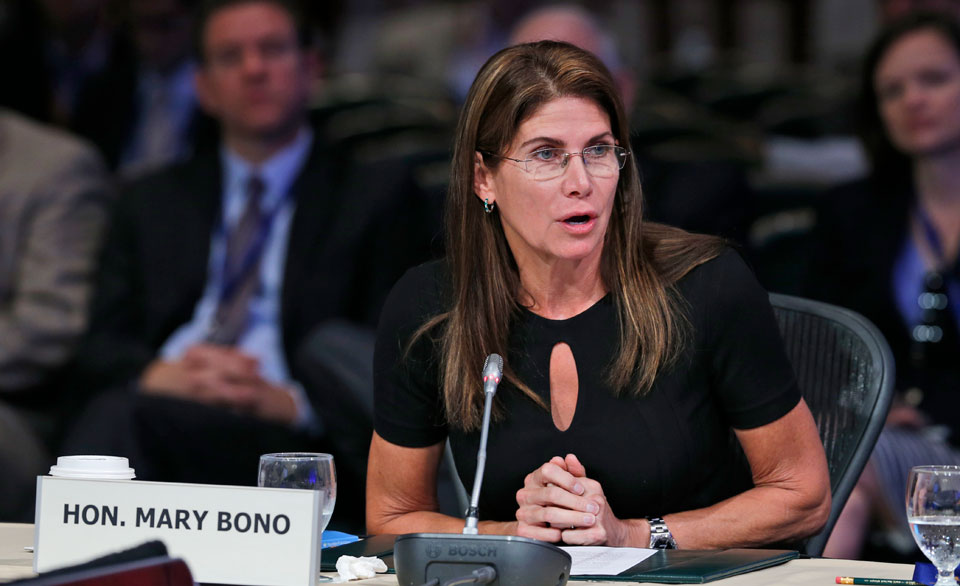 The hits just keep coming for USA Gymnastics (USAG).
Mary Bono, the newly selected interim president for the organization, who highlighted the opportunity to "reconnect" with a sport she loved, stepped down Tuesday.
Her tenure lasted all of four days.
Saying her affiliation with the plagued sports organization would be a "liability," Bono's resignation comes after a social media post criticizing former San Francisco 49ers quarterback Colin Kaepernick and Nike drew widespread criticism from within the gymnastics community.
"My withdrawal comes in the wake of personal attacks that, left undefended, would have made my leading USAG a liability for the organization. With the respect to Mr. Kaepernick, he nationally exercised his first amendment right to kneel. I exercised mine: to mark over on my own golf shoes, the logo of the company sponsoring him for 'believing' in something even if it means sacrificing everything—while at a tournament for families who lost a member of the armed services (including my brother-in-law, a Navy SEAL) who literally 'sacrificed everything'," said Bono in her statement yesterday afternoon.
"It was an emotional reaction to the sponsor's use of that phrase that caused me to tweet, and I regret that at that time I didn't better clarify my feelings," she continued. "That one tweet has now been made the litmus test of my reputation over almost two decades of public service."
Olympic gold medalist Simone Biles brought attention to Bono's tweet, an image of herself, scratching out the Nike logo on her sneakers with the caption: "Playing in a charity golf tournament raising money for our nation's Special Forces operators and their families. Unfortunately had these shoes in my bag. Luckily I had a marker in my bag too."
Six-time Olympic medalist Aly Raisman, a fellow Nassar survivor, who has been critical of USA Gymnastics' "tone deaf" responses to allegations of sexual abuse over the years, questioned Bono's hiring after her association with the Faegre Baker Daniels law firm, who advised USAG on how to handle portions of the Nassar scandal, was discovered.
"The stakes are high in our sport right now, [and] it's essential new leadership be disconnected from the influences that allowed these terrible things to happen," Raisman tweeted.
Raisman wrote on op-ed Monday in The Boston Globe discussing how adults can combat the stigma surrounding child abuse.
"Prevention is stigmatized, disclosure is stigmatized, reporting is stigmatized, prosecuting is stigmatized, talking publicly is stigmatized. No wonder it's a silent epidemic," she wrote. "Why does society make survivors feel so afraid to share our stories? Abusers should be the ones to feel shame and guilt and be judged, not survivors. It is completely backward, and we need to flip the switch."
Attorney John Manly, who represented Nassar survivors, said selecting Bono as interim president was "an insult to every survivor and shows a complete disregard for the safety of child athletes."
USA Gymnastics currently faces several dozen civil lawsuits filed by Nassar survivors.
"We remain steadfast in our efforts to fundamentally transform the organization at all levels to ensure athlete safety and well-being is at the heart of everything we do," said the USAG in a statement. "We are also committed to making sure that the focus remains on the athletes."
Bono's departure leaves USAG searching for a fourth president in the last 18 months, with its own future viability remaining in question.