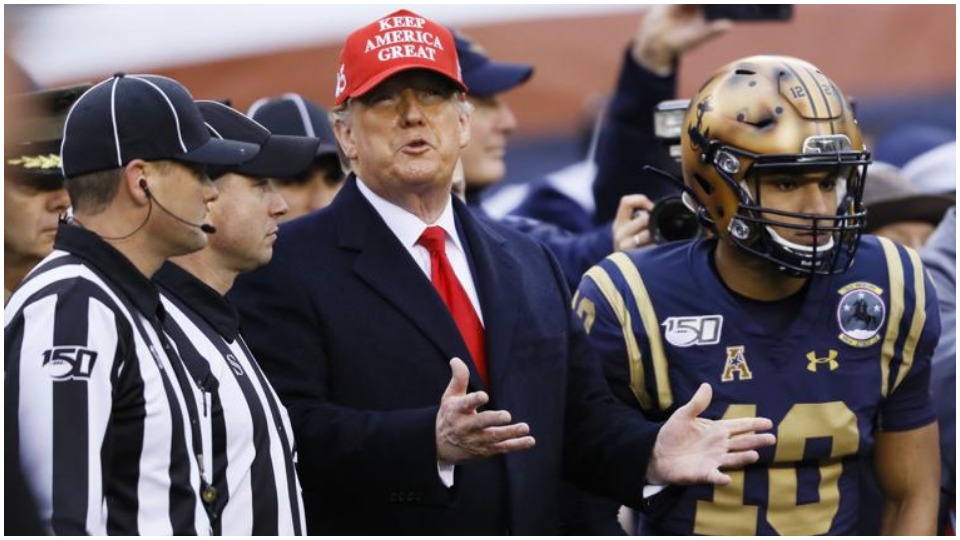 The bottles of cheap champagne—well, "sparkling wine"—are now recorked, or tossed out as glittering shards of dark glass. The illuminated ball dropped in New York City's Times Square, the dazzling fireworks displays filling the night sky are no longer there, and those silly "2020" eyeglasses are finally gone (as if we expected them to give us some sort of clarity into this new decade).
We crossed the 2019 finish line. And then, just two days into the new year, a drone airstrike outside the Baghdad airport, ordered by Donald Trump from the Mar-a-Lago HQ, killed Iranian Quds Force commander Qasem Soleimani.
The reason?
"Gen. Soleimani was actively developing plans to attack American diplomats and service members in Iraq and throughout the region," said Defense Secretary Mark Espers in a statement. "This strike was aimed at deterring future Iranian attack plans."
Trump, speaking to reporters from his Florida resort, urged Iran not to retaliate and held the strike was aimed to "stop a war."
"We did not take action to start a war," he said.
I'll avoid the cliché Orwellian comparisons, and just say it's quite ridiculous to think any escalation of military tension in the Middle East is a "war deterrent."
Hours later, as the fear of a potential draft and war spread throughout all "able-bodied Americans," the Selective Service System website crashed—New Year's Eve 20 years ago it was fear of Y2K, now websites are crashing for fear of World War III.
"Due to the spread of misinformation, our website is experiencing high traffic volumes at this time," the Selective Service tweeted. "If you are attempting to register or verify registration, please check back later today as we are working to resolve this issue. We appreciate your patience."
I'll admit, the thought too crossed my mind, along with all others who signed up for FAFSA (Free Application for Federal Student Aid) and ticked off the selective service registration box.
Luckily for us, the draft ended in 1973, and it would take an act of Congress to implement a new one. Of course, this shouldn't stop us from worrying about another endless war in the Middle East, nor should it allowed to happen…period.
So, how does this deal with sports exactly?
Trump, a self-proclaimed populist outsider, who "gets along with middle class and the poor people better than…with rich people," is in a constant state of campaigning. He's always trying to convince voters he is not the establishment, and that only he can overcome the tidal waves of crisis affecting the world.
And a sporting event is the perfect place to do exactly that.
Trump is planning to attend the college football championship game between LSU and Clemson Jan. 13 at the Mercedes-Benz Superdome in New Orleans.
Trump has already made six visits to the state during his first term—more than any sitting president—and often mentions LSU football during campaign rallies.
The move comes less than a week after Trump called to congratulate LSU Coach Ed Oregon following their win against Oklahoma. This is no coincidence though.
Over the last few months, Trump has attended several sporting events. In mid-December it was the famed Army-Navy rivalry football game; weeks earlier it was the LSU and Alabama game. Going back to October 2019, Trump attended Game 5 of the World Series between the Nationals and Astros (receiving thunderous boos from the crowd and chants of "lock him up"), and then he made his way towards UFC 244, making him the first president to attend a mixed martial arts (MMA) event.
There's a pattern at work here. And in the history of sports and global military conflict—in particular, the Cold War—game play, fervent patriotism, and war propaganda have gone hand in hand.
From 2012 to 2015, the U.S. Department of Defense paid out over $10 million and counting to big-league sports to up their patriotic events, according to a 2015 oversight committee report.
The report also found:
— 72 of the 122 (59%) major league contracts analyzed contained items deemed "paid Patriotism": on-field color guard, enlistment and re-enlistment ceremonies, performances of the national anthem, full-field flag details, ceremonial first pitches and puck drops, and hometown hero and wounded warrior tributes.
— Some of what was contracted included legitimate marketing and advertising activities for which DOD should compensate these teams, including stadium signage, social media mentions, and booth space for recruiters at games.
— Many of the contracts included on-field recognition of high school football players and coaches in support of coach or player of the week-type programs, as well as game tickets, the use of team facilities, special facility tours, appearances by players or team mascots, and team apparel or autographed memorabilia. These items were often used as recruiting tools to gain access to potential recruits or community influencers like coaches, teachers, counselors, and administrators.
For a "populist-in-chief," this move is expected. He can't pass up a moment with a large captive audience. And knowing Trump's unfettered love of patriotism, we can be sure his appearance will feature acts of re-election campaign meandering, flag hugging, and sounding the sirens of war.
And yet, politics and sports don't mix, right?
Kick-off time for the national championship is set for 8:00 p.m. ET. Let's see what happens.