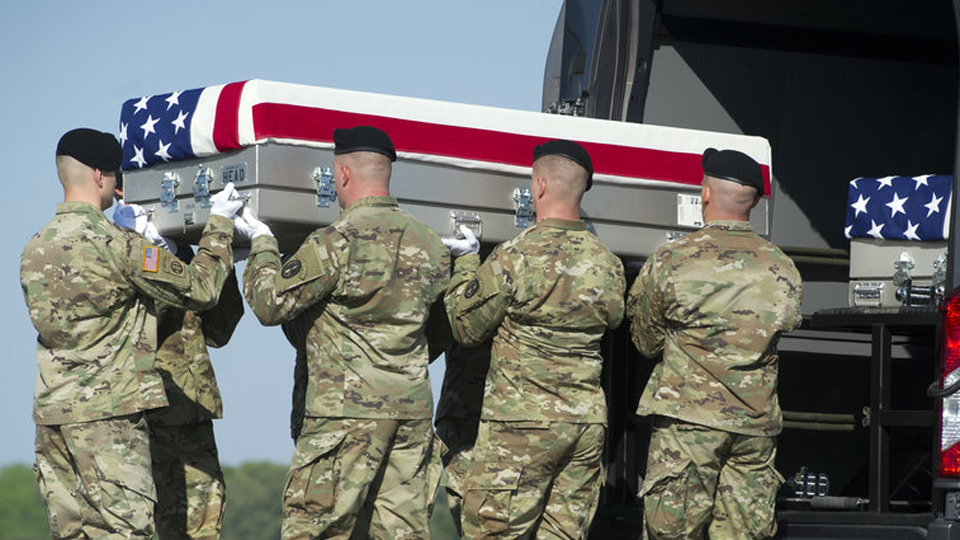 WASHINGTON (PAI) — Congressional Progressive Caucus leaders and the only lawmaker to oppose the original congressional resolution sending troops to Afghanistan are denouncing GOP President Donald Trump's Afghanistan troop commitment plan.
In an August 21 speech from Fort Myer, Va., just across the Potomac River from D.C., Trump committed more troops to Afghanistan, accompanied by grand pronouncements that "we will win" the now 16-year-old war there.
But he didn't say how, or how many troops, or how long they'd stay there. Indeed, he went out of his way to emphasize there is no deadline for U.S. forces to come home.
And that irked Rep. Barbara Lee, D-Calif., the sole vote against the Afghanistan involvement in 2011, and Reps. Raul Grijalva, D-Ariz., and Mark Pocan, D-Wis., the caucus co-chairs.
"It's past time to bring our troops home and wind down this perpetual war. Sending more troops only deepens our involvement in Afghanistan," warned Lee, who has tried unsuccessfully for years to get lawmakers to debate the war – by offering legislation to repeal the Authorization to Use Military Force (AUMF) that then-GOP President George W. Bush got after the Sept. 11, 2001 al-Qaida attacks on D.C. and New York.
Since Congress passed the AUMF, approximately 2,400 U.S. service members have died in Afghanistan and another 20,000 have been injured and wounded, the progressives calculated.
Lee, who chairs the progressive caucus' Peace and Security Task Force, also joined the statement from Pocan and Grijalva.
"Before becoming president, Donald Trump pushed for an end to the longest war in U.S. history. Tonight, President Trump betrayed yet another campaign promise to chart an alternative foreign policy by presenting a strategy in Afghanistan that simply retreads the same tried-and-failed tactics enacted by previous administrations," the three lawmakers said.
"By pursuing yet another 'troop surge' instead of diplomatic efforts, Trump will only prolong U.S. involvement in this senseless, decade-and-a-half-old conflict. We cannot ask our servicemen and women to continue to sacrifice again and again with the shifting objectives and vague goals the administration is using to justify this endless war."
The three representatives said neither Trump nor his top military officials "offered a plausible explanation of how more U.S. troops and weapons in Afghanistan will lead to a victory" or "what success might look like." That's a recipe, they said, for more "human costs" of the war.
And they again argued lawmakers should debate and vote on Lee's resolution to end the AUMF. "As an alarming range of life-and-death decisions are being relinquished to unelected military officials, Congress must urgently step in and fulfill its constitutional duty to oversee war," they said.
Since lawmakers passed the AUMF in 2001, "it has been used as a blank check by three administrations for a conflict that has dragged on for nearly 16 years, has cost taxpayers nearly $1 trillion, and has killed thousands of Afghans and Americans."
Other Democrats also criticized Trump's speech as vague, or worse. Sen. Tammy Duckworth, D-Ill., an Iraq war veteran who lost both legs there when her helicopter was shot down, said no more troops should go to Afghanistan until Congress and the country have "an honest debate about whether the American people are fully committed to furthering our commitment" to the Asian nation. U.S. troops have been in Afghanistan since 2001.
Duckworth also said Congress must decide if it will support a "multi-year strategy" to bringing stability to Afghanistan, including more diplomacy and foreign aid. Without that, plus "a holistic strategy" on the ground, "military success in Afghanistan will not be sustainable," she warned. And Trump's strategy must also show how it would bolster Afghanistan's government, "further U.S. interests and protect against terror."
House Minority Leader Nancy Pelosi, D-Calif., demanded a detailed and comprehensive briefing for lawmakers "as soon as possible" from Trump. "The president said he knew what he was getting into and had a plan to go forward. Clearly, he did not," she said. Trump's speech was "low on details but raises serious questions," particularly since with "no timeline for withdrawal, he is declaring an open-ended commitment of American lives with no accountability to the American people."
Rep. Keith Ellison, DFL-Minn., a past progressive caucus co-chair who is now deputy chair of the Democratic National Committee, also slammed Trump's policy, or lack of it. Ellison, along with the other three, said diplomacy must be used to end the war, not more troops.
"We don't know how many more men and women President Trump wants to send to Afghanistan, because he won't tell us. We don't know how long they'll be there, because he doesn't know. And we don't know the President's strategy to end the war, because he doesn't have one," Ellison said.
"More troops won't win this war – and 'killing more terrorists,' as the president said last night, won't end terrorism.
"The solution is diplomacy. Unfortunately, President Trump has proposed cutting our State Department by nearly one-third, which would cripple its ability to resolve conflicts like the war in Afghanistan. Only when we prioritize a political solution will we end the longest war in American history.
"The American people deserve better."