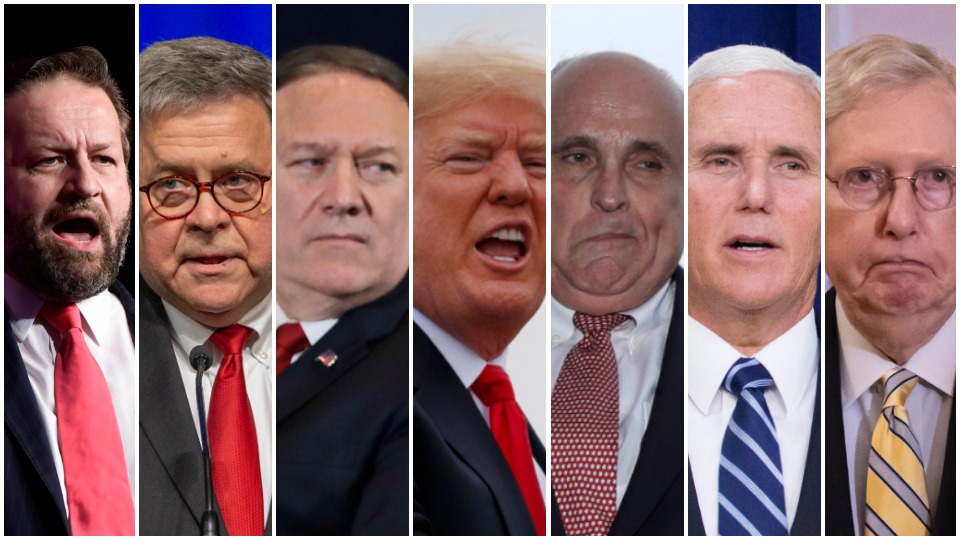 At the White House yesterday, a President Trump under siege fumed about "treason" as, hour after hour, the news broke that yet another top member of his administration was a liar in a major cover-up.
At the Capitol, a mile up the street, the Congress moved forward with its impeachment investigation.
The close cooperation exposed yesterday amongst "all the president's men" reflects that there is indeed a right-wing conspiracy in this country that has reached into not just the White House but involves also the vice president, the State Department, the Justice Department, the Courts, the House of Representatives, and the U.S. Senate. The danger is clear. The conspiracy is there not just to defend President Trump when he commits one or another of his outrages. It is in place to support and systematically shove down the throats of Americans an un-democratic and comprehensive right-wing agenda and is itself a major reason Trump should be impeached.
What the impeachment inquiry shows too is that current U.S. law is not adequate to prevent the hijacking of government by an organized right-wing grouping like the one in place in Washington now. Laws that restrict the use of "executive privilege," the hiding of government records, and laws that require Congress to exercise its oversight and disallow encroachments on its authority are just a few of the radical reforms needed.
Democrats yesterday subpoenaed Rudy Giuliani, the president's personal lawyer who has been galloping across the globe for him. Giuliani said earlier he would ignore any subpoena but later said he "might" respond. Why not ignore it? Trump and his administration have gotten away with ignoring plenty of subpoenas, and even when they have responded they either stonewalled or lied their way through them. Stronger laws, not court orders from Trump-controlled courts, are needed here, too.
Senate Majority Leader Mitch McConnell said yesterday that if the House impeaches Trump he would have "no choice" but to consider articles of impeachment. He left open, however, the question of whether that meant the Senate would proceed to the constitutionally-required trial. A law that doesn't give the Senate Majority leader any wiggle room on something so important is another new measure that is needed.
Meanwhile yesterday, the list of officials who listened in on Trump's phone call to Ukraine's president grew with news that the tea party Secretary of State Mike Pompeo was part of the gang on the July 25 call. Pompeo told the nation on television the day before that he knew nothing about that call.
Attorney General William Barr was reported traveling around Italy digging up dirt on intelligence officials who dug up dirt on the Trump campaign in 2016. Pompeo meanwhile was hanging out with noted right-wing conspiracy theorist Sebastian Gorka doing the same thing. Barr's shenanigans, at least, should raise the disgust of the American people who expect their Justice Department to be protecting them against organized crime and against violations of their civil and human rights here at home.
Jetting around the world to protect the re-election chances of President Trump hardly meets those expectations of an attorney general. New laws are needed to prevent use of the Justice Department by any future president for their own political or personal purposes.
Trump again took to Twitter yesterday to once more defend his phone call with Ukrainian President Zelensky as "perfect" and to unleash a series of attacks, including accusations of treason against House Intelligence Committee Chairman Adam Schiff. He said the Democrat was a traitor for using a paraphrase of Trump during a congressional hearing last week.
Trump tweeted all day, but there seemed to be no strong or organized defense coming from him or Republicans. There was instead a series of unhinged tweets from the president, on the one hand, and disjointed appearances by his backers, often lacking correct information. GOP House Minority Leader Kevin McCarthy appeared on national television and admitted that he hadn't even read the transcript of the phone call released by the president himself.
Trump was reportedly angry over the weekend at both acting chief-of-staff Mike Mulvaney and press secretary Stephanie Grisham for not being able to develop a narrative that could stop the growing public support for impeachment, now passing 50% in many polls.
Among the people Congress is expected to hear from this week is Kurt Volker, who resigned last week as the government's Ukrainian envoy. Members of the intelligence committee on Friday will interview Michael Atkinson, the inspector general for the Intelligence Community who first received the whistleblower's complaint.
Public backing for impeachment has grown rapidly since the House launched its formal inquiry last week.
A new poll from Quinnipiac University shows 47% of registered voters say Trump should be impeached and removed from office, while 47% say he should not. Just a week before, it was 37% for impeachment and 57% against. That was before the White House released its rough version of the call between Trump and Ukraine's president and House Speaker Nancy Pelosi's announcement of a formal impeachment inquiry.
TRUMP IMPEACHMENT:

Impeachment is the first, not final, move to defeat Trumpism

Congress hears testimony from intel chief on "smoking gun" phone call

Majority support impeachment probe as White House cover-up is exposed

Teachers, Service Employees become first unions to back Trump impeachment probe
In the CNN poll, 47% said Trump should be impeached and removed from office, up from 41% in May.
Schiff said on Sunday that his intelligence panel would hear from the still-secret whistleblower "very soon" but that no date had been set and other details remained to be worked out. It is unclear how or whether his or her anonymity will be protected. The current situation demonstrates that new laws are also needed to protect whistleblowers from the kinds of abuse earlier ones have received. Congress is rushing to defend the CIA whistleblower in this case even as they did nothing to defend people like Edward Snowden, Chelsea Manning, and Julian Assange in the past. Those three blew the whistle on real right-wing conspiracies, and those types of whistleblowers need protection now and in the future.
The whistleblower's attorney in this impeachment inquiry, Andrew Bakaj, said Monday that the person "is entitled to anonymity. Law and policy support this, and the individual is not to be retaliated against. Doing so is a violation of federal law."
Yesterday, it was also learned that Trump asked Australian Prime Minister Scott Morrison to help Attorney General William Barr with an investigation of the origins of the Mueller report—another attempt to enlist foreign aid for personal or political gain by the president.
In another example of Barr doing the president's personal bidding, Justice spokeswoman Kerri Kupec said yesterday that Trump made the calls at Barr's request.
Trump's total obsession with wiping out any thought that anything other than his own prowess explains his election victory in 2016 may, in the end, be one of the things most instrumental in his impeachment and in his removal from office, either by a Senate trial after impeachment or by voters in the 2020 election.