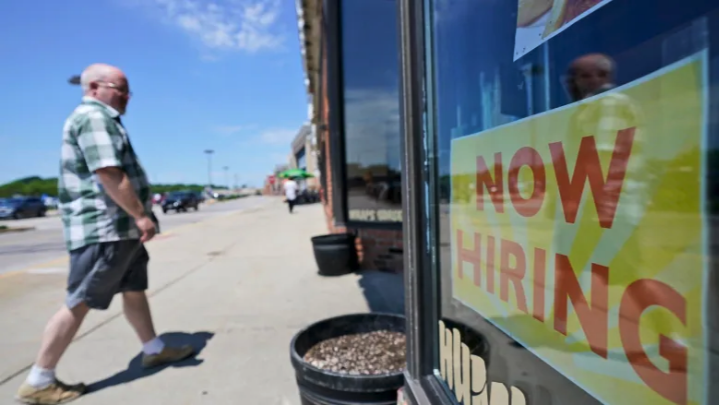 WASHINGTON—Despite big job gains in June—662,000 more jobs claimed by the private sector and another 230,000 added by local public schools and state universities and colleges—the coronavirus pandemic's impact on U.S. workers lingers.
Bureau of Labor Statistics jobs data showed slight increases in both joblessness (+0.1%, to 5.9%) and the number of unemployed (+168,000, to 9.484 million) in June, compared to May. But even those numbers understate the lingering effects of the modern-day plague.
The real jobs impact of the coronavirus has seen 33.68 million people test positive and 605,000 die, so far. It showed up when BLS compared data, industry by industry and category by category. Putting June's figures side-by-side with the numbers for February 2020, the last full month before coronavirus-caused closures crashed the economy, showed devastation everywhere.
For example, BLS reported 3.99 million workers in June had been out of jobs for at least 27 weeks, and they were 42% of all jobless workers. The February 2020 number of long-term jobless: 1.1 million.
The biggest private-sector job gains in June were in bars, restaurants, hotels, and motels (+269,400 jobs). The gain was impressive, until you look, as BLS did, at the figures for those firms before the crash hit.
"Employment in leisure and hospitality is down by 2.2 million, or 12.9%, from its level in February 2020," BLS laconically said. And detailed figures showed there was still 10.9% unemployment in June in the  "leisure and hospitality" category, which includes the hotels, bars, and restaurants. At the depths of the depression, that sector had a 28.9% joblessness rate.
That sentence full of declines since February 202o was repeated throughout BLS's analysis.
Factories, for example, added 15,000 jobs in June, to 12.318 million, with a 12,300-job decline in cars and parts, to 872,900, offset by gains elsewhere, notably in furniture and fabricated metal plants. But then there was the kicker sentence: "Employment in manufacturing is down by 481,000 from its level in February 2020."
Ditto construction. Builders claimed to shed 7,000 jobs in June, down to 7.41 million. Nonresidential specialty contractors (-14,800 jobs) and heavy engineering (-10,900) let workers go, while other construction contractors added jobs. But, like a broken record, BLS reported: "Employment in construction is 238,000 lower than in February 2020."
There was one other impact of the jobs depression and the continuing partial recovery that appears in the numbers. Many of the workers who once toiled in bars and restaurants for the lowest weekly wages of any sector—then and now—said "the hell with it," in so many words. They're seeking or found higher-paying jobs elsewhere.
"Among the unemployed, the number of job leavers—that is, unemployed persons who quit or voluntarily left their previous job and began looking for new employment—increased by 164,000 to 942,000 in June," BLS noted. Private estimators say many of those 942,000 were in bars and restaurants.
No wonder: Workers in that sector still have the lowest average weekly earnings ($406.87, up nine dollars over May) and hours (25.1) of any group. The next-lowest group of workers, in retail trade, earned $175 per week more than the restaurant and bar workers and worked six more hours weekly.
The coronavirus also completely skewed the schools figures, BLS said.
"In both public and private education, staffing fluctuations due to the pandemic, in part reflecting the return to in-person learning and other school-related activities, distorted the normal seasonal buildup and layoff patterns, likely contributing to the job gains in June," it reported.
"These variations make it more challenging to discern the current employment trends in these industries. Since February 2020, employment is down by 414,000 in local government education, by 168,000 in state government education, and by 255,000 in private education," it added. That net private school drop includes addition of 39,000 jobs in June.