ST. LOUIS—Scores of labor communicators from the U.S. and Canada have gathered in this city for the convention of the International Labor Communications Association (ILCA), which immediately precedes the national AFL-CIO convention next week. They represent print and online publications of the labor movement—educators, electrical workers, utility workers, government employees, laborers, and building workers, and of course People's World.
The celebratory luncheon on Friday, Oct. 20, will honor recipients of the various ILCA journalism awards—for writing, visual presentation, photography, editorials and advocacy. Among the dozens of unions and publications that won awards this year, for articles published in 2016, People's World takes home 19, plus three honorable mentions, more than any other publication represented in ILCA.
St. Louis has become the locus of intense labor struggle over the last few years, a center for Fight for $15 activism among fast food workers and others, a place that voted to raise the minimum wage only to be pushed back to the lower statewide level by a vindictive right-wing Missouri state legislature and an equally regressive governor.
Labor in Missouri is also fighting the scourge of "right-to-work"—translation: right-to-work-for-less—whereby people in the workforce who are not union members in an organized workplace can opt out of paying the union dues which help raise their own wages and improve their working conditions. Right-to-work in Missouri is currently suspended because of a referendum to reconsider the law, and the labor press had a lot to do with organizing the campaign against right-to-work.
St. Louis has also been the focal point for struggle against the police killings of young Black men. Michael Brown from the Ferguson suburb of St. Louis was one such teenager, but others such as Anthony Lamar Smith, have tragically followed him. Those protests have uncovered a widespread system of oppression of Black people through prosecution on petty traffic crimes charges, poor housing, and underfunded schools. The Black Lives Matter movement is strong here.
Also politically important here is the Workers Education Society, which will be making an extensive presentation at the convention. The Society conducts courses in labor history and strategy, partners with local unions in apprenticeship programs to train and place young workers in jobs with union wages, and has helped elect progressive officials to local city government.
The principal labor publication in the St. Louis area, covering all of eastern Missouri and southern Illinois, is the Labor Tribune, now in its 81st year, whose print edition goes out by mail to some 45,000 union households. It can also be viewed online. This week's edition, welcoming the AFL-CIO convention to town, is a healthy 24 pages jam-packed with news of the labor movement.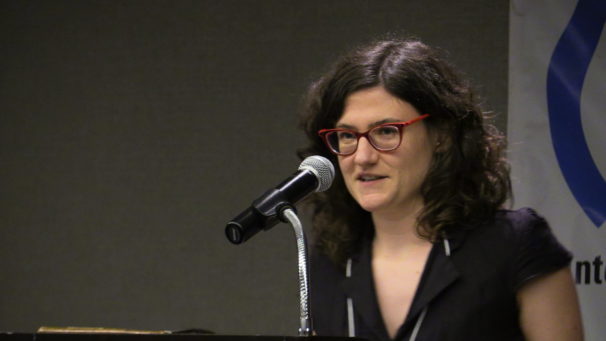 The ILCA convention is international in more than just its name. Two representatives of the Canadian Association of Labour Media are in attendance, Nora Loreto from Quebec City, and Virginia Ridley from London, Ontario. They began by acknowledging the names of the indigenous peoples on whose land the conference was taking place, a now traditional labor and left custom in Canada.
They observed that as in the U.S., union density in Canada overall has declined, and directed attention to the ongoing issues in Canada regarding poverty, unemployment, and suicide in the First Nations communities across Canada. "Our ability to protect the most vulnerable is the future of the labor movement," Loreto said. She pointed out that at last January's shooting at a mosque near Quebec, several of those killed were union members.
Later in the convention, attendees will hear from AFL-CIO President Richard Trumka, MaryBe McMillan, president of the North Carolina AFL-CIO, Megan Parke, director of field services for AFSCME Council 28 in Washington state, and many other leaders. A plenary session on Friday is entitled "Fighting Fascism and Building Working Class Unity and Power." There is no question that the labor movement understands the present crisis of the political moment.
Workshops at the convention cover practical skills in social media coordination, video production, and the skills involved in building labor-community alliances.
One of the main values of an ILCA gathering is the sharing of knowledge and wisdom. Any issue or problem a labor communicator may encounter, surely others in ILCA have also dealt with before. Advice and counsel are freely shared. The opening plenary discussion featured fresh proposals about enhancing the sharing of information, stories and articles across ILCA members' many combined media platforms. Very significantly, ILCA provides the space and opportunity for veterans of the labor press to pass on the baton of effective communication of labor's story to younger activists. For further information, see ilcaonline.org.