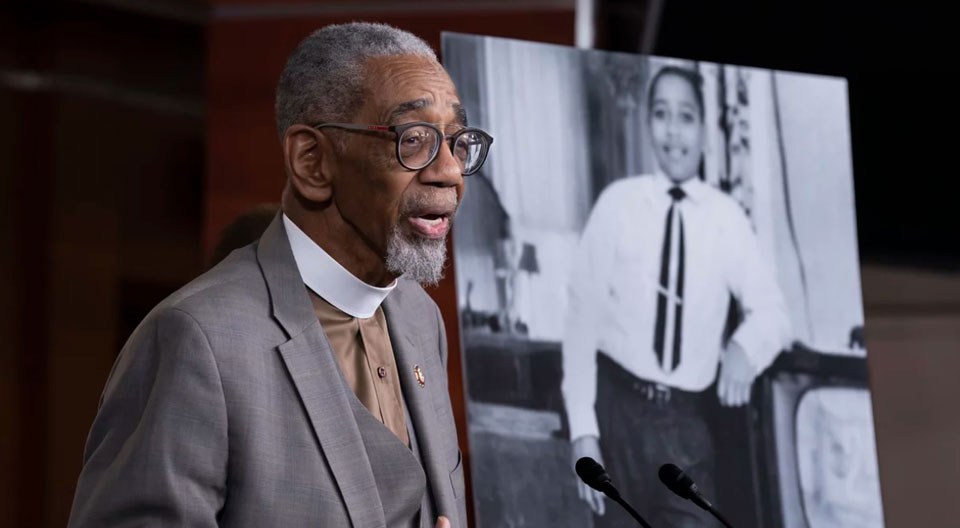 CHICAGO—In a move celebrated by the Black community of Chicago's South Side—along with foes of racial injustice nationwide—Congress made lynching a federal hate crime, and named the legislation for Emmett Till.
After brief debate, the Senate cleared the measure, HR55, on March 7, sending it to President Joe Biden, who plans to sign it. The House passed HR55 February 28, 422-3. The three "no"s were from Reps. Thomas Massie, R-Ky., Chip Roy, R-Texas, and Andrew Clyde, R-Ga.
Passage pleased Chicago's veteran Rep. Bobby Rush, D-Ill., who is retiring at the end of this Congress, and who has been pushing the bill for years. HR55 makes lynching a hate crime punishable by a fine, 30 years in prison, or both.
Till, then 14, a Chicagoan visiting his relatives in Mississippi, where his family originated, was kidnapped the night of Aug. 28, 1955. Accused of whistling at a white woman, Carolyn Bryant, he was taken away by her husband and J.W. Milam.
Days later, Till's bruised, beaten, and lynched body was pulled from the Tallahatchie River. When his body was returned to Chicago, his mother, Mamie Till-Mobley, decided to expose the brutality of lynching by having an open-coffin viewing.
The photos, in Jet magazine, awakened other young Blacks to the danger and led to their increasing participation in the then-awakening civil rights movement. Till was buried in Burr Oak Cemetery in Alsip, Ill. Milam and Bryant, indicted for murder, were acquitted by an all-white jury.
For more than a century, lawmakers, Black and white, had tried to make lynching a federal crime. But decades of filibusters by white racist Southern Democratic senators stopped the efforts. This time, the philosophic descendants of those solons, now Southern Republicans, shut up.
"I was eight years old when my mother put the photograph of Emmett Till's brutalized body that ran in Jet magazine on our living room coffee table, pointed to it, and said, 'This is why I brought my boys out of Albany, Ga.,'" Rush told the House before It approved the bill in February.
"That photograph shaped my consciousness as a Black man in America, changed the course of my life, and changed our very nation.
"We cannot bring back Emmett Till or the thousands of other individuals whose precious lives were lost to horrific acts of racial terror. But by finally passing the Emmett Till Antilynching Act, we can finally turn the page from our nation's repeated failure to outlaw lynching on a federal level and end this longstanding injustice and painful affront to the African American community."
"The Emmett Till Anti-Lynching Act would ensure the full force of the United States government is always brought to prosecute those who commit the monstrous act of lynching. Modern-day lynchings like the murder of Ahmaud Arbery" in Georgia "make abundantly clear the racist hatred and terror that fueled Emmett Till's lynching are still alive and well in America to this day.
"It is time…for our nation to send a resounding message that the act of lynching is immoral and illegal, that we will finally reckon with one of the darkest chapters in our history, and that we are morally and legally committed to changing course."
Ironically, in December 2021, the Justice Department closed its reinvestigation of Till's murder, which was reopened under federal "cold case" statutes. A key witness, a white woman who had recanted her charges of Till whistling at Bryant, recanted the recantation—and the statute of limitations had long since run out on other charges she could have faced.
That decision brought a critique from the Southern Poverty Law Center, the nation's leading tracker of racial hate.
"Over 66 years after Till's death, Black boys and girls still face extreme danger from being Black in the United States. They can face anti-Black crime perpetrated by their neighbors. They can be targeted–even killed–by law enforcement that exists ostensibly to protect them," SPLC said.
"The tentacles of white supremacy and anti-Black policies remain…and we have a lot of work to do as a nation to ensure that every child in the United States is safe and has the opportunity to thrive."