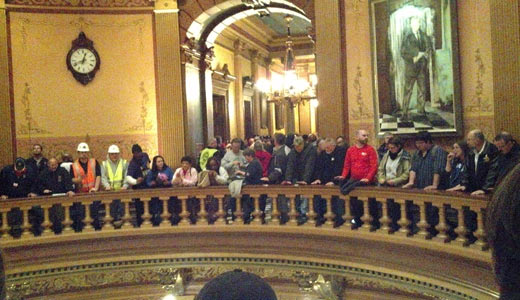 LANSING, Mich. – By taking their first votes to pass anti-worker "right-to-work" legistlation on Thursday (they have to wait five more days to finish the job), Michigan's Republican Party and Gov. Rick Snyder have now resorted to open class warfare.
Forget the pompous Republican and right-wing think tank arguments about right-to-work bringing new jobs or improving the economy of the state. President Obama rejected this bogus argument, saying in the aftermath of the vote, "Our economy is stronger when workers get good wages and good benefits."
In reality, the measure was undertaken by right-wing extremists to weaken the ability of labor to organize and fight corporate power.
And the Republicans have more than just labor in their crosshairs. This is also a shot aimed at the Michigan Democratic Party, which relies on the strength of the labor movement for a large part of its organization and financial base.
With an electorate growing more diverse and with more voters rejecting the tea party brand of extremist politics, the Michigan Republican Party is attempting to hold onto power by undermining its electoral opponents.
The negative ramifications of right-to-work will cast a wide net. Unions do much more than fight for decent wages and working conditions for their membership. They also support workplace safety laws, food safety and other consumer protection, fair taxation, increased aid to education, clean water and air regulations, and civil rights and social justice measures, all of which are anathema to the small minds of tea party zealots.
What we are witnessing in Michigan is an authoritarian exercise of power by an extremist minority.
This lame duck session is turning into an orgy of far-right measures. Bills to cripple public education, permit concealed firearms to be taken into schools and churches, and allowing employers to deny coverage for birth control are the staple of the day.
There were no hearings on these measures. The bills were rushed and then rammed through. Labor leaders, including Michigan State AFL-CIO President Carla Swift, state American Federation of Teachers President David Hecker and United Auto Workers President Bob King were prevented from entering the Capitol.
Lunacy and extremism ruled.
If such outrageous actions had taken place in another nation, rightful protests would have resounded.
To those who wonder what kind of state Michigan has become, it must be said that what took place on Thursday does not reflect the thinking of the people of our state.
When the will of the majority is counted, as we saw in November's statewide races, Michigan voters can hold their heads high. President Obama won by almost 9 percent and Democratic Senator Debbie Stabenow defeated her right-wing opponent by 20 percent.
However when gerrymandering is used to carve out Republican districts for state Senate and Houses seats, democracy and the will of the majority suffer.
The Republicans may have won a battle; they will not win the war.